I have taken up residence in Costa Rica for a few weeks to do some exploring and research. Currently, I am tramping about sunny beaches near the funky seaside village of Montezuma on the southeastern tip of the Nicoya Peninsula where eco-tourists and beach buffs mingle among dreadlocked vendors. One of my present interests is the Olive Ridley Turtle.
This morning I rose early and set out from the village for some morning exercise. Just as I started my hike along the beach I noticed two individuals on Montezuma Beach hunched over something of interest. I strolled over to investigate the investigators' find. To my good fortune, a crop of Olive Ridley Turtle hatchlings had excavated their way to the surface during the nighttime hours. They were emerging naturally just outside the fenced area of a protected hatchery.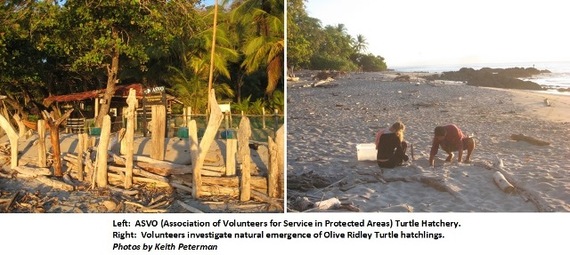 These turtles were unknown to me during my initial visits here more than a decade ago. But, in January 2009, I noticed for the first time a small turtle hatchery on the far end of an expansive beach called "Playa Grande" which is a good 35 minute hike from town over rugged volcanic outcroppings. I searched out the manager of the turtle project, Lenin Flores (Lenny), who was living along with a half-dozen international volunteers nearby in the Romelia Refuge.
Lenny explained, "I had been camping here In Montezuma for 32 years, but I didn't even know that the turtles nested here. Last year [early 2008], I came to supervise a project in the elementary school. People told me about the turtles. So, I contacted officials who were already looking for people to help." He subsequently took over responsibility for the turtle project on Playa Grande, hence the new hatchery.
As well, the volunteers patrolled against poachers. Lenny explained, "Tico's gather the eggs for food. Men think the eggs increase sexual virility. Although it is illegal, some are still sold on the black-market in San Jose."
Adult Olive Ridley Turtles weigh about 100 pounds and measure anywhere from 22 to 31 inches in length. The tiny hatchlings by contrast weigh less than an ounce and are 1.5 inches long shell. Only about 1 in 1,000 hatchlings will survive to adulthood.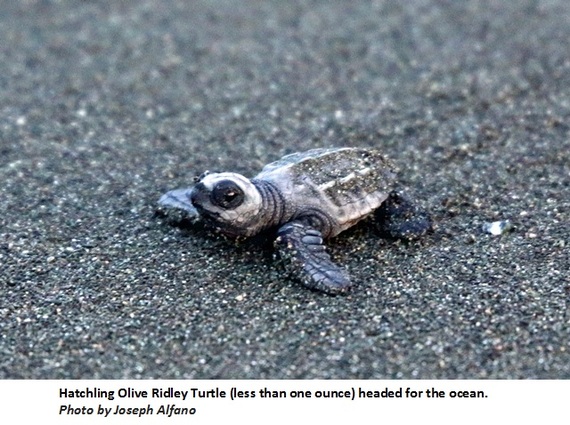 During the first week of January, I witnessed first-hand their survival risk on the Osa Peninsula in southern Costa Rica near the border with Panama. The Osa is a primordial Eden of primary rainforest, rich in biodiversity from roots to treetop canopy. It is estimated that 2.5 percent of the world's biodiversity can be found on the Osa. In the pre-dawn hours, we were hiking along a beach on route to a sunrise kayaking outing in a brackish lagoon when our guide suddenly stopped. He followed a sculpted path landward. There as well, we found a half dozen Olive Ridley Turtle hatchlings that had just clawed their way to the surface after having spent 45 days in their subterranean incubator.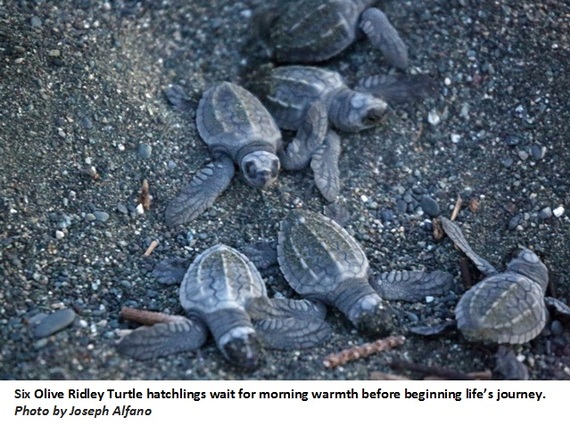 This delayed our outing as the hatchlings waited for morning warmth before beginning their risky struggle across the open beach to begin their life at sea. A hawk standing nearby on the beach was annoyed by our presence since the hatchlings were its intended breakfast.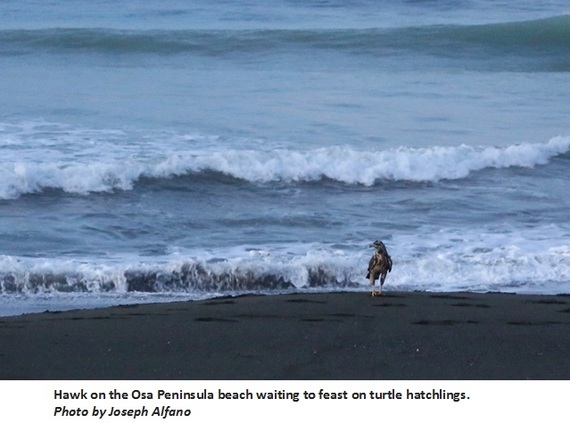 Our guide carried the hatchlings a portion of the way, but then had to release them so that they "could set their internal GPS for their return to this beach." We waited and watched. It was such a long, arduous journey. Eventually, two morning walkers came along and agreed to take up posts as turtle-sentries. As we were departed, a crab snatched one of the little ones, dragging it into its hole. Looking back, we observed a hawk snatch another one in spite of the sentries. At max, only 4 of those 6 made it to sea.
Olive-shelled turtles are distributed in tropical regions around the globe. They often come ashore to nest in what is called an "arribada" meaning, they rest off-shore and then typically arrive in vast numbers all at once.
Here in Montezuma, the numbers are not as large. Jennifer Adams -- the current Romelia Refuge Field Coordinator -- explained that the turtles here do "solitary nesting". During primary nesting season -- June/July to October/November -- there will be a maximum of 7 or 8 turtles per night. Each turtle lays about 80-100 eggs ping pong ball-sized eggs.
Jennifer explained, "Romelia is a privately funded and privately managed mixed wildlife refuge." It is an intimate affair between the solitary nesting turtles and volunteers who patrol the beach at night, gather the eggs, transfer them to the hatchery, and wait for the hatchlings to arrive.
In 2011, the turtle project on Playa Grande and volunteer housing moved in-town. A new hatchery was set up on the contiguous Montezuma Beach. A maximum of 3 or 4 turtles arrive during primary nesting season on this beach. This fledgling project subsequently became affiliated with Costa Rica's Association of Volunteers for Service in Protected Areas (ASVO) which is a self-managed NGO. In addition to the turtle projects, ASVO volunteers also work with the local community in recycling, cleaning the beaches, and environmental education.
Since it was logistically challenging to monitor turtle nesting on both beaches, the turtle project reopened on the more remote Playa Grande in 2012. Hence, Olive Ridley Turtles are now under the conservation eyes of two different organizations.
Several days ago, I trekked out to Playa Grande and was taken back to see a dozen vultures crowded around two dead adult Ridley Turtles, gorging on their fetid carcasses. They likely fell victim to a fisherman's hook and line, or perhaps were drowned when trapped in a trawler's net. At a survival rate of 1 adult per 1000 hatchlings, the two carcasses visually represented what remained of 2,000 hatchlings from years past.
It's a tough life for an Olive Ridley Turtle. We can thank the conservationists and volunteers at Montezuma for making life just a bit easier.