On a bitter cold, New Year's night one year ago, ten-year-old Lyle Cordes zipped shut the entrance of the Alps Mountaineering tent he had received for Christmas the previous week and settled in for the first of 365 consecutive nights he would spend in his nylon cocoon. He had not yet set the one-year goal on that first night, but after surviving night number one, he challenged himself to a week. By mid-week, he upped his personal challenge to a month. In late-January, he "decided to make it a year."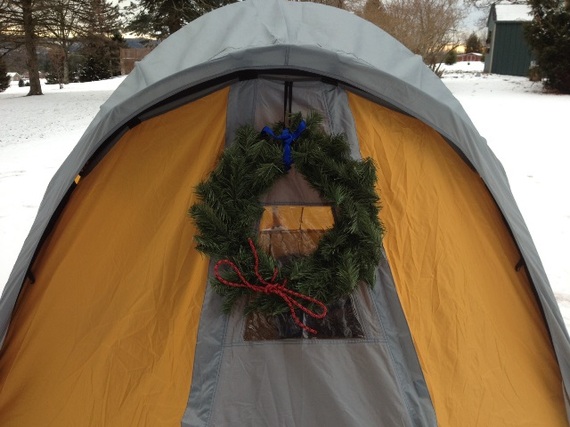 Last Monday evening, December 30, about 70 of Lyle's friends and family members gathered under clear but chilly December skies for a celebration of his pending achievement. The entire group even made a nighttime trek about a mile over the hilly paths of Lyle's favorite hiking grounds. I am out of the country, so I briefly joined the party remotely via video chat. I asked Lyle what advice he would give to others who want to take on a similar year-long challenge. After a thoughtful moment, he responded "It's definitely a challenge, but once you commit to it, it's fun."
That's some sage advice coming from a now 11-year-old boy; accept the challenge, commit, then have fun as you pursue your journey.
During the distinct four-season climate of rural Carbon County, Pennsylvania, which hugs the Pocono Mountains, Lyle had many pleasant nights. He also endured rain, snow, sleet, thunderstorms, lightning, and buffeting winds, not to mention some sweltering summer weather.
At the encouragement of his parents, Lyle launched a blog site in late January to chronicle his experiences. To date, he has posted more than 200 articles, which have been viewed more than 36,000 times by visitors from dozens of countries -- he is particularly popular in Russia, it seems.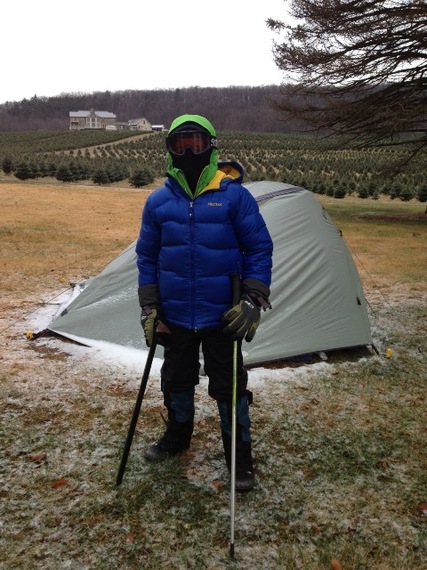 One visitor of special note was Mark Smiley, who has a personal goal of his own -- to bag the 50 Classic Climbs of North America, a journey that will take him and his wife Janelle "up more than 164,000 vertical feet of technical terrain on a road trip that will cover over 60,000 miles." Mark and Lyle developed an email correspondence that resulted in an invitation from the Smileys for Lyle to join them in Yosemite National Park (CA) to climb the Royal Arches. Serendipity is about preparation -- not just chance or luck -- and this was true serendipity. Lyle had gained some climbing experience on local indoor climbing walls, but this would be his first experience climbing the real thing outdoors. Mark and Janelle created a documentary of that climb, which you can view (along with more than 40 of the Smiley's other climbs) here on Epic TV.
Those gathered at Lyle's backyard campsite last week -- as well as the almost 8,000 others around the globe who visited his blog that day -- recognized that Lyle's year-long journey had developed into much more than just a quest to endure the elements.
Bill McKibben, of 350.org, commented on the blog "can I just say, what a great way to spend a year. I have no doubt you'll take this experience and go on to do great things." (Dec. 21 comment)
A nationally syndicated TV show from Arizona even interviewed Lyle for a segment that it broadcast on Dec 26. Commenting on his own blog, Lyle said, "It was very weird seeing myself on TV!" (Dec. 27 post)
The emerging research topic of Environmental Identity suggests that Lyle developed a deeper sense of self in the world. Dr. Susan Clayton, a leading authority on this topic, commented on Lyle in the context of environmental identity in a previous Huffington Post article.
By year's end, Lyle also developed sensitivity for the diverse cultures of his readers as evidenced by recording temperatures on his blog in both degrees Fahrenheit and degrees Celsius.
To accomplish his year-long goal and reach beyond, the "Kid in the Tent" had to confront fears and anxieties, acquire survival techniques, develop skills, and learn to observe and communicate. What's more, he had to commit and just do it! Congratulations Lyle! Perhaps this kid's achievement can serve as an inspiration for us all in our own personal New Year's Resolutions.
(Photo credits: Matt Cordes)