As I walked down Krakowskie Przedmieście the other day, the main street leading to Warsaw's Old Town, I passed by a statue of Copernicus. It gave me pause. I couldn't help but think of the circumstances Copernicus faced in the 16th Century and how they relate to 21st Century climate negotiations taking place here in Warsaw this week.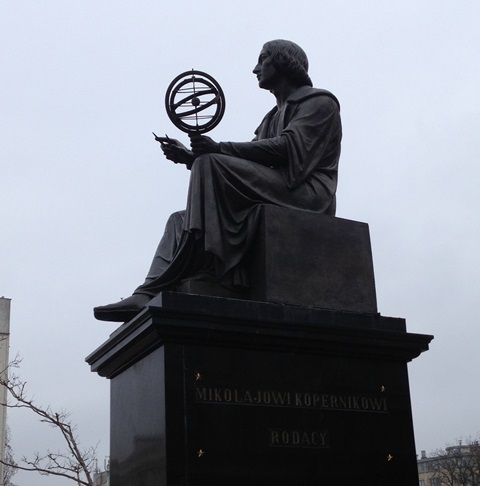 In the statue, Copernicus appears to be contemplating celestial data points. Through careful observation and mathematical calculations, he was able to attribute days and seasons to an Earth spinning on its own axis with an annual revolution around a stationary sun. His hypothesis of a sun-centered (heliocentric) universe was incredibly dangerous, as it challenged both religious dogma and science that had been accepted since ancient times. His book On the Revolutions of the Heavenly Spheres, published just before his death in 1543, is generally cited as the beginning of the scientific revolution.
As I walked into the conference center today, a group of youth was repeatedly chanting a circular cadence of phrases: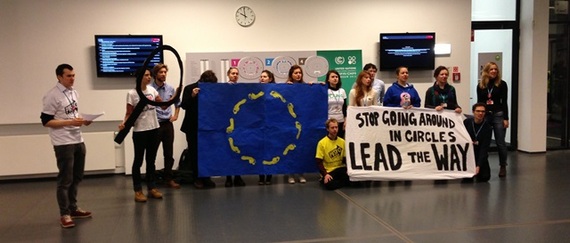 Call that Leadership?
Playing little games with our future
Going round and round in circles
Breaking finance promises
Recycling old money
Hiding behind the low ambition of other countries
One of these youth, Nick Beall, elaborated: "We are European youth, a unified group of young people from many countries in Europe. We are calling on our governments to stop playing games with our future."
Youth in general here in Warsaw are frustrated, and understandably so. They do not have a place at the negotiating table, yet the decisions made here will have a greater impact on their lives than those of the decision-makers. The host country (Poland) appears to be as resistant to change as any country, not to mention tone-deaf to the youth and future generations. Perhaps for these reasons, the youth have dubbed it "Coaland".
As a result of their frustration, the youth challenged UNFCCC Executive Secretary Christiana Figueres -- who was scheduled to speak at the Coal Summit -- to boycott that event. "You either stand with future generations...or you stand with outdated dirty energy," they wrote in an open letter to the Executive Secretary.
Nevertheless, Figueres spoke at the Coal Summit, where she stated that "Coal was at the heart of the developed world's Industrial Revolution and brought affordable energy to parts of the developing world. However, while society has benefitted from coal-fueled development, we now know there is an unacceptably high cost to human and environmental health." She added, "The science is clear. The IPCC Fifth Assessment Report outlines our predicament."
The IPCC Report states that "warming of the atmosphere is unequivocal" and that humans are responsible. Figueres went on to tell the Coal Summit attendees that the IPCC Report "is not science fiction, it is science fact...it is arguably the most rigorous scientific report ever written." This brings us back to Copernicus.
The 195 governments represented in Warsaw appear to be wearing their own ideological blinders, placing the planet and future generations in very real peril. National self-interest, it seems, outweighs global necessity. This is the 19th Conference of Parties (COP 19), yet we seem no closer to addressing "dangerous human interference in our climate system" than we were two decades ago at COP 1. Many of the countries that should be exercising leadership are "Going round and round in circles." Isn't time to recognize that no individual nation is at the center of the universe?