It seems like everywhere we look these days, someone just got engaged. And regardless of whether your partner staged a flash mob in Times Square or put together an elaborate 17-month-long plan, everyone wants to hear the proposal story. They also want to check out the ring. Something we don't hear much about? Everything the proposer has to go through BEFORE popping the question. So, in honor of all the folks planning to get down on one knee over the next few weeks, here's a behind-the-scenes look at what your partner will experience while preparing to pop the question.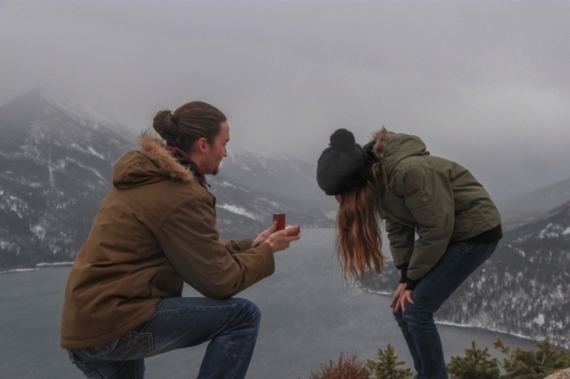 Photo by: Shandryn Slomp on How He Asked via Loverly
1. Sizing up your ring size. There's no way to casually drop "Oh, hey...so what's your ring size?" into a conversation. It's kind of a dead giveaway that engagement ring shopping has begun. Instead of being so obvious, your partner may start calling upon your friends to act as his/her top secret accomplice (hopefully you have a few close pals who can keep a secret) or he/she may start snooping around your jewelry box. If you see a ring is missing, play it cool. Maybe you left it at the gym, maybe it's just not where you thought you left it, or MAYBE, just maybe, your partner has it and is sizing it up. You never know, so don't jump to conclusions.
2. Getting the scoop on your style. Your partner has decided to marry you, so he/she must have you all figured out, right? Well, even if your beloved knows you inside and out, picking out the ring that you'll wear for the rest of your life is no easy task. The REST of your LIFE...yeah, no pressure. You might be a classic girl, but do you want an emerald, round or oval shaped stone? Do you want a halo or a diamond band? Make things easier on your partner by dropping hints whenever you see a ring that you like, whether it's your friend's or a celebrity's sparkler. Also, make sure your BFF knows your likes and dislikes (like he/she doesn't already...) in case they're called in as backup.
3. Picking a jeweler. This might just be the hardest part of the whole selection process. Buying a ring is confusing, nerve-wracking, and a very serious investment. Your partner will ask friends, your dad, your mailman, even strangers on the street for recommendations of where to go and who to talk to about all things rings. Your partner may end up meeting with multiple jewelers before finding someone he/she REALLY trusts with this big decision. If you have any friends who are engaged, ask them where they went for their rings while your partner is around so he/she knows where to go for tips and advice as he/she starts looking up jewelry stores.
4. Learning the four C's. The four what? Once your partner figures out the basics, then it's time to talk about the details. The four C's are the elusive must-know info for buying an engagement ring: cut, color, clarity, and carat. To be able to pick out the ring, your partner will need to figure out how big of a rock he/she can afford and then quickly learn everything gemologists know about stones. Again, get your friends talking about how they worked through these shopping specifics. They'll likely let you in on some general guidelines: avoid any color grade below H (will look too yellow) or any cut grade below Very Good (will not sparkle NEARLY enough).
5. Keeping the search under wraps. Chances are your soon-to-be fiancé won't be shopping for your ring alone. As we've already touched on, your nearest and dearest will probably be recruited to help at some point. Your partner will definitely have night sweats thinking about someone accidentally spilling the beans on this secret mission (here's looking at you, bestie). He/She will constantly worry that you've overheard a phone call or noticed something in an email. Don't make things more anxiety-inducing for your other half by questioning your friends, sister or boss if they've heard anything. Let the ring, the proposal, and the process be a surprise!
6. Getting the ring in hand. After the details are all worked out, getting the ring home comes with a completely different set of challenges. More often than not, your partner will have to ship the ring somewhere. Do they ship it to themselves? Do they send it to their parents' house? If they send it to their parents, will he/she be able to pick it up before the planned proposal? All of these questions will be running through your future fiancé's mind until the moment the ring is in his/her possession. But then they have the ring...
7. Hiding the ring from you. Whether you already live together or just spend a lot of time at each other's places, keeping a ring box hidden isn't exactly an easy thing to do. If you're expecting a proposal soon, your senses may be heightened. If you're not expecting anything, you still never know what you might stumble upon while looking for a pen. Hopefully your soon-to-be fiancé has a good place to stash the ring for safekeeping, but know that your partner is probably going to be experiencing some serious panic attacks as he/she realizes the need to hide an expensive gift in the house.
Want more awesome wedding advice? Download the Loverly perfect planner app to chat with a Loverly Wedding Concierge.
Get more engagement inspiration from Loverly:
Engaged? Get All of Your Questions Answered Right Now!

9 Thoughts Every Parent Has When Their Daughter Gets Engaged
The First 5 Wedding Planning Decisions You Need to Make After Getting Engaged