For the week 18 January 2015
At the risk of sounding repetitive, the runes for this week are the same as last. The staves don't often repeat in my weekly casts, so this emphasis on holding steady hints at work-in-progress.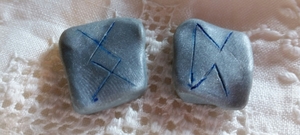 Still under the awareness of Perthro as the half-month rune and with Ingwaz as our touchstone for the week, we are faced with feelings around connecting with inner creative force, and dealing with dynamics stirred by that effort. Perthro will be the runic governance through 28 January.
Last week, we talked about how Ingwaz is connected to the Germanic god Ing, and how it carries a certain-push-comes-to-shove need to get back on track. That this stave repeats this week doesn't necessarily mean this effort hasn't been made, though it is still in process. Stay the course.
What is certain about this stave is the gestation of a creative process into being, and given Ingwaz's influence, that process is some part of how you create yourself with others. Examine your relationships. What is you in specific dynamics? What is mask? What is defense? What is simply someone else's and it's time to put it down? Perthor questions the feelings provoked around relationships. These are the considerations of this combination of staves, especially x2.
Perthro is stirring feelings around realizing it's time to roll the dice, again. Ingwaz gives a clear glimpse into the True Self's way to respond to what's rolled.
Learn more about the half-month rune's impact on The Weekly Rune.
Originally published at Soul Intent Arts.