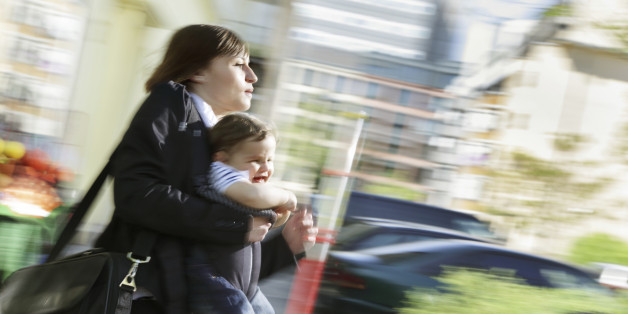 It's no secret -- women aren't entering and advancing in the tech industry at nearly the same rates as men. While there are many factors that contribute to tech's gender disparity, we know that employees with family responsibilities face a unique and significant set of barriers. We also know that the burden of balancing work and family responsibilities falls disproportionately on women. A 2012 study of Silicon Valley tech companies found that women in the industry are four times less likely than men to have a partner who takes on primary household and caregiving responsibilities.
In honor of National Work and Family Month, the following are five suggestions for how tech companies can be more inclusive of workers with family obligations and, in the process, do a better job recruiting and retaining talented women.
1. Provide (Good) Paid Parental Leave
The United States is the only developed country without mandatory paid parental leave. While there are policy efforts under way to address this dismal reality, businesses can and should take the lead. Change.org, for example, recently implemented a paid time off policy providing for 18 weeks of fully-paid leave to every employee who becomes a new parent, regardless of gender.
The tech industry has been at the forefront of offering generous paid time off for new parents, and it isn't surprising that data-driven employers would want to provide such a benefit. When Google looked at its own numbers, it found that improving maternity leave from three months' partial pay to five months' full pay decreased the costly postpartum attrition rate for women (previously twice that of other employees) by a whopping 50 percent. Tech companies that want to retain star employees after they have children, and compete with industry leaders in recruiting such employees, should offer the leave policies new parents need to return to work successfully and ensure employees feel comfortable taking advantage of such policies.
2. Promote Workplace Flexibility
Juggling work and personal life can be stressful for all employees, but for those who bear primary family or caregiving responsibilities -- disproportionately women -- it can feel nearly impossible. By focusing on results achieved rather than time spent at the office, employers can help reduce employees' stress levels and improve the quality of their family time.
Offering flexibility makes good business sense, too. A study released earlier this year found that flexibility significantly increases morale and team performance. Tech companies should adopt flexible work policies that are clearly spelled out and offered to everyone, regardless of gender or parental status. Companies with such flexibility should take care to ensure that employees are not penalized, directly or indirectly, for taking advantage of a flexible work arrangement, paying particular attention to how such an arrangement might affect the work assignment process and promotion decisions.
Forward-thinking companies should also consider the impact of events like all-night hackathons on people with family obligations and host family-friendly social events that allow work and family to complement, rather than detract from, one another.
3. Support Career Return
More traditional industries like investment banking and law have begun to see women returning to the workforce as an amazing untapped resource. Goldman Sachs helped pioneer the idea of a "returnship" -- an internship for high-performing, experienced workers who've taken an extended break from the workforce. In law, the OnRamp Fellowship is a platform that matches experienced lawyers returning to the profession after a few years off with law firms eager to increase gender diversity, particularly in the mid-career level where the legal industry, like tech, sees a mass exodus of highly-skilled women.

To make such a program successful in the ever-changing tech world, companies should seek in potential employees not necessarily the exact skills needed for the role, but the aptitude and potential to quickly develop those skills. In creating such a program, tech companies don't have to reinvent the wheel -- they can easily model the effort on existing internship programs.
4. Lead By Example
All too often, companies claim that "work-life balance is important" and "family comes first," but go on to expect employees to put in nights and weekends in the office in order to be considered for choice assignments and promotions. To foster a culture that is truly inclusive of working parents, it is critical that managers lead by example.
SurveyMonkey CEO Dave Goldberg leaves the office by 5:30 each evening to get home to his kids, and logs back in to continue working after they have gone to sleep. The family-friendly culture he set by example helped SurveyMonkey recruit SVP of Product and Engineering, Selina Tobaccowala, when she was four months pregnant -- a feat the company might not have achieved in the competitive hiring market for engineering talent had they not created a top-down approach to workplace flexibility.
5. Get Creative
Experts at disruption, tech companies have an amazing opportunity to innovate in this space. They can host hackathons (during work hours!) and other brainstorming sessions to leverage the ideas of their own brilliant teams on how to make the workplace more family-friendly. They can also reach out to consultants who specialize in creating targeted strategies for building and sustaining a diverse workforce. By adopting the above suggestions, and experimenting with even more creative ideas, tech companies will not only do a better job attracting and keeping the very best talent, but they'll also begin to create an industry in which working and having a family aren't inherently at odds.
BIO: Kelli Newman is the co-founder of a new company focused on helping innovative tech companies embed inclusiveness in their culture to better recruit and retain diverse talent. You can reach Kelli at kelli.newman at gmail dot com.