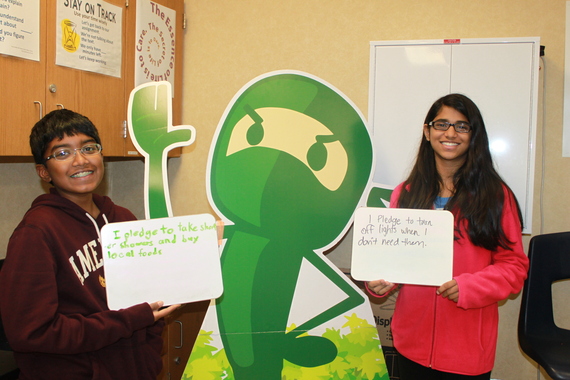 Middle School students posing with the Green Ninja
We all know that climate change is not an easily resolvable problem. It has become a point of contention and the center of discussion for a plethora of articles, debates, forums, world summits, films, etc. Talk on climate change is ubiquitous. Recently Buzzfeed interviewed 18 scientists to see how they really felt about climate change. Professor David Briggs from Monash University's statement encompasses the heartbeat of the issue:
"But most of all I feel so very sorry for my children's and my (hypothetical) grandchildren's generation, for all the beautiful things in the world that they will miss."
Over the past couple of months the Green Ninja team visited over 32 middle school classrooms in the Bay Area, providing over 750 students with climate change lessons, hands on experience and inspiration on how to reduce their carbon footprint. Results from a survey gave us some insight into their thoughts about climate change. Here are the top 10 things this bunch of 11-year-olds had to say about climate change--what they learned and how they plan to solve it:
1. "I realized that climate change was something I could help with."
2. "We can change the world even though we are so little and small. "
3. "I really think I should start biking."
4. "I will tell my parents that they can help change the climate."
5. "I want to learn more ways to help."
6. "I never knew we affected the world by the food we eat."
7. "I learned that the Earth needs people to help it."
8. "I can make a change no matter how big or small."
9. "We should all be more aware of the actions we take that involves the climate."
10. "I would say to try to help the world as best we can."
There is something innocent and genuine about kids. While the top climate university professors disparage about our future, youth seem to remain hopeful, even excited to take on the challenge of climate change, despite being the generation that will likely be most affected. I guess sometimes ignorance is bliss. Perhaps it's time to get in touch with our inner child and look at climate change from a different perspective: through eyes that sit roughly 4.5 ft above the ground, because this is a human issue that affects all of us. To quote actress and activist Emma Thompson, "Every single person on this earth has the power to change the world."
Have the young people in your life said inspirational things about climate change? Did one of the quotes above resonate well with you or was your favorite? Let us know at info@greenninja.org, facebook.com/ourgreenninja or tweet @ourgreennninja! Are your kids still in need of some inspiration watch this!