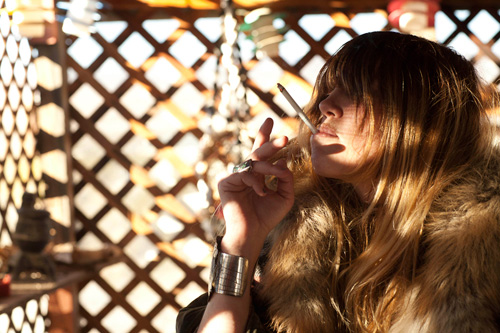 After releasing three albums under the name RTX on Drag City Records starting with 2004's Transmaniacon, Black Bananas emerges as the new adaptation of the band. Without swaying too far from their roots, new ideas forced the band to take their style of radical rock 'n' roll up a few notches, thus Black Bananas was born.
With their first album under the new moniker titled Rad Times Xpress IV (you get what they did there?), the band, headed by singer/song-writer/producer Jennifer Herrema, entered into this new vision for their band. "When you listen to it, you definitely know its us," explains Herrema in a recent phone conversation. "As 'us,' the people that were involved in RTX. We've built a real strong foundation with RTX, but in order to create something entirely new we needed to start adding elements and branching out. We gathered a lot more resources around ourselves. We did that because we realized a sound that incorporated a lot more than what we had in the studio."
As a result, Rad Times Xpress IV is an album that touches on the old school attitude of real rock 'n' roll, but assimilates fun elements of campy noise and funk. Black Bananas might not wrapped around your understanding immediately, but their new sound does have its own proclivity that stands out after a few listens. It's not retro nor a novelty, it's just new music. "That's definitely what we were going for just to make something new," says Herrema. "Not just conjure old things that we know people love. Its very easy to go back and touch upon things that everybody knows and loved. There's no ownership it. No personality. We really wanted to express ourselves as Black Bananas. It's the new sound. It's our sound."
Through all of Black Bananas' audacious attitude on Rad Times Xpress IV is a general feeling of just having pure unadulterated fun. They make records that make you move in some way. They sometime create records that just make you smile. They have a seriousness of not being too serious. It's an honest record. It's just them being them. "Lyrically, some of the songs are a lot more esoteric, but some of them are just straight up," explains Herrema. "I don't think its like dumbed down or stupid. I think its very straight and very honest. We're not trying to purposely run circles around our listener and be cagey and be esoteric for the sake of being esoteric. We want people to listen to it and be like 'yeah! this is cool!'"
Black Bananas are currently on tour with Kurt Vile and the Violators, and will touch down at the Blind Pig in Ann Arbor, Michigan this Saturday, May 19. Before this tour, they only did a few dates opening for Sleigh Bells, so this current string of dates is their first extensive test with the new sound. With it's noised out rock 'n' roll funk, Black Bananas front woman Jennifer Herrema describes their sound and live show as such, "On stage, I just want it to make me want to move, period, end of story."
Black Bananas play the Blind Pig (208 S. First St.) in Ann Arbor, Michigan on Saturday, May 19 with Kurt Vile and the Violators and True Widow. For more information and to purchase tickets, visit www.blindpigmusic.com.