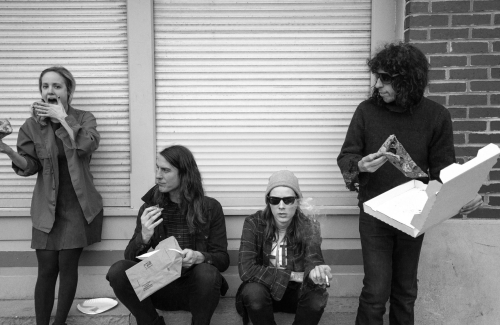 In a city like Detroit where ever-changing bands flood the bars barely hanging on lineup-wise and even musically, the chaotic punk band The Armed embraces the unknown and are pretty lethal with their vigorous sound with their new album Untitled. With their unruly manner, it all makes sense even if you really can't wrap your head around it. Don't worry about understanding it, just feel it.
The Armed are the anti-branding, soaked in the unknown giving their listener the chance to just enter the wildness on their own. They take pride in not giving a fuck while almost creating this vibe of community; a place where someone can go to within their music that feels uncontained, but constructive towards the betterment of the art.
With the release of Untitled, The Armed have what is more like a short film for the track "Paradise Day" that follows your stereotypical office space, paper-pusher with visions of escaping into a fantastical world of rock stardom and it brings him to karaoke. In this strange way, that's such a metaphorical way to explain what music can do for people; just that escape we sometimes need into our dreams to deal with reality.
Within all the disorder of The Armed's music and their live show, it all feels like a microcosm of how we all try to fit into all the craziness going on in the world. It's actually quite calming. Take a moment to experience it.
The Armed's new album Untitled, available for free on their Bandcamp page, along with all their previous works, but you can purchase the vinyl version of Untitled through No Rest Until Ruin. The Armed release show is Friday, June 26th at the Majestic Cafe (4120 Woodward Ave) in Detroit with special guests Child Bite and Reverend. Doors are at 9pm, cover is only $7, and its open to all ages.