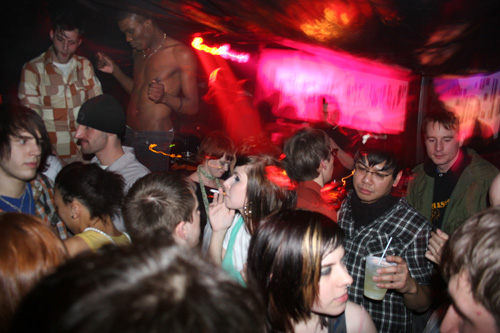 Even in its simplicity, a Dorkwave party is everything that a real party should strive for. It embodies the fun that college kids wish they could accomplish at their house or dorm parties. It's enriched from our deep music scene, but leaves all rules at the door and reaches levels of enjoyment hardly reached elsewhere in Detroit. It's serious at not being serious, and that's what makes it such a grand engagement.
The Dorkwave crew -- currently consisting of members Rob Theakston, Jon Ozias, Mark Lazar, Jennifer Rohde, and Mike Servito (a prior engagement won't allow him to make the trip to Detroit), along with former member Michael Doyle -- with their long running Les Infants Terribles monthly party from 2004-2007, redefined how to party in Detroit. It's no-holds barred approach to presenting a party made for a fun night of hot and steamy dancing upstairs at the home of Dorkwave, the Corktown Tavern on Michigan Avenue. "It's a celebration," says Dorkwave's Jon Ozias via email. "It's a release. It's friendship. It's pure revelry and visceral energy. In short, it's a party. It's Downtown 81, 24 Party People, and The Great Gatsby rolled into one." Each month, this was the party where you could just let loose and rid yourself of all your stress from the month. Beer and drinks flow throughout the night with a packed dance floor getting all sweaty to deepest of '80s jams, new wave, techno, house, industrial, disco and anything danceable. Hip-hop never fared too well at this party though, but that's all right.
With it's free spirited attitude, a Dorkwave party is an escapism that unlocks your mind into the possibilities of life. They excel at taking us away from our lives for a night and tapping into that part of the brain where inspiration hits. It's a vibe rarely seen these days. From it's organic inception in 2003 in the back room at the UNTITLED parties that Jon Ozias used to throw at The Shelter in Detroit, the Dorkwave crew became an outlet simply for a group of like-minded people in the electronic music scene to build something of relevance in the city outside of the popular avenues. "The conventional wisdom was to reach out to more mainstream clubs, like Bleu, and sway the crowd -- who was already accustomed to DJ culture -- towards different music," explains Ozias. "But we were never focused on that. We were more interested in reaching out to the person that liked Sonic Youth than the one who was into Timo Maas; because there was common ground. We liked Sonic Youth. We didn't like Timo Maas."
As UNTITLED started to wind down from a weekly into one-off events, the idea of Dorkwave sprung legs, and the crew decided they wanted to build on that fun they had in the back room of The Shelter. " We were all having too much fun with it," describes Ozias. "So, we hatched a plan for a no-frills, free monthly party. A group of friends getting together once a month with a decent sound system to play records, with no limitations, for any one who wanted to come along for the ride. Our little no-frills monthly got caught in a wave of serendipity. The UNTITLED regulars, who were used to behaving badly, created a hotbed of energy."
Coming at a time when the gap between rock and dance music was getting closer and closer together, Dorkwave's Les Infants Terribles parties was the perfect fit. With it's anything goes approach musically, that went for the people playing the music too. Along with the numerous amount of Dorkwave's friends, the likes of Juan MacLean, Carlos D of Interpol, Adult., Matthew Dear, Seth Troxler and Liz Copeland were all guest DJs at the LIT parties that also always had creative themes just to keep it fresh.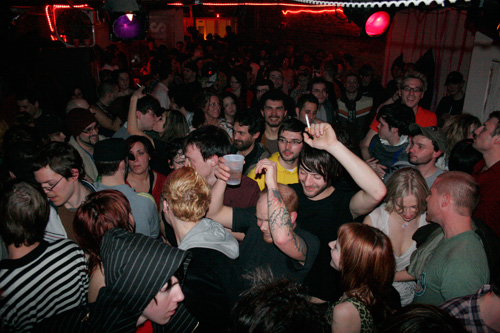 With themes such as Lobsterfest, The Spanish Inquisition, and The Pirates of Lichtenstein, among others, Dorkwave sets out to bring something unique, fun and totally off the wall for the LIT parties, just so they are not doing the same party each and every month. With each themed party, they would go all out with props, costumes and amazing web flyers. I think seeing techno producer/DJ Keith Kemp in a crab suit will forever be lodged in my memory.
It's been more than two years since the last Dorkwave party, but expect the usual fun-filled debauchery of their storied past. Whether you remember this coming Saturday or it all becomes a blur, it's a time to for friendship and to break away from the stresses in life. Check the drama at the door and come dressed to sweat, and make this a night to remember.
The Dorkwave crew of Rob Theakston, Jon Ozias, Mark Lazar and Jennifer Rohde, along with friend from Chicago Rudy Delgado, and a number of other members of the extended family present Summer 2012 Dorkwave at the Corktown Tavern (1716 Michigan Ave) in Detroit on this Saturday, July 21st from 10 p.m. to whenever they get kicked out. Cover is $5. For more information, visit facebook.com/dorkwave.detroit.
(Photo credit: Vanessa Miller)