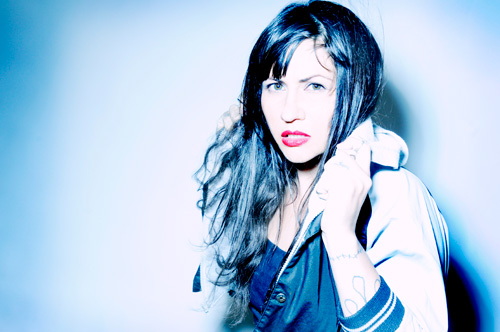 Frankie Rose is going through a bit of a musical transition these days. With her second solo album, Interstellar, it marks her progression away from the lo-fi retro girl group sound she was tied to in the past as the drummer in bands like Crystal Stilts, Dum Dum Girls, and the Vivian Girls. Interstellar is her search for creative freedom and to make the record that she truly wants to make, and she felt she got it.
With Interstellar, Frankie Rose sought out to create what she envisioned as a true dance record in her mind. It isn't a dance record in the sense of electronic club music, but more in the spirit of Depeche Mode, The Cure, or The Smiths. "People like to ask what it is. Is it new wave? What is it?" explains Frankie Rose in a recent phone conversation. "I don't think it is anything. I think it's an amalgamation of all my references. When I think about what I might go out dancing to, but I would always go to '80s nights. Those are kind of the drum sounds that I wanted to stick with because I know them."
While conjuring the essence of the synth music boom of the 1980s, Frankie Rose doesn't immerse herself in just that one dynamic on Interstellar. Every piece of the album is personal, connecting back to the artistry that has always been important to her. When starting the album, she knew what sound she wanted to go, but things didn't really fall into to place right away. "I knew I wanted to make something different," describes Rose. "I knew I wanted to use synths. I wanted this to be much bigger pop album. Where the drums would be a big part of the sound. I originally started working in the old studio I did the first album in, and only did a week or two worth of recording. I just wasn't getting the sounds I wanted to get."
After she scrapped the original recordings, she ended up working with a producer friend of hers by the name of Le Chev, and that's when the sound for Interstellar all came together. "I had a lot of faith in him," says Rose. "We did one or two songs together and it sounded amazing. I just knew I made the right decision. I did the whole album with him. It was the perfect amount of push and pull."
Frankie Rose was able to find the sound she wanted on Interstellar; a lush, open-ended album that is a mix of records to dance to and huge sounding emotional journeys. Her transition to a solo artist is no where complete, but its on the right track. "Its awesome and it's tiring in a sense because you are totally responsible for everyone that is playing with you," explains Frankie Rose on being a solo artist. "You are the sole decision maker so sometimes that can be a lot of weight on your shoulders. As far as music writing, it's just so awesome to have your own vision and be able to complete it by yourself. I can't think of anything that is more satisfying."
Frankie Rose is currently on tour in support of Interstellar and with her evolution comes new found obstacles to project her music live. She never really took it into account that if she makes a solo album, that it automatically makes you into the front woman of your band. "It was sort of involuntary," says Rose. "It has taken me a while, but it definitely takes a bit more bravery to be in the front and interact with people. The guitar for me, I have had one my entire life, but playing it in front of people is a new thing for me. I got a ways to go before I'm totally awesome at the guitar. It can be a little challenge, which I enjoy."
Translating the full sound of Interstellar live is another challenge for Frankie Rose. The album is deep with programmed drums, synths, background vocals, and samples, so keeping that sound huge on stage is still a bit of a work in progress for her. "Everyone is sort of on double duty," explains Rose. "We had to get a lot more technological than just a straight up four-piece bass, guitar, drums set up. I definitely needed a woman in the band because I needed a woman to do the back up. We're still only four people up there. I could literally use seven up there if I really wanted to make it sound like the album with three of them having to be women."
This is Frankie Rose's first tour as a solo artist and it touches down in Detroit on Tuesday, May 1, at a place that is very familiar to Rose, The Magic Stick. "I've been to the Magic Stick almost every time I've been on tour," explains Frankie Rose. "I love Detroit. There is something about that town. Its a little post-apocalyptic in the best way possible. It's one of my favorite cities in the U.S., so I'm looking forward to coming back. The first place I ever played was actually not the Magic Stick. It was a house called the Trumbullplex. That was ages ago. That was super fun."
Frankie Rose plays at the Magic Stick (4120 Woodward Avenue) in Detroit on Tuesday, May 1, with opening acts Dive and Replicas. For more information or to get tickets, go to www.majesticdetroit.com.
(Photo credit: Shervin Lainez)