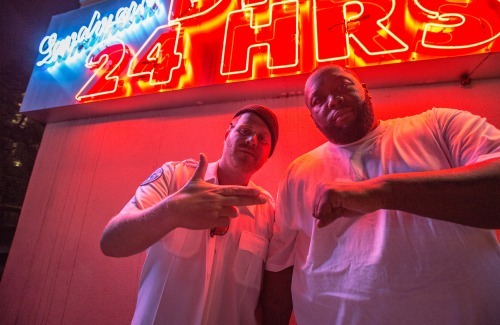 Run The Jewels is the musical version of a big middle finger, but has substance behind it. This project from Brooklyn's El-P (of Company Flow and Def Jux fame) and Atlanta's Killer Mike is evidence that rap music can be both intelligent yet silly, abrasive yet welcoming, grimey yet beautiful, and fun yet serious. During an era right now where we are seeing the most dumb down form of rap music ever filling our TV shows and radio airwaves, El-P and Killer Mike have been able to unapologetically break through the bevy of minstrel shows that's pawned off as hip hop these days and show you don't have to buy into the glorified images and hype if you actually want to stay around for awhile.
It's not farfetched to argue that the duo have been responsible for dropping one of the best hip hop releases three years in a row if you go back to Killer Mike's 2012 album R.A.P. Music produced entirely by El-P before eventually joining forces for two Run The Jewels albums. Even pre-dating their work together, both Killer Mike and El-P were always known for pushing the envelope of style and substance, by tackling social issues about our urban communities along with a big "fuck you" to the establishment.
Run The Jewels represents intellect in hip hop, but neither preachy nor monotonous, but slickly wrapped in the smart ass attitudes of El-P and Killer Mike where their charisma is king. Run The Jewels is everything we used to love about hip hop where party music could also be informative; behind all the hype beats there were real stories being told.
With this second Run The Jewels album, the duo are finding a broader audience this time around. Along with its release on Nas' Mass Appeal Records imprint, there is a wide variety of pop stars and celebrities alike singing the duo's praises, and they even recently appeared on Late Show With David Letterman. Currently, the Run The Jewels tour is selling out most nights, people are finally catching on. Run The Jewels has been an important music release the past two years and it's optimistic that people are putting down the Kool Aid for a moment and realizing there is more out there than the mainstream is feeding them - and that doesn't only apply to music.
Run The Jewels plays Saint Andrews Hall in Detroit this Tuesday, November 25th with special guest Despot, Rat King, and the David Ruffin Theory. For more information on Run The Jewels and to get the new album, visit runthejewels.net.
Photo Credit: Vic Michael