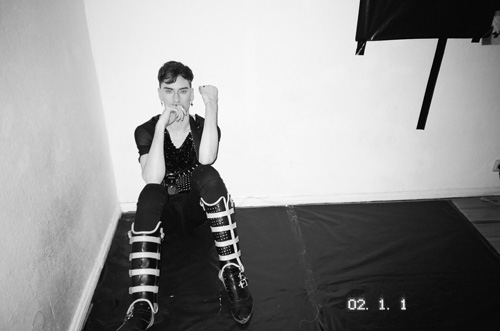 As we sip cheap happy hour drinks during an unseasonably hot streak of weather this past March at a Red Robin right down the road from where he grew up in Roseville, Mich., electronic DJ/producer Jimmy Edgar takes us on a reminiscent journey of his childhood and its budding influence on his electronic music career in the midst of the release of his newest full-length album Majenta.
Jimmy Edgar is not your average looking fellow, especially for someone who grew up in Roseville. He's a tall and lanky sight, and someone who you really can't pin down by his look alone. You don't know if he's a punk rocker or some dark mysterious art kid. His earliest dance music influences came from what the radio was playing in the mid 1990s and the '80s pop music like Madonna that his mother played around the house, along with regular trips to a once staple of our music scene, the beloved record store Record Time. "I lived in Roseville until I was about 12 years old," explains Jimmy Edgar. "I basically just hung out at Record Time all the time because I didn't have anything better to do. One of my friends worked there so we could go up there and just listen to stuff. That's how I got into electronic music."
Through those outlets, Edgar would learn to play the drums, before eventually moving on to DJing after purchasing his first set of turntables. Soon after, he found himself playing at raves at the age of 16 in Detroit, pretty much oblivious to all the wild happenings going on at these illegal parties. "I saw drugs being passed around, prostitution, and guns going off," describes Edgar. "I don't know what I was thinking back then. I was really put in some dangerous, ridiculous situations. I was just coasting through it like it was nothing. I guess that is sort of the magic of being young. You don't realize what kind of crazy sh-t is going around you until you put that association in your mind. Then all of sudden, you're like WOW! I think that could sort of save you in a lot of situations as well."
All of our reminiscing that afternoon came full circle when our waitress realized she knew Jimmy as they were childhood classmates, and that sparked some more memories. "You know how it is on the east side," says Edgar. "I remember getting into fights every day, seriously every day, and it was like all over girls. I had a black eye like every weekend. I used to get my ass beat all the time."
Fast forward a few years, and after a few releases under various aliases during the early parts of the 2000s, Jimmy Edgar made his full-length album debut with 2004s Bounce, Make, Model on the acclaimed Warp Records. Along with a slew of singles, EPs, and remixes, Edgar followed up with 2006's Color Strip and 2010's XXX, before dropping his newest creation, Majenta, released this past May on Hotflush Records -- the imprint of electronic music producer Scuba.
After a five year stint living in New York, Jimmy Edgar is based in Berlin, Germany now. It wasn't much of a calculated move to go to Berlin like many other creative types seem to have been doing in recent years, but rather a good move on his part since a lot of his gigs were out that way. He still continues to make his way back home to Detroit from time to time, including a spot on this past May's Movement Electronic Music Festival down at Hart Plaza where he unveiled a new LED light show to accompany his live set.
Jimmy Edgar's music isn't trying to be dirty or explicit for shock value, but more of an escape for his audience to free their mind, body, and soul for at least a moment in time with sounds, vibes, and motions of more of a risqué nature. "Electronic music is very interesting and it doesn't have to be so nerdy," says Edgar. "I made it a challenge for myself to make electronic music sexy. Everybody likes feeling sexy. I like my music making people feel good, especially when I play and DJ too. People go to work everyday and people have so much sh-t to do during the day. If at least I can provide a few minutes of losing inhibition, feeling sexy."
While the music of Jimmy Edgar has always had that air of playful, sensuous debauchery, he's starting to mature a bit now that he's getting older (he's 28 now) and exploring more of the beauty in people, and more importantly himself. With Majenta, Jimmy Edgar took steps to clean up his life from negative vibes as he starts to transcend into another chapter of his life.
"I started meditating," says Jimmy Edgar. "That was basically the start of my album because I realized when I cleaned everything up, I wasn't feeling the same."
The muse behind Majenta's meditative rhythms paired with his usual hyper funky sound stems from his studies of hypnosis, along with transcendental meditation and various mystical occult subjects. "I just wanted to go deeper into it because I wanted to get reconnected with some things," describes Edgar. "I studied hypnosis which kind of started it all. Hypnosis led me into this area that made me realize that inspiration is all in my head. If I feel uninspired it's because I'm imagining myself as uninspired. I sort of flipped all that around and started having a lot more control over my life. Over my feelings and over my relationships."
Jimmy Edgar's full-length album Majenta is available now via Hotflush Recordings. For more information, visit jimmyedgar.com.