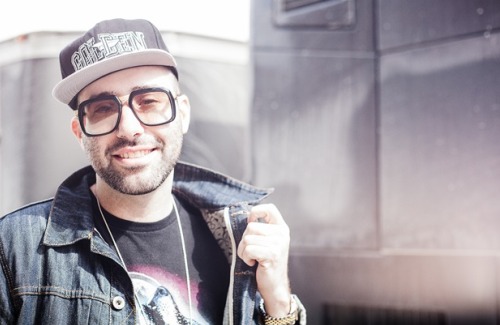 Let's be real. The music industry is full of jerks and ego-maniacs, so when you meet anyone that is so passionate and respectful of the art form, it's always a breath of fresh air. That's how I would describe Alex Botwin, known in the electronic music realms as Paper Diamond. Pretty much a musician from the time he could walk, music rips through his blood with a fury and he couldn't be any happier about it.
Botwin has been a professional musician all his adult years, first extensively touring as a member of the electronic band Pnuma, before continuing on to production of his own under Alex B, then finally busting loose as Paper Diamond as of 2011. The Colorado native is from a budding section of the United States that is reinvigorating the American electronic music scene. I was able to chat with Paper Diamond at this past May's Movement Festival Music Festival before his set at the Electronic Forest stage to talk about his life in music and what inspires him.
How would you describe the music that you do?
Honestly, I grew up a musician. I started playing violin when I was four. I started playing guitar, bass, drums, piano, and all that stuff when I was 12. I grew up like a musician. I learned to express myself melodically with different, melodic intention, and whether or not there are vocals on the track, I'm trying to convey some kind of emotion through music itself, the melodies, and the ideas. My music is all over the place. I'm so sensitive to music around me. I'm like a sponge. I love everything from jazz music, to funk, to hip hop, to trap, to dubstep, to whatever, anything. I think that my music is a big amalgamation of everything I have become over the course of my 15 years being a musician. I stopped going to school when I was 19 and I have only played music for my professional since then and I'm 28. So it's been nine years literally being immersed in the music and nothing else.
Talk about being a full time musician at a young age.
In 2006, we did 226 shows with my band [Pnuma]. I was on the road for a whole year. We signed with Columbia Records in Japan when I was 19. I was going to Japan every year, Australia, all that. I'm still so inspired by the people and the connection between me and the people. For me, music is an escape from daily life and from the hardships that I deal with and other people deal with. I try and create that for everyone else. If my music can help you escape some stuff and just be in a different world for a little bit, then I have done my job.
What inspires you? How do you keep that passion alive?
I love music and I love technology, and I love seeing where it's going. Some people kind of like 'Whatever...'. With the new technology there's going to be the older people that are hating. Think about it generationally, it's like that. For me, I stay on top of what's happening and I stay on top of the technology. I think about Jimi Hendrix, how when the electric guitar came out he took that shit and made some brand new shit. For me, I'm always like here's this brand new thing, what can I make this into? What can I form out of this? That's me musically. I want to be blown away. I try and present that to people in the audience by presenting them some brand new shit that maybe they have never heard before. I'm just constantly searching for that next new shit.
How do you go about finding new music or new concepts in your own music?
For me, I don't underestimate people. I listen to all the new producers. I check out Soundcloud. I still dig for records. I still am sampling old funk and soul music. I still go and see band, and go and see DJs, and whatever. I'm trying to get it all in and turn it into what I do. Like sometimes I will hear that spark of inspiration from something like Little Dragon, a band so separate from this scene, but that inspiration is that I have to make a remix of this song. I have to try to work with this singer. It just takes that spark to make some new shit.
With touring with a band then touring as a soloist, how has all those experiences tied into what you are doing now?
All those experiences have formed me to be the person that I am. I've been on the road for almost nine years now. I've met so many people. I hear so many different types of music from all over the world. Like you go to Germany and Spain, you hear what they are listening to in the clubs over there. It's different in different parts of the country. Even parts of America, music is getting there in different places, so I like to be the one that play some shit for the first time so some people in a different part of the country where they don't know yet. I want to expand THAT, that new mindset.
What do you attribute to your success thus far?
I think it's about being real and making real songs that are meaningful to me. Connecting with people. I find that Colorado is very unique in that there is so many artists and producers they are all helping and bringing each other up and supporting each other and trading ideas. I think that more than anything, I feel like when I was in college I went to a music school, and the main thing about the school and the most that I learned was playing with other musicians. More than the classes. More than everything else. It was about meeting the musicians that you vibe and gel with, and you create some new shit. With Colorado too, it's the same thing. Everybody gets stoked on what they are doing and they can expand it. I feel like Colorado is a very interesting place where it's kind of unknown in a worldwide sense. The Pretty Lights, the Big G, and Paper Diamond. It's very brand new. Electronic music has been so popular in Europe and everything for so many years, and to me, electronic music is in its infancy in America. I look at the infancy of it and this child could develop into any kind of person. Colorado is helping shape that in a different direction.
Talk about how the visual aspects tie into the musical aspects.
I'm so blessed to work with so many amazing designers from all over the country. I kind of started this thing, where I would just cold call these artists and be like 'I'm such a huge fan. Here's my music. I feel like with your art and my music we can create this other world of shit and visually represent what I'm thinking' A lot of those artists were very receptive of me and I've been very fortunate to work with all them to create all this stuff. But also on stage right now, I figured out this way, I'm using my iPad on stage to control two computers now. One of which has Ableton on it, which is my set. So everything is improvise and live every night, but that Ableton set sends MIDI signal to the second computer which controls all of the LEDs and live visuals. So basically, I'm controlling two computers, the music, and the visuals and lights on stage improvised every single night. I get to represent myself in not just a musical manner. I want to provide an experience for people when they come to my shows. You are not just going to see the music but you're going to see the graphics I'm intending. It's not somebody else doing this shit. It's not off. It's all improvised.
That's interesting since a lot of people have big shows but it's all pre-programmed.
I have like 300 songs from all my old Alex B stuff, from all the beginning of Paper Diamond stuff, to my new stuff. I have corresponding clips that I know where they are but I can trigger each one with the different buttons. It makes it even more entertaining for me which I think translates into having a better time with the audience and having a stronger connection. Music for me is like a meditation. When I'm making it, I can get out of my head and my life. I feel like when I'm playing the shows, I want to share that with people.
Paper Diamond plays Clutch Cargo's in Pontiac on Saturday, September 21, as a part of Zeds Dead "Altered States" Fall North American Tour along with DJ Green Lantern and Branchez. For more information on tickets, visit www.alteredst8s.com. For more information on Paper Diamond, visit www.paper-diamond.com.