Many organizations collaborating around the Rio +20 Earth Summit see it as a moment for youth mobilization. In my recent piece "Rio+20: The Future We Want Means Taking Action NOW I wrote that "Rio 2012 is an important opportunity to foster a new generation of activists -- not to fight for another declaration of good intent, but for urgent and immediate action."
After all, no one has a more important stake in the outcome of Rio +20 than the under-30s that will inherit this planet? Not governments, not corporations, not bankers, and most definitely not the Heads of State who will undoubtedly make statesmen-like speeches (provided they aren't too frightened by electoral politics to even show up in the first place). No, it is our children -- and our grandchildren, and theirs -- who will have to deal with the consequences of the decisions that happen (or don't) in Rio.
Thankfully, a new generation of activists is in fact getting organized. Take the Rio+twenties platform, for example, a youth-led organization which facilitates the engagement of young people in the Summit. But if youth have the biggest stake in the process, don't they deserve to have a louder voice?
This got us to thinking. What if we could pose a question to young people all over the world: "If you had two minutes to tell the world's leaders what kind of future you want, what would you say?" If you think about it, that's not such an easy ask. So much to say, so little time. Yet too much time in fact to just give a flippant response.
And what if this weren't just an intellectual exercise? What if we could actually create an opportunity for the person with the most powerful, passionate, and persuasive answer to that question to come to Rio and actually deliver such a speech in person?
In talking about the idea with friends and colleagues, the more excited we got -- surely this should be possible?
This simple idea turned out to be far more complicated to execute than you can imagine, but we've given it our best shot. So here we go: The TckTckTck campaign (with help from our friends) is inviting young people worldwide to 'Win a Date with History.' In keeping with the UN's theme for the conference of 'The Future We Want,' we are asking young people worldwide to consider the future THEY want, record a two-minute video speech and upload it to our website. Once they upload a video, we are hoping they will spread the word amongst friends, family, classmates and co-workers. The more votes they can amass for their videos, the greater the chance they will have to deliver the speech in Rio and make their date with history.
This idea was inspired in large part by the sheer passion of a very articulate Severn Suzuki who addressed the 1992 Rio Earth Summit at age 12 and made one of the most lasting impressions of any speaker at the conference. But lasting impression or not, we've lost more than we've gained in the past 20 years. We simply can't afford to lose any more.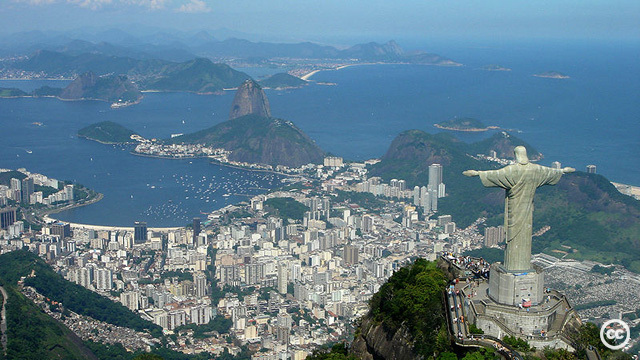 It's Time to Demand a Winning Legacy
The organizers of the 2012 Summit aim to leave Rio with commitments to work for a green economy that assures sustainable development and the eradication of poverty. These are lofty ambitions. How can we ensure this gathering succeeds where so many others have failed?
For one thing, politicians the world over are influenced by their voters. Young people, the voters of now and the future, are an important constituency in their own right and because of the disproportionate influence they have on their parents.
The legacy of Rio -- and all other multilateral negotiating processes which are addressing these issues -- will be just so many words on paper (if that even!) unless we succeed in building a strong and committed electorate that will hold leaders to account. By strong and committed, I mean way beyond the activist community. Ordinary folks -- the proverbial swing voter -- must come to realize why it's important to care.
No mere contest can do that on its own. But by asking young people to dare to imagine that they can make a real difference, we will have made an important contribution.