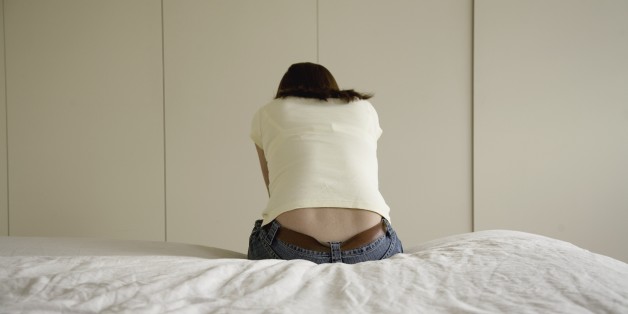 As you may know, October is Pregnancy and Infant Loss Awareness Month. What you may not know is that 15-20% of American families experience the loss of a baby to miscarriage. This is just one story of many.
For as long as I can remember, I have wanted to be a mom. It was what I was meant to do. But a few years into my marriage, I began to worry and obsess over whether or not I would be able to conceive. Mind you, I had no reason to worry. Nothing had gone wrong. There was no history of infertility in my family. I had no serious medical conditions that I was aware of. Still, worry ate at me.
I feel I should tell you, I have always been certain something terrible would happen to me.
Upon writing that, I realize it's not very profound. After all, over the course of a normal lifespan, everyone is bound to have something terrible happen to them. Realistically and statistically speaking, eventually, it will be your turn and, in many cases, your turn will come around more than once (as would be the case for me). But, statistics aside, I have always felt it keenly, even from the time I was young.
I have a vivid memory of myself as a teenage girl, sitting in my grandparents' living room, surrounded by all our family. My grandfather looked around at the sea of faces in the room and said, "Isn't it amazing that over so many generations we've been so blessed with healthy and beautiful children? No one's ever had any trouble." And in that moment, I knew.
It's me, I thought. It's going to be me.
Despite all my worry, in late May 2003, my husband and I were thrilled to discover we were expecting our first child. Many people wait to share the news of their pregnancy until they are around 12 weeks along. Once you reach the crucial 12-week mark, you are considered to pretty much be out of the woods as far as miscarriages go. Pregnancy loss is still possible, but the chances are greatly reduced. We never, even for a moment, considered not telling everyone right away. We were bubbling over with joy, and there was no way to contain it.
So, we shared our good news. Everyone was thrilled for us and we began making registries and plans. I like this stroller. This baby bedding is cute for a boy, but what if it's a girl? Trivial things like that.
Even though I had always been worried something terrible would happen, I had assumed it would be related to infertility. Once I became pregnant, the weight was lifted. I didn't worry about not reaching the 12-week mark. I didn't think about miscarriages or complications. I was pregnant. That meant I got a baby at the end of the deal. Period.
What follows are excerpts from the journal I kept in 2003:
Wednesday, October 15, 2003
11:30 p.m.

Our baby died today.

Saturday, October 25, 2003
1:13 p.m.

Today is the first time I find myself able to write again.

On Wednesday, October 15th, at 25 weeks of pregnancy, the doctor could not find a heartbeat. On Friday, October 17th, we checked into the hospital at 8:00 a.m. to have my labor induced. On Saturday, October 18th at 2:46 a.m., Elijah Mark Smith was silently born. On Thursday, October 23rd, we buried him.

In a mere two weeks, my entire life has changed. It is hard for me to think back on how happy the last six months were. I want to be pregnant again so badly that I can hardly bear it. It's all I think about.

Fear rips me apart and tells me that I will never have another child. My heart tells me to have faith and to trust. My head tells me that if I don't get my hopes up, I won't be crushed again.

It is still unbelievable that all of this has happened to us. I feel like I'm walking in a fog.

Many of the feelings I experienced soon after our loss were expected: sadness, deep grief, anger. But what surprised me most, and what I wasn't prepared for was the shame -- the overwhelming feeling that I had failed in the way that mattered most, and that it could never be forgiven. Mothers are supposed to take care of babies, and somehow I had not.
I've met so many women over the past 11 years who have also carried this quiet shame, and it has been my deepest desire to help lighten that load, whenever I may. Our burdens are so much easier to bear when we walk alongside each other; when we release our shame, share our stories and honor the memories of the little ones we have lost.
Many years have passed since I penned those journal entries. Those years have brought tears, happiness and even the blessing of children's laughter in my home -- something I had hardly dared even to dream of. And they have also brought healing. I suppose, for me, this month is always a mixed bag of joy and grief. October is sweaters and bonfires, leaves and apples. It's picking out funky Halloween costumes for my kids and carving pumpkins. But it's also loss and heartbreak. It is bits of my heart that have gone missing and will never return. Because though healing does come, a parent who has lost a child is never the same.

Note: This post contains excerpts from Kelly's memoir, "Letters From the Bottom of the Belly of a Whale"