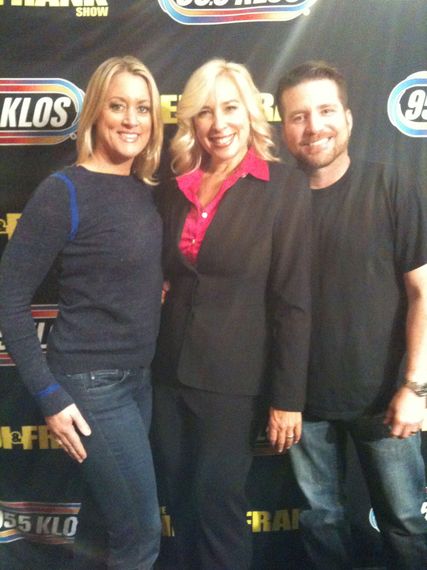 I recently had the dreamy experience of getting up close and personal with legendary radio personalities Heidi Hamilton and Frank Kramer of the Heidi & Frank Show. We had a stimulating conversation for Dish Nation at Hollywood's KLOS radio station about celebrity dreams... like the following from Lady Gaga: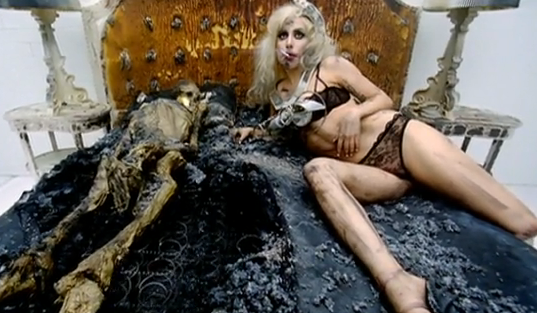 "I have this recurring dream sometimes where there's a phantom in my home. He takes me into a room, and there's a blond girl with ropes tied to all four of her limbs. She's got my shoes on from the Grammys. Go figure--pyscho. And the ropes are pulling her apart. I never see her get pulled apart, but I just watch her whimper, and then the phantom says to me, 'If you want me to stop hurting her and if you want your family to be OK, you will cut your wrist.' And I think that he has his own crazy wrist-cutting device. And he has this honey in, like, Tupperware, and it looks like sweet-and-sour sauce with a lot of MSG from New York. Just bizarre. And he wants me to pour the honey into the wound, and then put cream over it and a gauze."
***
Surprisingly, once we explore the symbolism, I think a lot of women will be able to relate to Lady Gaga's dream.
For example, in her dream, Gaga is being pulled from limb to limb. My hunch is that she's feeling torn between expressing not only her career at an ever increasingly provocative level... but perhaps she hears the ticking of her biological clock and feels that being a mother would mean a great sacrifice to her creative endeavors.
Who among us doesn't want to have it all?
My point of view is, yes, we can have it all... however not necessarily at the same time.
For example, it might be difficult for Lady Gaga to be on tour while giving birth to a baby on stage (although, I wouldn't put it past her... I can just see front row seats selling out at record high prices for that performance).
Women feel torn regarding sacrifices we make. And if we choose to have it all at the same time (work/family/babies/fitness/laundry/romance/making a difference in our communities) then we cut off our presence (i.e. ability to breathe deeply and remain in our bodies while we do what we do).
My hunch about dark, scary creatures in our dreams that are hurting, torturing, or chasing us is that they are the aspect of our lives (or of ourselves) we don't want to face... but they come bearing gifts... if we pay attention.
Gaga's dream phantom gives her honey and cream to soothe her wounds -- symbolic of "sweetness and kindness." I believe this part of the dream is telling her that in the meantime, while she is stretching to accommodate her multi-faceted, multi-platinum desires, to put, compassion, and self-empathy into the places that hurt.
I believe this is a recipe (albeit in a strange package) that can help not only Gaga, but the Gaga within us all with issues of work/family balance.
Gaga admits her nightmares inspire her eccentric stage shows.
"I do have morbid dreams. But I put them in the show. A lot of the work I do is an exorcism for the fans but also for myself."
Thanks, Gaga for exorcising this demon for all of us... and for finding a dreamy solution on behalf of all busy women on the planet.
***
See the video and more dream info: www.KellySullivanWalden.com and
Bossip.com