While sitting in an auditorium at the British Museum waiting to find out which four teams would be chosen as semi-finalists at the Hult Prize London Regionals, I turned to my HEC Paris teammates and asked them if I should bother changing from the boots I had been wearing around the city for the past couple of hours into the heels that I had bobbled around in during our presentation that morning.
Reluctantly, I decided to go ahead and switch to my heels, in the off chance that our team would actually be called down to give a second pitch in front of the panel of about 20 judges and 40 other teams. As the rest of the attendees filed into the room, we talked about how much we were looking forward to finally hearing some other teams' pitches. I wondered what this group of creative and talented students had come up with to answer Bill Clinton and the Hult Prize's call to help 25 million urban slum-dwellers suffering from chronic non-communicable diseases by 2019.
The auditorium quickly changed from a loud, bustling room to a quiet hall of nervous energy as the Hult Prize representatives took the stage. The speakers promised to keep it short but even a few minutes felt like ages for all of the teams. Nobody knew if their team would soon be chosen to present their social business to the crowd. The first group was finally announced and gave their pitch on innovative financing solutions for healthcare in India. Before we knew it, one of the judges from our section's panel, Mark Doughty from Deutche Bank, was announcing the finalist from our group, which, as it turned out, was us!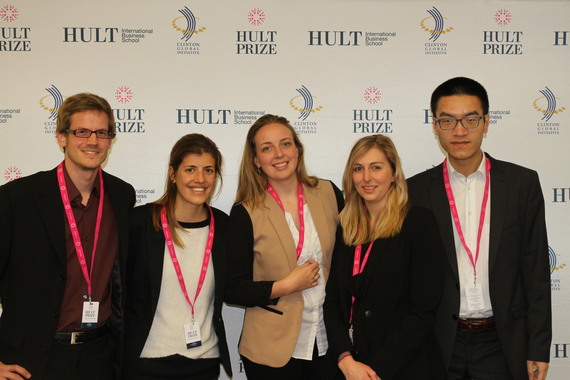 Team Bee Healthy moves on to the final round of the Hult Prize.
Tobi, Yolaine, Haitao, Julie and I looked at each other in shock. Had we heard them wrong? Or were we actually about to present our kind of crazy business plan to this amphitheater full of change makers? I stumbled down the stairs to the stage and somehow a microphone found its way into my hand as our all too familiar slide deck was pulled up onto the large screen. My voice cracked as I started giving the presentation we had practiced a hundred times earlier that morning. I introduced our team, Bee Healthy, and our plan to use bees to provide free diabetes screening to urban slum dwellers. Then I passed the microphone to Tobi who detailed our plan to finance this free screening program through the sale of honey, propolis and wax.
Our final slide appeared on the screen, the clincher of our presentation, the last phrase meant to keep people thinking. It read: "If one jar of honey can help one slum-dweller suffering from diabetes, what else can one jar of honey do?" Our team looked at each other grinning nervously. We were all thinking about our first pitch when Tobi had accidently concluded our presentation asking, "What else can one jar of slum do." This was his big moment of redemption, one more chance to get it right. He took a deep breath and went for it. As the words that came out of his mouth barely came together to form recognizable English sentences, I think we all came to the same realization. If we did win this round and end up pitching in the final round at the Clinton Global Initiative in New York, we would have to change our last slide.
After fielding some questions from the judges, we headed back to our seats, relieved that our final pitch of the day was over. After the last two finalists presented, one team from Tilburg University using dogs to sniff out cancer and the other from Cambridge University with a simplified solution to health data, the judges headed off to choose the winner. I tried to temper my expectations, thinking that it was great to have even made it this far. Then the final announcement changed all of my team members' post-graduate plans with just six words, "And it's all about the bees!"
This post was produced by The Huffington Post and the Hult Prize, where teams of college and university entrepreneurs compete for $1,000,000 in funding for compelling social business ideas. The posts are written by the "Big 6" competition finalists. To learn more about the 2014 Hult Prize, please visit here. Read all posts in the series here.