People thought I was crazy when I told them I was going to Mexico -- alone. "It's not safe," they said. Well I went solo... and it was incredible!
My trip to Mexico was much needed. The cold April weather was wearing me out and I needed some sun and an adventure to regain my love of life. I chose Mexico because I had always wanted to see the Mayan ruins.
I booked my solo vacation through my travel agent Julienne at Flight Centre. I consider Julienne a friend and travel coach (Last year I booked my solo European month-long adventure with her and had such a great experience).
I chose Viva Wyndham Maya, an all-inclusive beachfront resort in the Mayan Riviera, just minutes from Playa del Carmen, a hub of shopping and restaurants. I had arranged transportation to and from my hotel to avoid any issues. This also makes it safer for solo travelers because people are expecting you to show up at certain times.
The hotel was very clean, the rooms were well maintained and the food was very good. I didn't know what to expect for the buffet style dinning (breakfast, lunch and dinner) but I enjoyed every meal and never got tired of the variety. Eating alone is probably one of the harder areas of solo traveling but it allows you to either make friends or enjoy the time alone.
I wanted to see more than just the resort and the city so I booked two excursions to the ruins. These were booked with my travel agent prior to going down to secure my spot in the groups and not get ripped off by overpriced excursion promoters. Being part of a group excursion with local tour guides gives you insight into the culture but they also give good advice on what to try, who to buy from and who to avoid.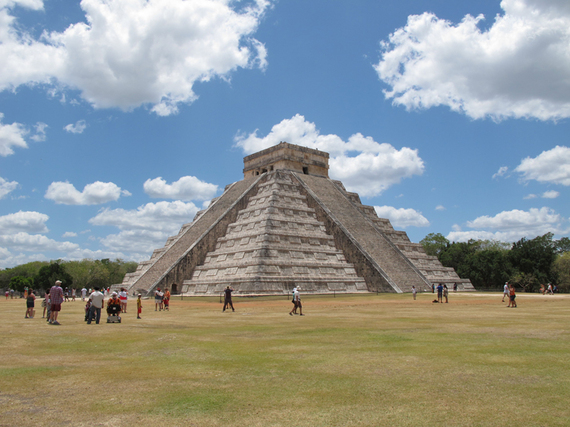 The first excursion was to Chichen Itza. It's considered one of the most important ancient Mayan cities and a must see for anyone visiting Mexico. It was mesmerizing! The guide took us on a tour of the iconic buildings of the site, explaining the discoveries and what still remains a mystery. After the history lesson I had free time to explore the site solo. I ventured off to find a cenota (sink hole) and then relax in a shady spot with a good view of the pyramid.
Travel Advice: Don't buy anything from the vendors along the paths at Chichen Itza unless you're comfortable knowing that the items are probably made in China.
Back on the bus we were served ice cold cervezas to cool down after the hot morning. Next it was off to a local restaurant and craft market called Pueblo Maya Restaurante y Bazar de Artesanías Mexicanas for lunch and shopping. The buffet had a plethora of Mexican dishes to try. Posole (a traditional soup) was my favourite. Even with the hot weather I had two bowls. At the market, I bought a few souvenirs that were made locally.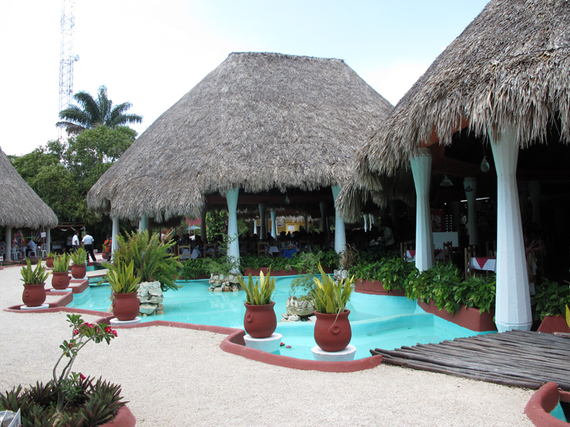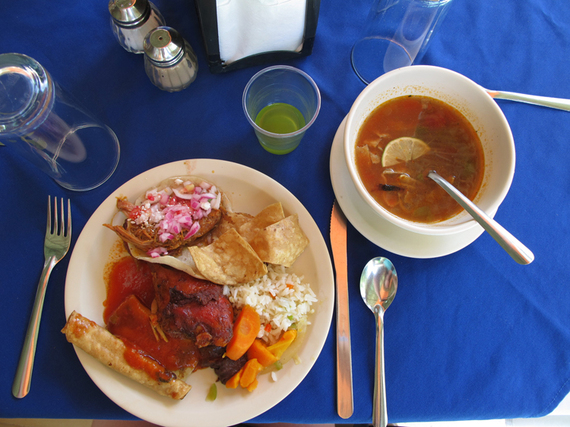 The day ended at Ik Kil, a cenota where I enjoyed a refreshing swim. There were lots of people there making it a crowded experience but that didn't stop me from jumping off the top platform.

Travel Advice: Don't be scared to ask people to take a photo for you. Just be comfortable with who you ask. If you're on an excursion with a group, it's a safe bet to ask one of the fellow group members seeing as how they'll be riding the same bus.
The next day I spent at the resort relaxing, reading and catching up with my thoughts. The resorts had plenty to do, even solo. I booked a few dinners at the à la carte restaurants and even tried my hand at archery. The time alone allowed me to start and finish an entire book (which I haven't done in months) and sip piña coladas well into the evening.
My favourite part of the trip was the second excursion that took me to Coba. The excursion was with allTOURnative tours, an eco-archaeological expedition company that is more in-tune with the local way of life. I felt closer to the culture and the experience was unlike anything I've done before. Just be prepared to get wet, sweat and to be one with the jungle.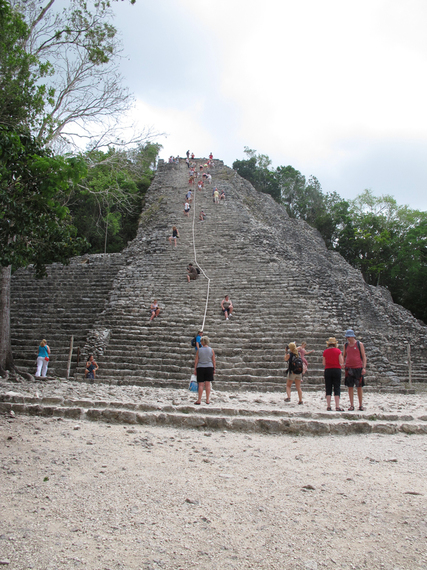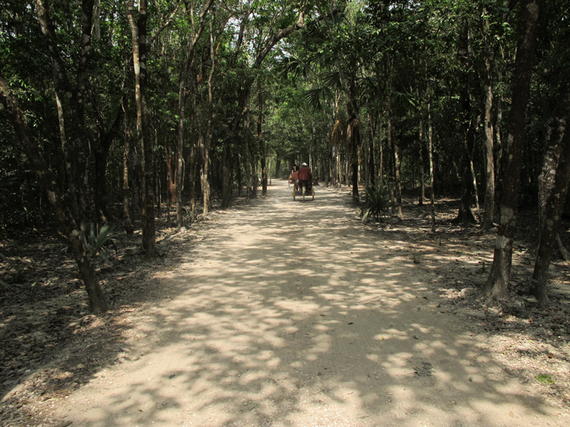 Travel Advice: For those planning an excursion to Coba -- rent the bike! The site is over 80 square kilometers and can take a long time to walk. It's only 4USD to rent a bike and worth every cent if you want to climb the main pyramid, which will take 20-25 minutes to walk to from the main entrance.
After climbing the pyramid we went to a Mayan village where I went rappelling, zip-linning, had lunch then went kayaking, partook in a Mayan ceremony with a Maya Shaman, hiked through the jungle and went swimming in quiet cenota.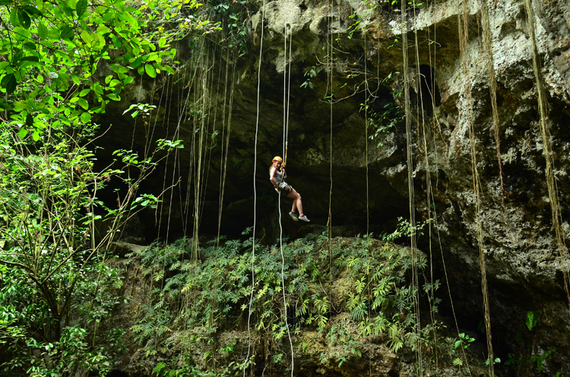 Travel Advice: End of April, beginning of May was the best time of year to do this excursion. I was part of 1 of only 2 tour groups going through the village and jungle. As we were finishing our activities, the next group would arrive and start their turn so we really had the place to ourselves.
I spent a few more days lazing around the resort and taking trips into the city during the day.
I had such a great time sitting on the white sandy beach at the resort, seeing the ancient ruins and playing warrior in the jungle. Not that I wouldn't have loved it if I had a travel companion but doing it myself made me happy too. It's great to travel with friends and loved ones but I believe it's also important to have solo adventures.
Yes, you have to be safe and aware of where to go and where to avoid, there's no question about that. But traveling by yourself gives you the freedom to do as you please and it also puts you in situations where you get to know yourself better. Through my travels I have become a more independent person, willing to take chances and grow. I'm looking forward to my next solo adventure.
Hasta luego!