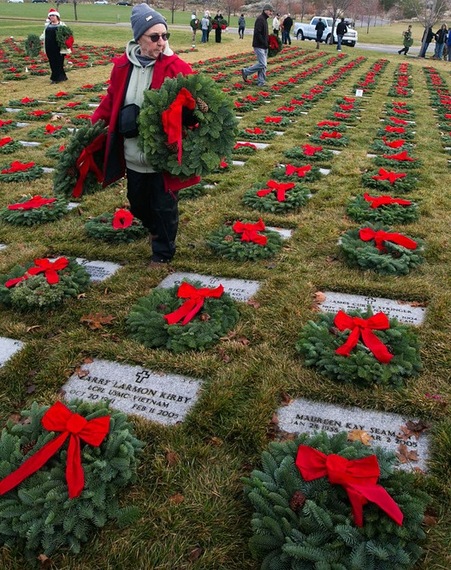 For many people, this last stretch into the holidays is the pits.
Those of us who grieve, battle depression, or for anyone whose life seems to be seized by other sources of despair, the early arrival of darkness during this season amplifies our pain and anxieties. While others around us take joy or rush towards a festival of consumption, we're doubly reminded of who and what we've lost.
In the depths of this darkness, we're supposed to remind ourselves that during Winter Solstice, as the world prepares to turn a corner, so can we.
Of course, cultures everywhere have long observed the longest night of the year, celebrating the inevitable return of light with varied rituals. The sun, which may appear frozen at its lowest noontime elevation for several days around the solstice, embodies a stillness that reinforces this heightened time of reflection and spiritual awareness. While many sacred and ancient rituals have evolved, our need to ensure the sun's daily return endures.
"In the depth of winter, I finally learned that within me there lay an invincible summer." -- Albert Camus
Similarly, we all need to believe in a renewal of summer and hope. Whether through resilience, or avoidance, by facing our pain and trauma directly, or by unhealthy forms of suppression, we muddle through another day.
Especially in this season, it seems easier to shutter our grief, fear, and despair. It is understandable how we forget or deny that dealing with these emotions precisely during the lowest moments of our trials offers a path through the darkest days. This may sound like common sense. But the real question is how do we do this? Whether or not we're aware of the ancient grounding of this wisdom -- expressed by Camus' awareness of "invincible summer" -- we still need to make a space for it.
Jim and Dolly Sullivan may not be completely out of the woods of despair yet, but they're making tracks forward.
The Sullivans, who live in central Massachusetts, lost their only son Christopher in Iraq nearly a decade ago. An Army captain, he was killed by a roadside bomb, and since then his parents' agony has multiplied. His widow returned to her native Germany with the Sullivans' grandson, a toddler who his father had only known during two stretches of leave and training. She has denied the Sullivans any contact with blonde-haired David, who is now 11. She even became estranged from his maternal grandparents, who had been the Sullivans' sole point of contact with David.
They are fortunate to have other grandchildren and two daughters, but the gaps are growing, their holiday memories of Chris and his son limited to one bittersweet day at their rural home.
At times, their struggles to keep their son close have been compounded by feeling others move away from them. They recall the initial gestures from neighbors in their small community. It snowed heavily before Christopher's memorial service, and Jim Sullivan, who is a Vietnam veteran, remembers that "Bob Mason up in town plowed a lot. He went in with a front end loader and took every bit of snow out of the cemetery. Things like that get to you." Their son's tenth anniversary is Jan. 15.
Captain Christopher James Sullivan's remains are interred in Section 60, gravesite 8545 at Arlington National Cemetery, which his parents visit several times a year. They usually go there during the spring, on Veterans Day, and always again in December for wreath-laying.
During the years both parents have fought their own internal battles. But they haven't shirked from facing them. One thing that's helping them both move ahead is connecting with other military families, including Gold Star mothers, who also need support. It's often striking what they have in common, and it continues to move both Dolly and Jim how people lift each other up.
"I think that's the worst thing, feeling that people forgot about your son, that it didn't mean anything." -- Jim Sullivan
The past few years the Sullivans have given themselves a Christmas present. They join truckers and families in the Wreaths Across America tour, the massive delivery of goodwill and tribute to Arlington National Cemetery started by a Maine couple in 1992. Earlier this month the Sullivans took a week on the tour, which starts at Quoddy Head, the eastern most point of the U.S., winding through New England and down the coast -- stopping in small towns, at the Statue of Liberty, Annapolis, and the Pentagon. Then they helped place wreaths on many of the more than 340,000 graves.
"It's healing and comforting," Dolly says. "It's very emotional, but just spending time with those other families. We're in the same place, and every year we meet one or two new families."
Sometimes they connect with others close to their son's grave. A holly tree grows behind his plot, and each year another family comes to decorate their own son's grave on the other side of it, sometimes adding lights while children decorate the tree with ornaments provided by the military.
One Veterans Day a few years ago, Jim saw a man standing nearby whose son had just been buried a month or so before. "I went over and got talking to him. He was a nice guy and you talk about his son and you tell him about yours, and it helps I think in the long run, because not everybody wants to hear, or you think they want to hear but they don't know how to ask you," he says.
Helping with the wreaths "sort of makes you feel better about your son," Sullivan says. "It's not that he's been forgotten. I think that's the worst thing, feeling that people forgot about your son, that it didn't mean anything."
Certainly, like many of us facing our own trials, some the Sullivans' assumptions about life were upended after their son's death. They expected to grow old knowing their grandson. They thought their son would thrive as a father, and that his widow would later maintain their bonds.
The couple will undoubtedly face more dark times, including the holidays just around the corner. Yet they're doing in part what theorists and practitioners call accommodation. Borrowing the metaphor of the broken vase, as Stephen Joseph, a professor at the University of Nottingham, does in his writing (What Doesn't Kill Us: The New Psychology of Posttraumatic Growth) the Sullivans are picking up the pieces and making something new. They still hurt, but they stay involved in causes they care about -- and those that mattered to their son.

It's such a tough time of year for so many. Even if we try to hide or numb ourselves from it, we're also affected by despair throughout the world, from Syria to Ukraine, the increasing extreme weather events, and even the condemnation (and denial by some) of torture tactics our government deployed after Sept. 11.
Heading into the darkness in our personal lives offers the best hope of reclaiming the light. In Healing Through the Dark Emotions, psychotherapist Miriam Greenspan frames the opportunity this way:
Finding the power of the sacred, not despite suffering, but in the midst of it: this is the alchemy of the dark emotions. Through this alchemy, grief moves us from sorrow for what we've lost to gratitude for what remains. Fear of life's fragility is transformed to the joy of living fully, with openness. And even despair becomes the ground of resilient faith -- not just an opiate for our pain, but a profound commitment to life as it is.
With that in mind, bring on the season of light.
Ken Brack is a narrative nonfiction author whose forthcoming book chronicles how families transform their lives after catastrophic loss by finding a new purpose. Entitled The Ten-Year Quilt, the full-length work is expected to be published in the summer of 2015. Formerly a high school English teacher in Boston, he has a M.Ed in Curriculum and Instruction from Northeastern University.
Brack and his wife Denise are the founders of a bereavement center in Kingston, Ma., Hope Floats Healing & Wellness Center, which offers support groups for parents, families, and an array of complementary wellness classes and programs. The Bracks started the nonprofit in 2008, six years after losing their son Michael.