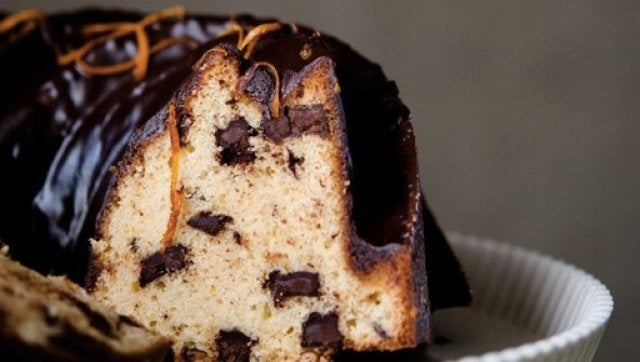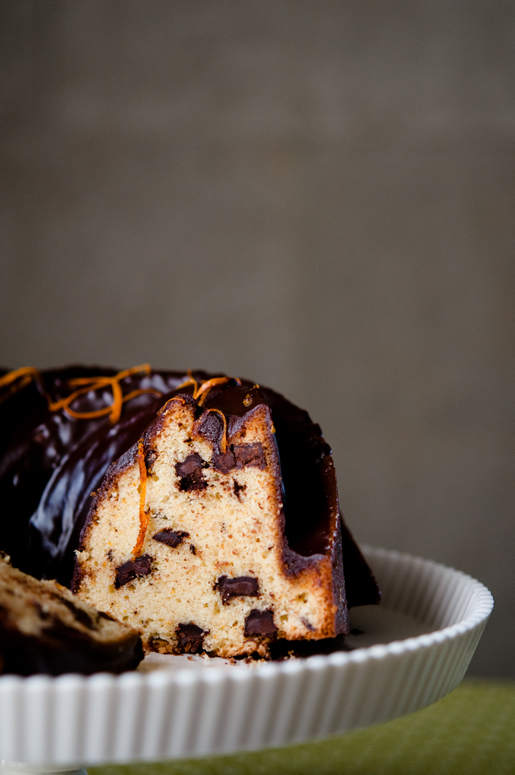 Daily life has finally calmed down since we've got back from the our trip. I've caught up with work--and gotten back into my regular routine of cooking, baking and working out. I even have my tax documents ready for my accountant.
I never thought I'd be so content to get back to a predictable weekly routine. A weekday without emergency phone calls, texts, or emails is a success. On many weekends, we purposely don't make many plans, so we can relax. I cherish an afternoon of baking on Saturday, a time when I don't feel rushed or the need to meet a deadline. In the kitchen, it's just me, myself, and my imagination.
Weekends are also a great time to hangout with M. I'm playing in the kitchen while M is in his office nearby. He tells me about interesting articles he's found on the Internet. Occasionally, I hear him explode in laughter, and I insist on being let in on the joke. These moments seem mundane but are the building blocks of a later comfortable, companionable silence.
This Orange Chocolate Cake represents the very quality of these moments. It's not a fancy cake, nor are the ingredients exotic. With all the ingredients stirred into a simple bundt pan and baked in the oven, the result invokes relaxing moments, especially when shared with loved ones.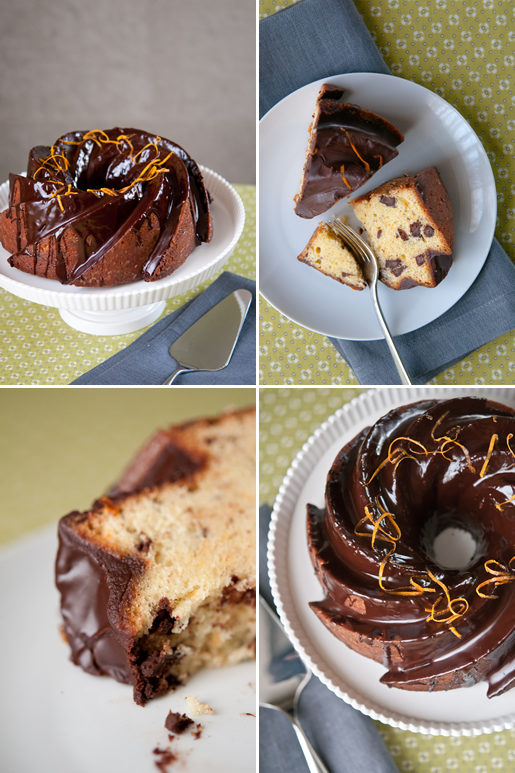 Orange Chocolate Cake
yield: 9-inch cake
adapted from Dorie Greenspan
Ingredients
2 cups (10 ounces) all-purpose flour
1 teaspoon baking powder
1/4 teaspoon fine sea salt
2 cups (14 ounces) granulated sugar
3 tablespoons fresh orange zest (about 2 large navel oranges)
5 tablespoons (2-1/2 ounces) unsalted butter, softened
1 cup unsweetened coconut milk (stir well before measuring)
1/4 cup orange juice, from the zested oranges
4 large eggs, room temperature
1 teaspoon pure vanilla extract
1 tablespoon bourbon or dark rum
4 ounces bittersweet chocolate, chopped into chunks
Chocolate Ganache Glaze, recipe to follow
Orange zest/peel strips for garnish (optional)
Directions
1. Adjust oven racks to middle position and heat oven to 350 degrees. Butter a 9- to 10- inch Bundt pan. Combine flour, baking powder and salt in a medium bowl, set aside.
2. Combine sugar and orange zest in the bowl of a stand mixer, rub the zest into the sugar with your fingers until combined and resemble wet sand.
3. Melt butter in small saucepan over medium-low heat. Cook, stirring constantly, until butter is nutty brown, 5 to 8 minutes. Off heat, slowly stir in coconut milk. Set aside.
4. In the bowl, with orange sugar, of a stand mixer fitted with whisk attachment, add eggs and beat at medium high speed until pale, thick and almost double in volume, about 3 minutes. Add vanilla and bourbon, beat to combine. Reduce speed to low and add dry mixture in 3 additions, scraping down the sides of the bowl as needed.
5. Slowly pour in warm coconut milk mixture and beat until barely combine. Finish the mixing of batter with rubber spatula to make sure all ingredients are fully incorporated. Pour batter into prepared pan and smooth with small off-set spatula.
6. Bake until golden brown and wooden skewer inserted into center of cake comes out clean, about 55-65 minutes. Cool on wire rack for 15 minutes before unfolding onto rack and cool to room temperature.
Chocolate Ganache Glaze
Ingredients
5 ounces bittersweet chocolate, chopped
1/3 cup heavy cream
1/2 tablespoon corn syrup
1/2 tablespoon unsalted butter
Directions
1. !n a small saucepan, bring the cream to a boil. In a heatproof bowl, combine chopped chocolate, corn syrup and butter. Pour the hot cream over the chocolate and let stand until melted, about 5 minutes. Whisk until smooth. Let the ganache glaze cool until thick but still pourable, about 5 minutes.
2. Pour the glaze over the cooled cake.Let the cake stand until the glaze is set, at least 30 minutes, before serving.
Recipe Notes
1. I like to use coconut milk instead of milk. The subtle coconut flavor gives a subtle surprise, plus a richness to the cake. By all means use whole milk if you have that readily available.