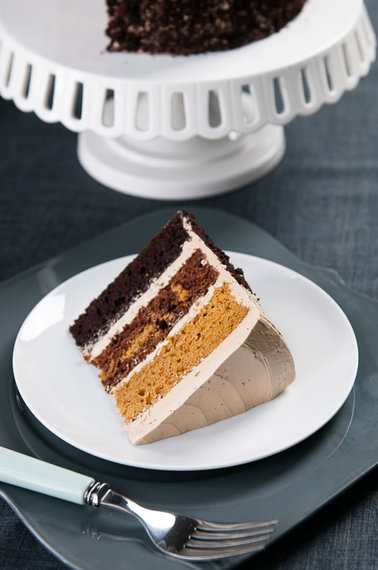 For Thanksgiving desserts, the familiar desserts made with pumpkins, sweet potatoes, pecans, cranberries and apples speak the loudest. While I'm the first to go traditional here, it's also fun to break out and surprise the guests with a little dessert twerk.

Besides the preparation for the feast, M's birthday also happens around the holiday. Last year it coincided with Thanksgiving, and since we were with friends for the week, we didn't want to upstage their preparations, so we opt to postpone any festivities. His birthday is today, however, and I'm going all out. Two days ago, I took him to see Glass Menagerie, starring Cherry Jones and Zachary Quinto, to kick off the celebration.

We'll be dining at the restaurant where we had a wonderful anniversary celebration three years ago and have not been back since Chef Humm took a new direction in his cuisine. So during dinner, there could be all sorts of surprises...

One thing he definitely knows -- I made him a birthday cake. I combined pumpkin and chocolate for a hybrid TG and M celebration. For those of you who need to bake for Thanksgiving, this cake is easier to make than a holiday pie. For starters, you can bake it ahead of time and freeze the cake layers. Butterscotch Pumpkin Chocolate Cake can be your interpretive twist on pumpkin pie for this year's Thanksgiving table.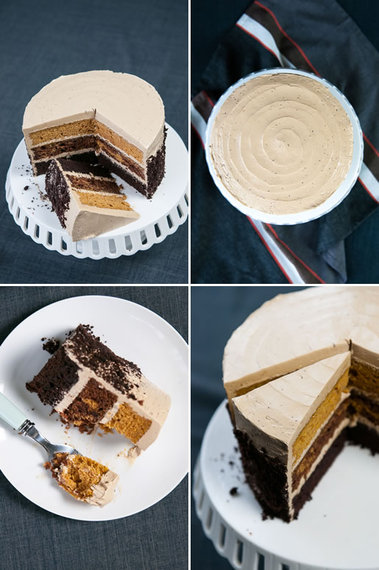 Butterscotch Pumpkin Chocolate Cake
yield: one 8-inch cake
Pumpkin Cake
adapted from Cook's Country
Ingredients
1-1/2  cups (7 1/2 ounces) all-purpose flour
2 teaspoons pumpkin pie spice
1 teaspoon baking powder
1 teaspoon baking soda
1 teaspoon fine sea salt
1-1/4 cups (8 3/4 ounces) granulated sugar
8 tablespoons (4ounces/1 stick) unsalted butter, melted and cooled
3 large eggs, room temperature
1 (15-ounce) can unsweetened pumpkin purée
Directions
1. Adjust oven rack to middle position and heat oven to 350℉ Grease three 8-inch round cake pans, line with parchment paper, grease parchment, then flour pans. Set aside.
2. Whisk flour, pumpkin pie spice, baking powder, baking soda, and salt together in bowl. In the bowl of a stand mixer fitted with whisk attachment, add  sugar, butter, and eggs; beat on medium-high speed until pale and fluffy, about 2-3 minutes. Reduce speed to low, add pumpkin, and mix until incorporated. Slowly add flour mixture and mix to combine, about 30 seconds. Spread half of the batter plus an additional 1/2 cup  in one prepared pan, smooth top with small off-set spatula. Spread remaining batter into another prepared cake pan. Set aside.
Chocolate Cake
adapted from Cook's country
Ingredients
1-1/2 cups (7 1/2 ounces) unbleached all-purpose flour
1 cup  (7 ounces) granulated sugar
1/2 teaspoon baking soda
1/4 teaspoon fine sea salt
1/2 cup (2 ounces) Dutch-processed cocoa powder
2 ounces bittersweet chocolate, finely chopped
1 cup fresh black coffee, hot
2/3 (5-1/4 ounces) cup mayonnaise
1 large egg
2 teaspoons pure vanilla extract
Directions
1. Whisk flour, sugar, baking soda, and salt together in large bowl. In 4-cup measuring cup, add cocoa and chocolate; pour hot coffee over cocoa mixture and whisk until smooth; let cool slightly. Whisk in mayonnaise, egg, and vanilla. Stir mayonnaise mixture into flour mixture until combined. Reserve 1 cup batter and pour the remaining into prepared pan, smooth top with small off-set spatula.
2. With a spoon, drop dollops of remaining chocolate batter into the second pumpkin cake batter (the one with less batter). Run a small knife or off-set spatula through the batter to create swirls.
3. Place all three cake pans into oven and bake until wooden skewer inserted into center of cake comes out with few crumbs attached,. 22-25 minutes for both pumpkin cakes and 30-35 minutes for chocolate cake.
4. Let cakes cool in pan on wire rack for 20 minutes. Remove cakes from pans, peel off parchments and reinvert onto lightly greased rack. Cool completely.
Butterscotch frosting
Ingredients
3/4 cup (6 ounces) packed dark brown sugar
3 large egg whites
3/4 teaspoon fine sea salt
18 tablespoons (9 ounces) unsalted butter, softened and cut into 1-tablespoon pieces
1/2 teaspoon pure vanilla extract
Directions
1. Combine sugar, egg whites, and salt in bowl of stand mixer; place bowl over pan of simmering water. Whisking constantly, heat mixture until slightly thickened, foamy, and registers 150℉ on instant-read thermometer, about 2-3 minutes.
2. Place bowl in stand mixer fitted with whisk attachment. Beat mixture on medium speed until soft peaks and slightly cooled, 1 to 2 minutes. Add butter, 1 piece at a time, until smooth and creamy. Once all butter is added, add vanilla; mix until combined. Increase speed to medium-high and beat until light, fluffy, and thoroughly combined, about 1 minute.
Assembly
Ingredients
Pumpkin Cake layer
Pumpkin/Chocolate Cake layer
Chocolate Cake layer
Butterscotch Frosting
Directions
1. Trim cake layers to level, place trimmings (your choice, I used chocolate), in a bowl and break them up into crumbs, set aside.
2. Place chocolate cake on a serving platter or cake stand, spread an even layer of frosting on top. Repeat with pumpkin/chocolate cake, then pumpkin cake layer. Spread remaining frosting on top and side of cake. Decorate side of cake with cake crumbs. Refrigerate for 30 minutes or until ready to serve. (Cake can be refrigerated for up to 2 days.)