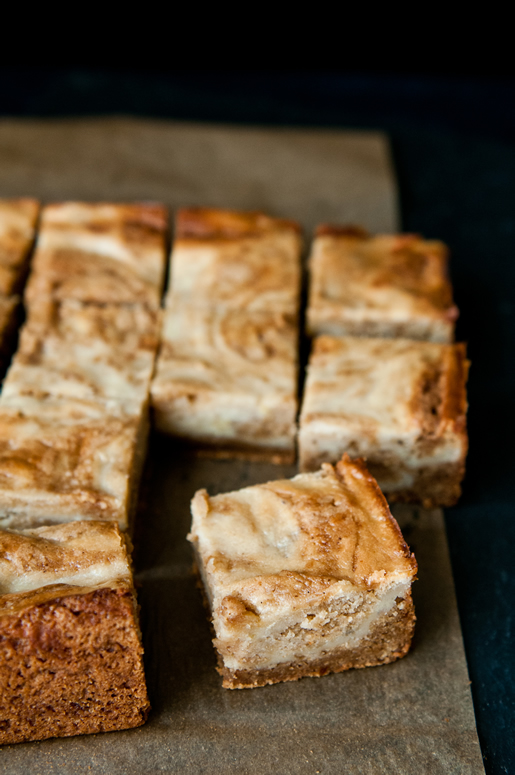 Butter! Once we were able to return to the apartment after Hurricane Sandy, I wanted the smell of brown butter to once again fill the kitchen. The bars of gold and silver wrapped Kerrygold butter sat on the cool floor tiles awaiting our retrieval, like treasures resting in Gringotts Wizarding Bank.
A week earlier, I had been excited to receive pounds of butter from Pie Party Potluck Live, thinking I was set for the holiday season. Then the storm's power outage had forced me to dispose of all perishables from the refrigerator and freezer. Without a clear schedule for power restoration, it was hard to gauge what to throw out when.
After some energetic twitter chatter, I decided that the heatless apartment was cool enough to keep butter. So I placed them in the coolest spot and hoped for the best.
After restocking basic groceries, I immediately started to brown butter for a batch of these Butterscotch Banana Blondies. The aroma of brown butter comforted us--and signaled that we were back home.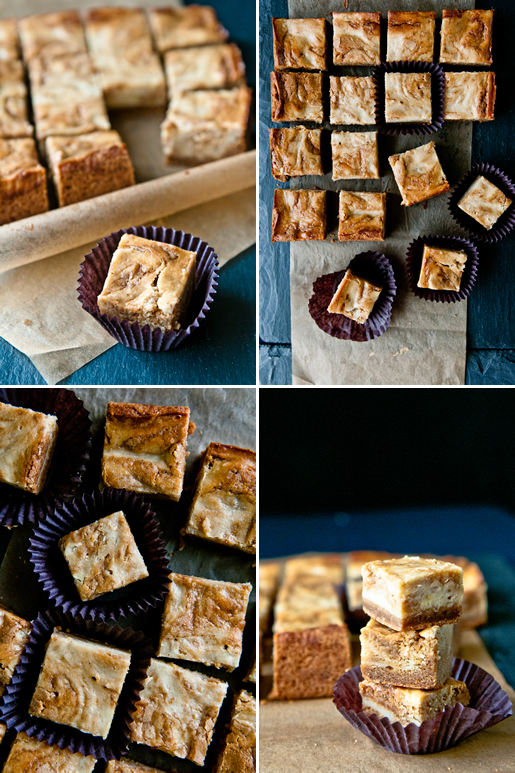 Butterscotch-Banana Blondies
yield: Sixteen 2-inch squares
Butterscotch Blondies
Ingredients
10 tablespoons (5 ounces) unsalted butter, plus more for pan
1-1/4 cups (6-1/4 ounces) all-purpose flour, plus more for pan
3/4 teaspoon baking powder
3/4 teaspoon fine sea salt
1 cup (8 ounces) packed light-brown sugar
1/4 cup (1-3/4 ounces) granulated sugar
1 large egg, room temperature
1 large egg yolk, room temperature
1-1/2 teaspoons pure vanilla extract
Banana Swirl
Ingredients
6 ounces cream cheese, at room temperature
1 large egg yolk
1/4 cup (2 ounces) granulated sugar
2 tablespoons unsalted butter, room temperature
2 tablespoons all-purpose flour
1 tablespoon cornstarch
1/2 teaspoon pure vanilla extract
1/2 cup mashed very ripe banana (1 medium banana)
Directions
1. Adjust oven rack to lower-middle position and heat oven to 350℉.. Butter a 8 x 8-inch baking pan. Line bottom of pan with parchment paper; butter and flour parchment paper.
2. In a saucepan over medium heat, cook the butter until it turns golden brown, about 5-8 minutes; remove from heat, and let cool. Whisk together flour, baking powder, and salt in a small bowl, set aside.
3. in bowl of standing mixer fitted with paddle attachment, combine browned butter and both sugars; beat on low speed until combined, 1 minute. Add egg and egg yolk, beat on medium-high speed until light and fluffy, about 3 minutes. Add vanilla, and beat to combine. Reduce speed to medium-low and add flour mixture, beat until thoroughly combined. Pour half the blondie batter into prepared pan and spread evenly with small off-set spatula. Pour remaining batter into a bowl, set aside.
4. Wipe bowl of stand mixer clean, add cream cheese, egg yolk, sugar, butter, flour, cornstarch and vanilla to clean bowl. Beat on medium speed until combined. Add hashed banana and continue to beat until mixture is smooth and fully combined.
5. Pour half of banana mixture on top of blondie batter in prepared pan and spread evenly. Pour remaining blondie batter on top; add dollops of remaining banana mixture, about 1-inch apart. Gently swirl banana mixture into blondie batter with a knife, spatula or chopstick to make desire pattern.
6. Bake until a cake tester inserted in the center comes out with a few crumbs but not wet, about 35 to 45 minutes (do not overbake). Transfer to a wire rack to cool completely before turning out of pan onto a cutting board. Peel off parchment paper; cut blondies into 2-inch squares. Blondies can be stored between layers of parchments, or in muffin cups, in airtight containers at room temperature up to 2 days.