A whole lot of worry as I dropped off Frida, a member of my family, at the veterinarian's office on my way into work yesterday morning. (Yes of course Peninsula Humane Society & SPCA has its own staff vets, in fact we have five of them; but while they're always great about answering a quick question, they're here for the thousands and thousands of abandoned, unwanted, stray and homeless animals in our care, and that keeps them plenty busy!) So on my way into work to help save the lives of so many animals, I got to drop off and worry about the life of one of my own dogs.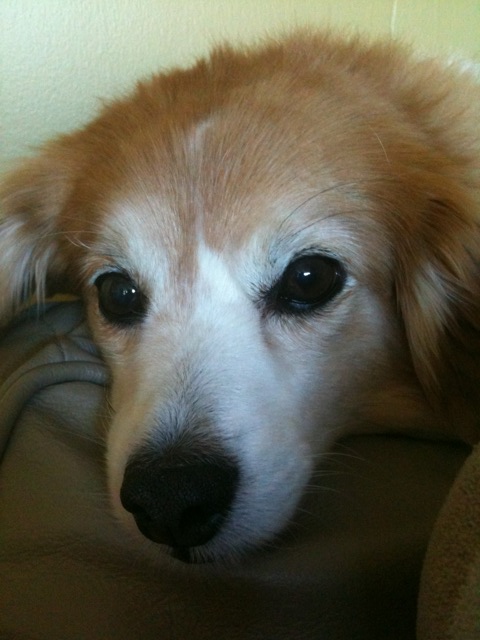 Frida is the baby that stayed when, nine years ago, we fostered a mother beagle and her eight newborns for about 10 weeks. Mom's a beagle, that we know for sure, but dad is a mystery. Of all the possibilities of her mutt-hood, I have always leaned to beagle-collie (because of the look and behavior, plus Lassie was my childhood favorite and I get to call her a Bialy). But whatever her lineage, one of an amazing and wonderful species, this is among the sweetest, dearest, most loving dogs I've ever had the pleasure to know.
The surgery itself was nothing too worrisome or unusual (to remove stones in her bladder, a reoccurring problem with this girl) and I have absolute faith and confidence in my doctor and her team, but it's still surgery and nine-years-old means she is no longer a puppy (despite both her behavior and her looks). So when the call came from the doctor to say all went well and that Frida was out of anesthesia, and when I got to call home to tell Carolyn the very good news, it was a good deal more than a sigh of relief. More like a bellow of relief, in fact.
She got home last night and stood statue still as her big brother Archie gently sniffed her from tip of nose to tail. We all get information the way that works for us, and this is their method. The cats, too, seemed happy and relieved to have the family back together. After dinner, we all piled onto and around the couch, Frida perched up on a blanket on the back of it just like the cats taught her years ago. We carried her gently to bed a few hours later, and it was a peaceful night.
I have been lucky to have loved a good many dogs and cats over the years. I have sadly lost all too many of them, too. It's a package deal of course, the loving and the losing. I'm just not prepared at this point to lose another. Welcome home Frida.