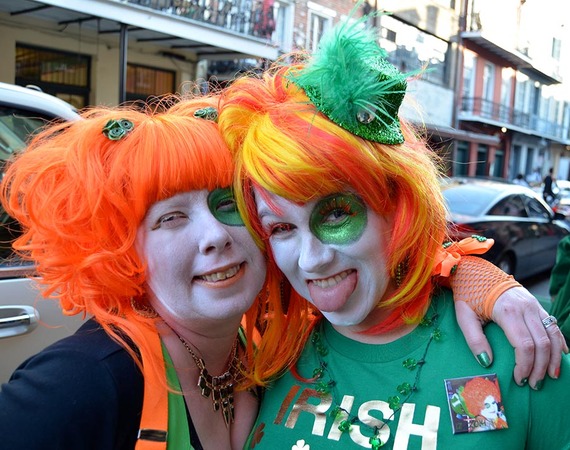 Most cities celebrate Saint Patrick's Day in the usual way: a parade, green beer, and the belief that everyone can enjoy the privilege of being Irish for one day. But here in New Orleans, we don't just have a parade: we have four parades! Well actually, three and a half parades, since the Italian-American parade in the French Quarter is also a celebration of Saint Joseph's Day, Saint Patrick's close neighbor, and a big deal around here. I managed to catch three of those parades, and I have the pictures to prove it.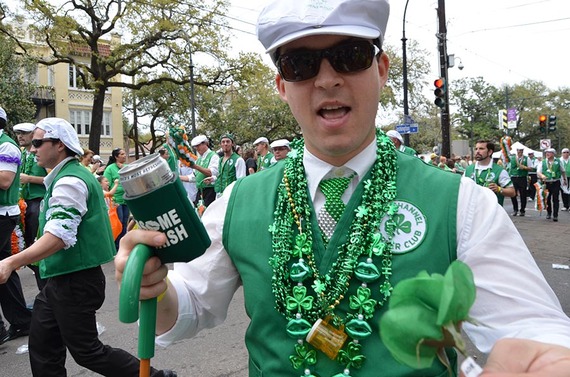 New Orleans parades feature throws: you know that. The standard throw is beads, but many parades have unique throws. Muses has shoes, Zulu has coconuts. New Orleans Saint Patrick parades throw food. In the case of our biggest parade, the Irish Channel Parade, the throws are cabbage and vegetables: two of the three things you need to make a three-course Irish meal (you supply the beer). In the case of the first parade, the Molly's... well, read on.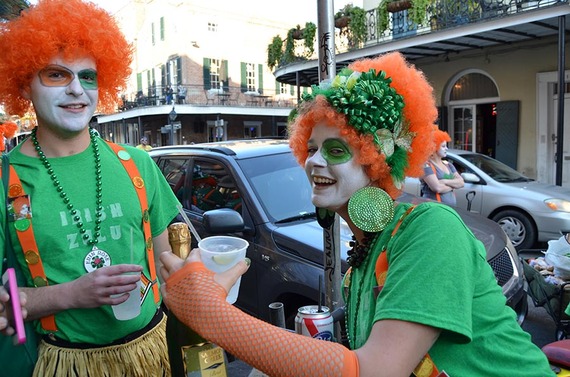 Our weekend started off in the French Quarter with Jim Monaghan's Irish Parade, which begins at a bar called Molly's At The market on Decatur Street. Locals just call it the Molly's Parade, and call the krewe the Mollies.
This year's theme was a tongue-in-cheek play on Zulu, our Black culture parade which throws hand painted coconuts. This year the Mollies did Irish Zulu...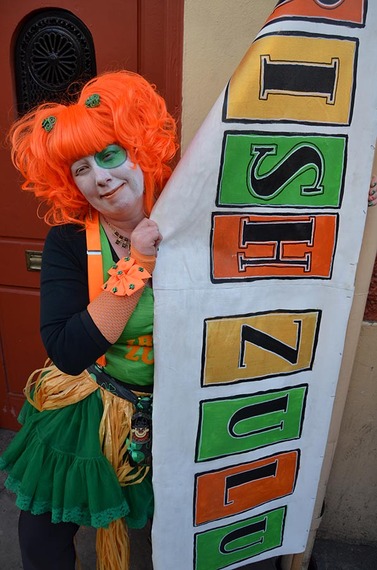 ...and threw hand painted potatoes.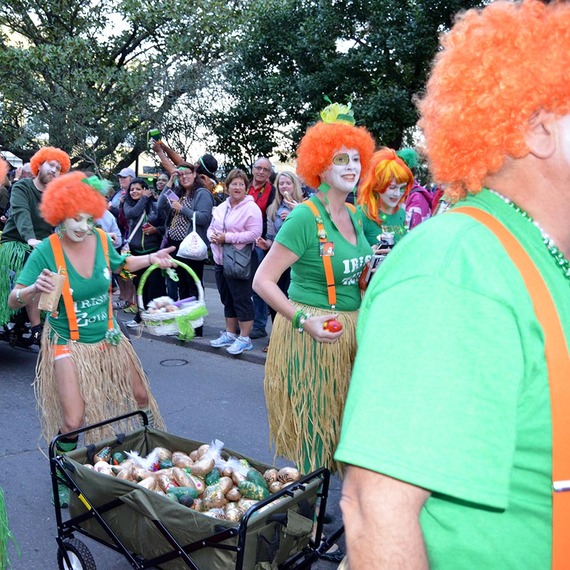 I caught up with the parade as the krewe lined up on Decatur Street, then followed it for a few blocks.
The Bearded Oysters were among the paraders. Catching up with them while they lined up allowed me to get shots of their costumes, which like their krewe name, are often funny, subtle sexual innuendos.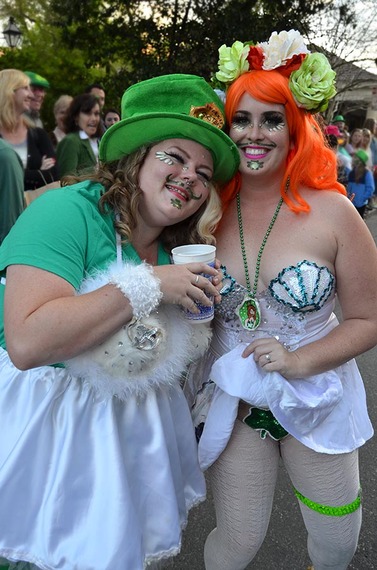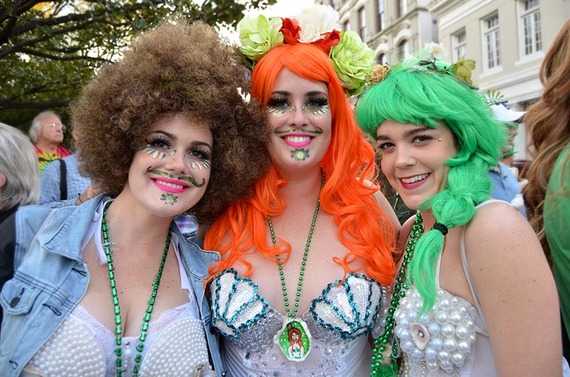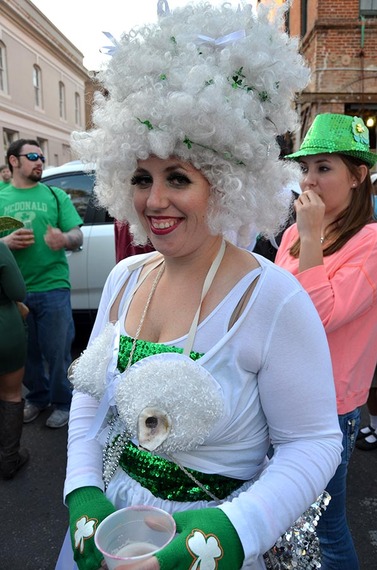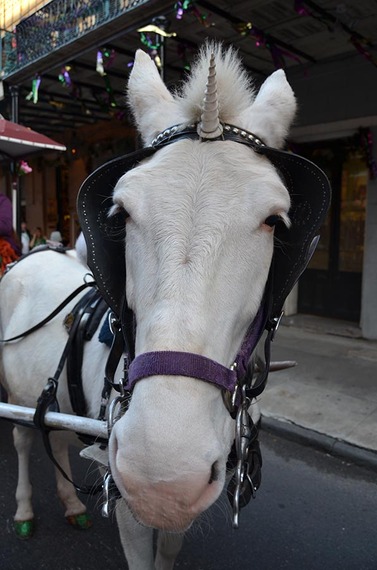 Above, uni-mule; below, uni-Midori with Katrina Brees: they led a krewe who rode Katrina's unicorn art bikes in the parade. Katrina is wearing her Bearded Oysters costume, complete with innuendo.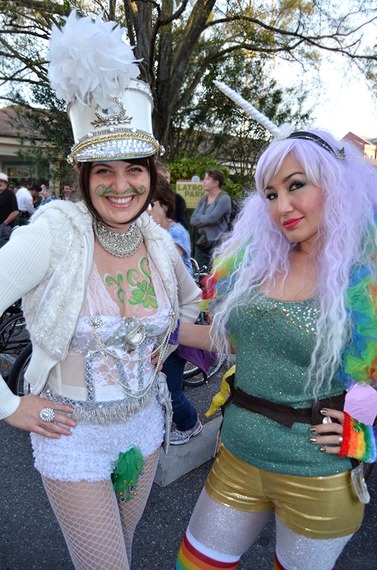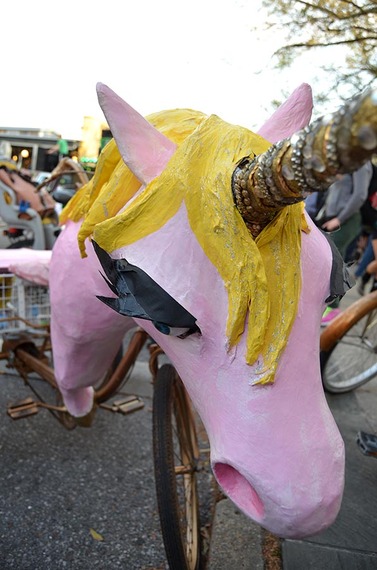 One of Katrina's unicorn art tricycles.
As crowds waited for the parade to roll, they were entertained by Dancing Man, an energetic local celebrity.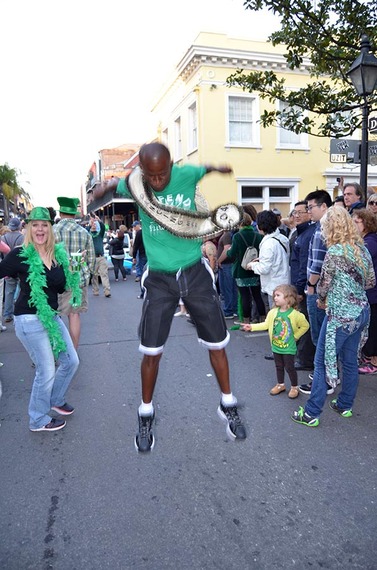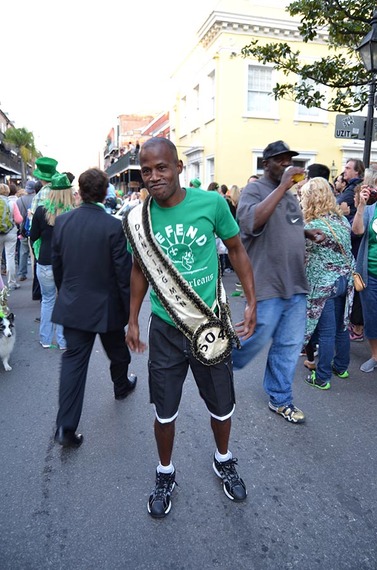 The parade began to roll just about on time.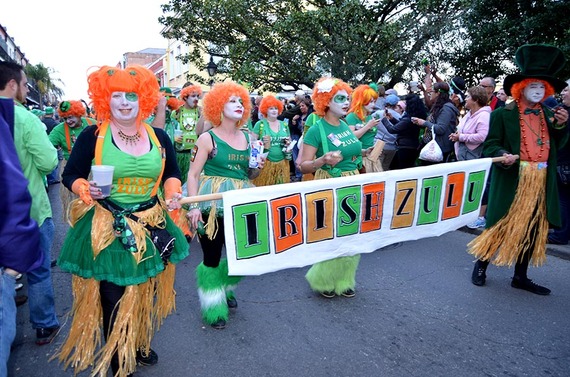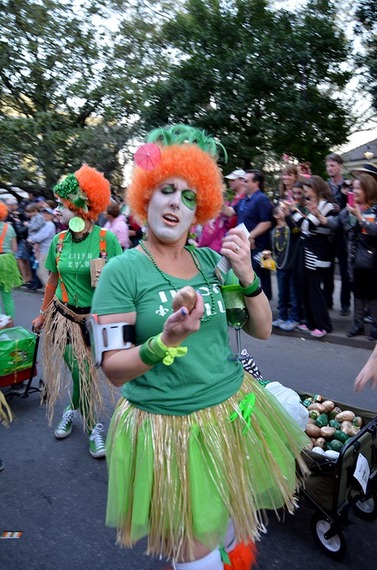 Nice potatoes!
One element of Saint Patrick's parades, unlike other New Orleans parades, is that of cars. Politicians, parade leaders and celebrities ride in high end cars in these parades. This is a handy fact to keep in mind as we continue to look at more Saint Patrick's events.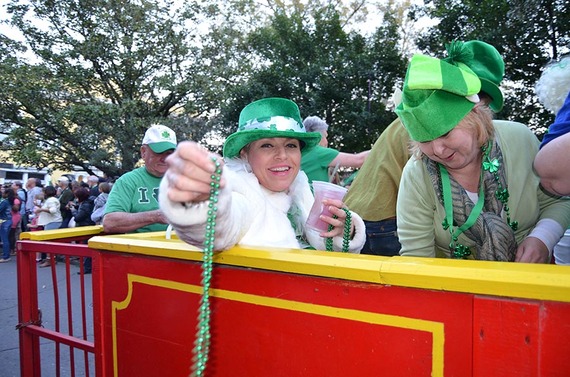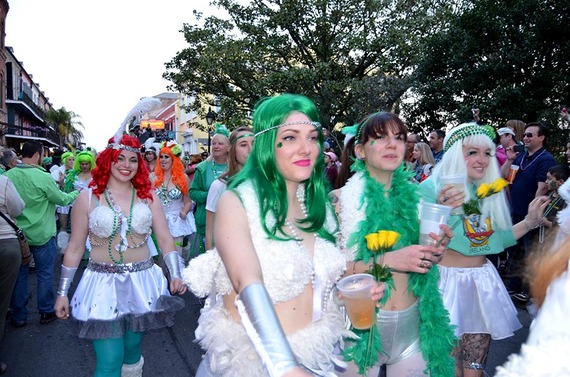 Above, the Bearded Oysters roll. Below, unicorn Midori heads the unicorn tricycle krewe. If you see Midori constantly throughout my parade coverage, it's not just because we're friends: it's because she's really in every parade!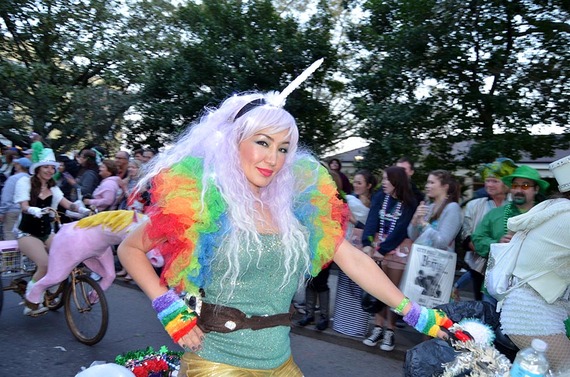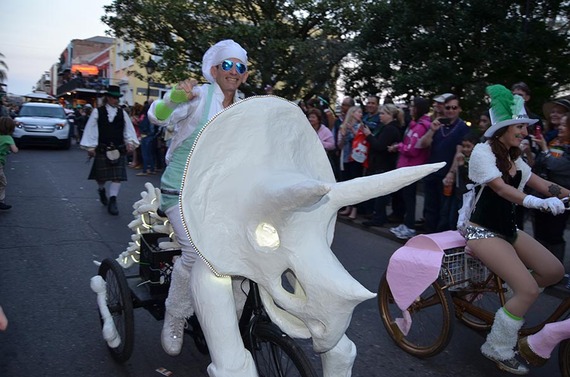 Tricorns. Sometimes the unicorn rules get bent just a bit.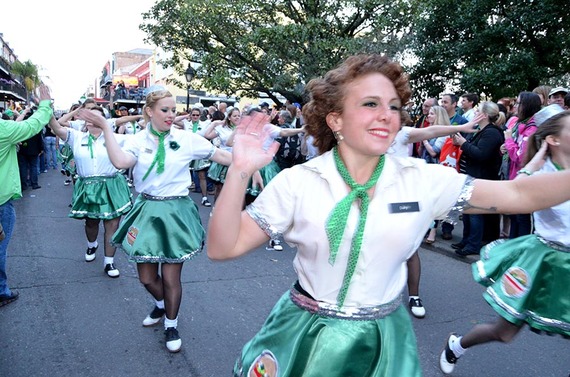 The MuffALottas kept very busy all weekend. We'll see more of them later.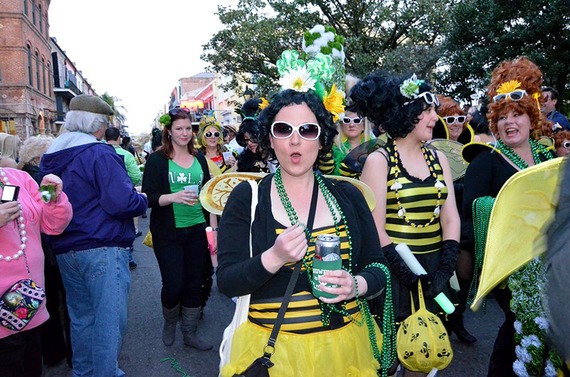 The Queen Bees, marching (above) and after the parade (below).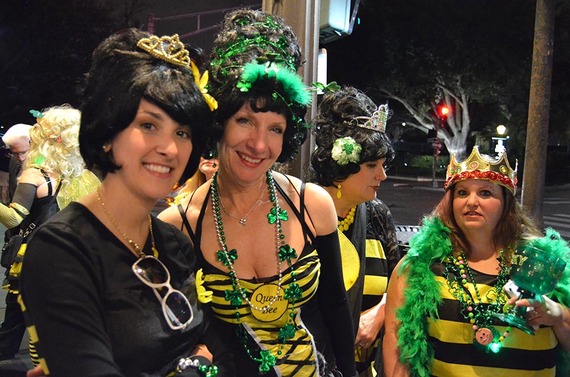 The next afternoon, Saturday, it was time for the biggest of our Saint Pat's parades, the Irish Channel Parade, which rolls along the main parade route on Saint Charles, and then down to Magazine Street, which is the border of the neighborhood called the Irish Channel. That area was first settled in the nineteenth century by Irish immigrants who came to New Orleans to build canals, and the area still has an Irish population.
The parade began with the usual marching bands and war heroes.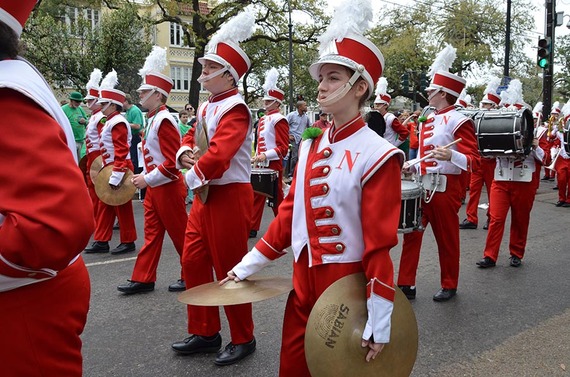 Followed by Celtic krewes and Irish dance teams...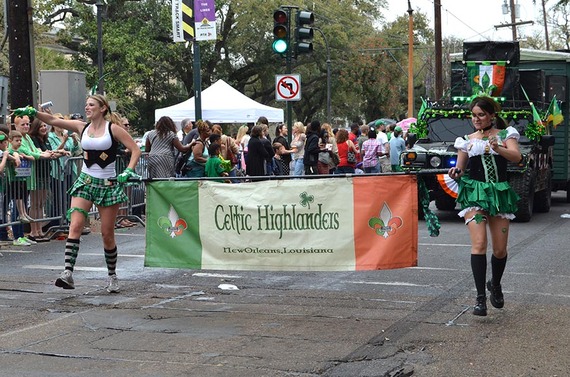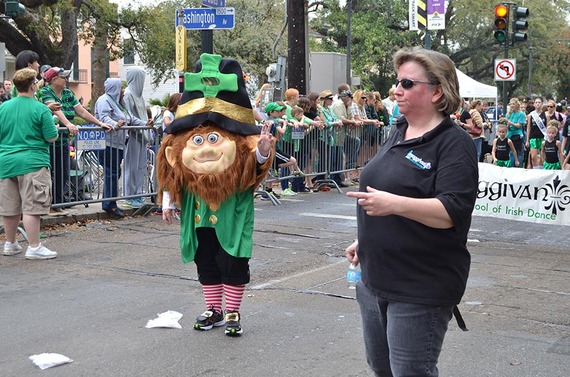 Above and below, the Muggivan School of Irish Dance.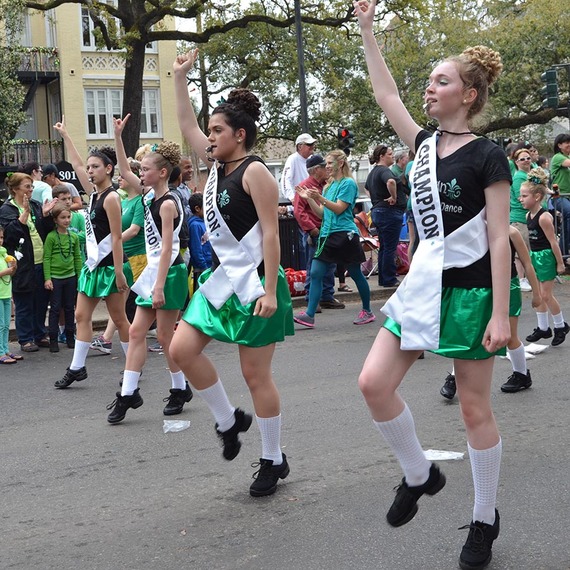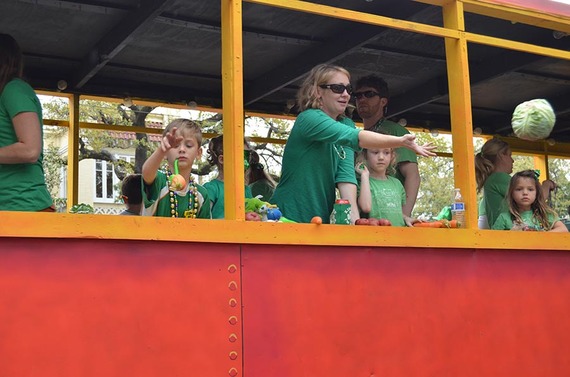 The first cabbage is thrown.
Then came the krewes that put on the parade. These krewes largely consist of men who walk through the parade kissing women and handing them flowers, garters and panties.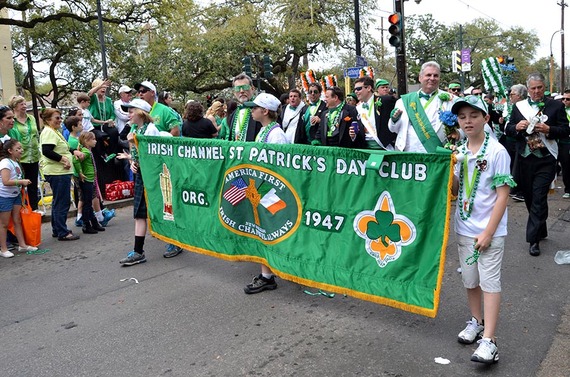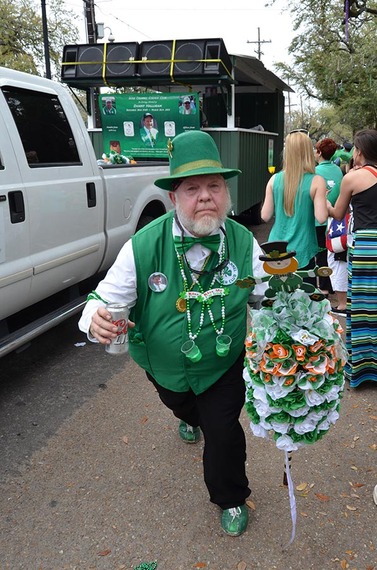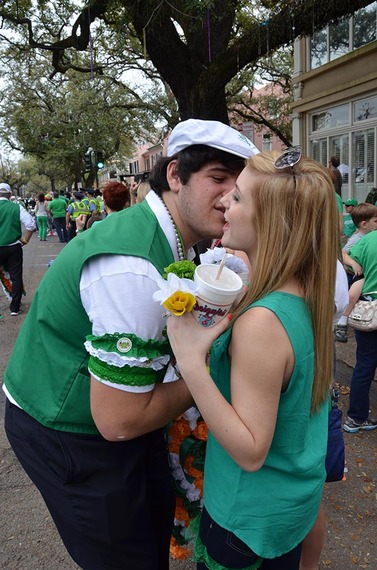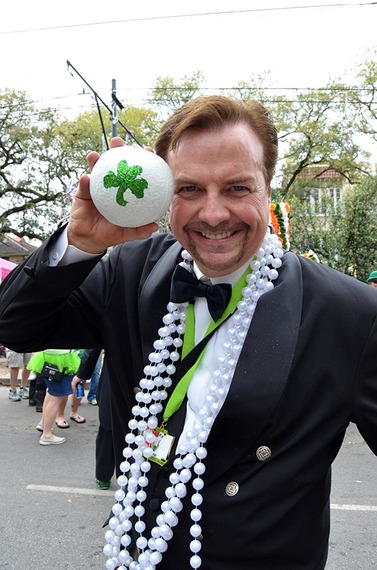 I happened to be standing beside a group of very attractive young women who, needless to say, received a lot of attention from the kissing Irish krewes.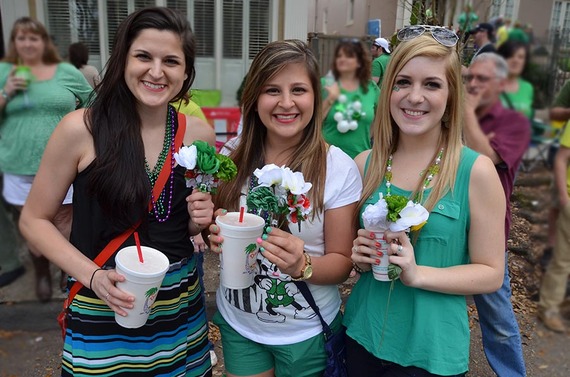 Some of my companions just a few minutes into the parade...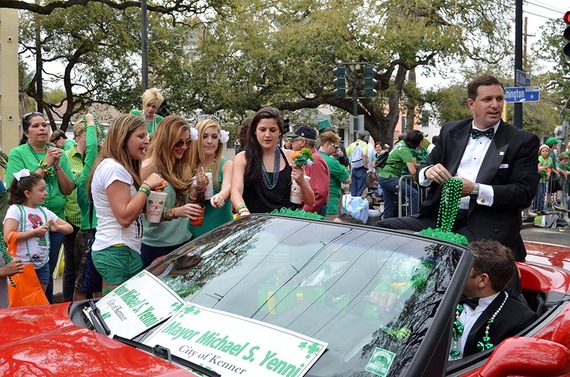 Not only walking Irishmen, but riding Irishmen stopped to hand them items...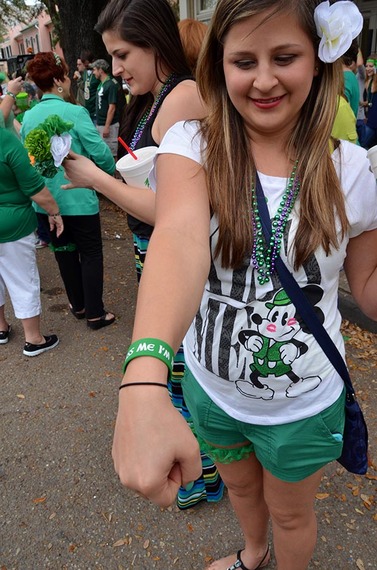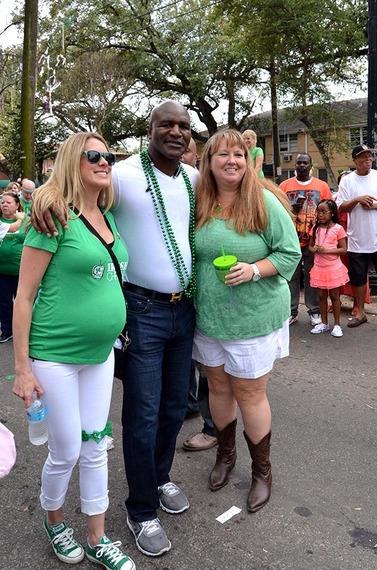 Boxing legend Evander Holyfield marched in support of a local political candidate. Irish women flocked to him for kisses. Apparently Holyfield's fertility charm is working for the Irish women.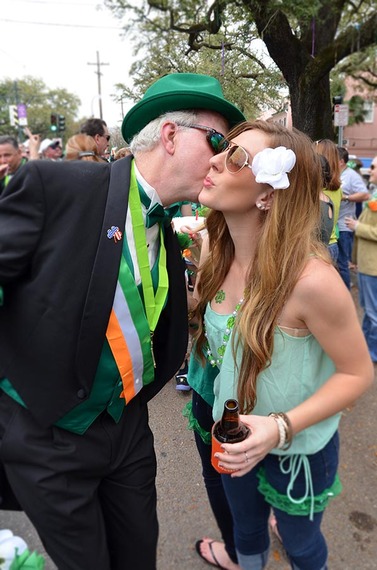 More love for my companions. Kisses...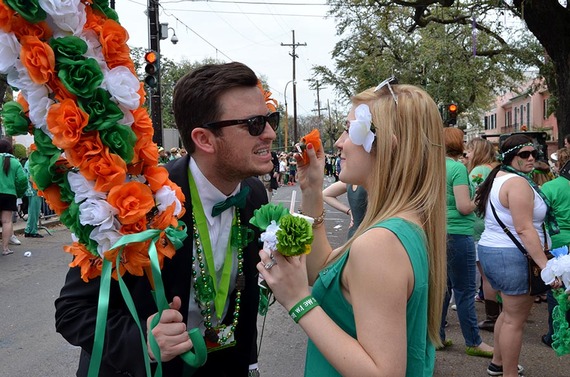 ...flowers...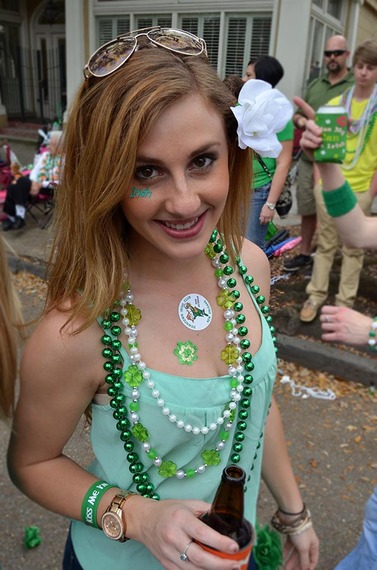 ...stickers placed on their chests by bearded Irish rascals...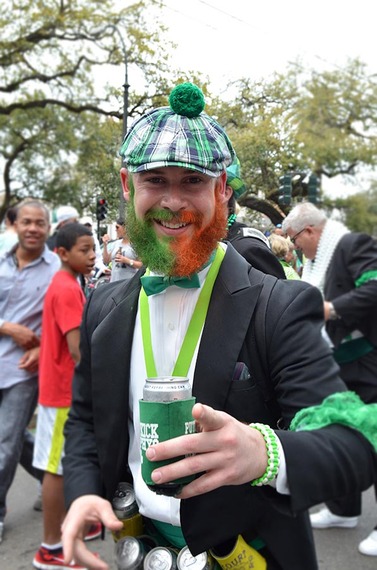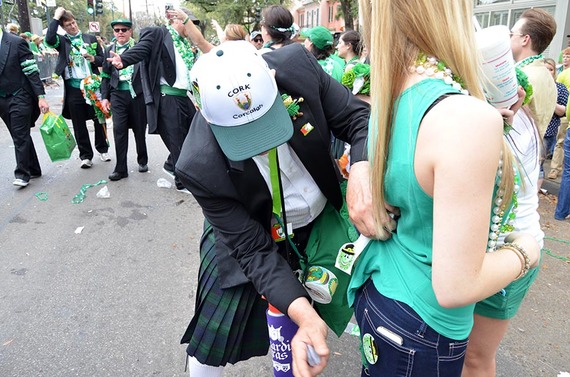 ...stickers placed on their butts, by same...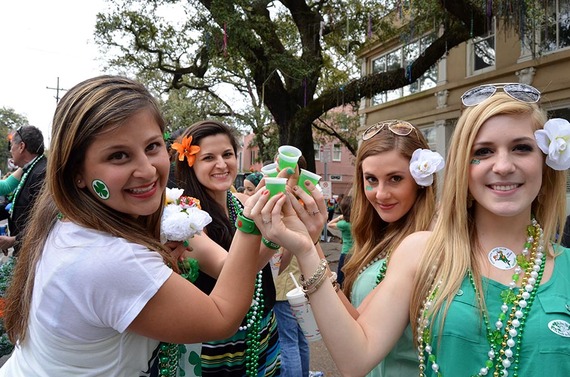 ...jellos shots... by the way, it was the birthday of the darkest haired girl with the orange flower, but I digress...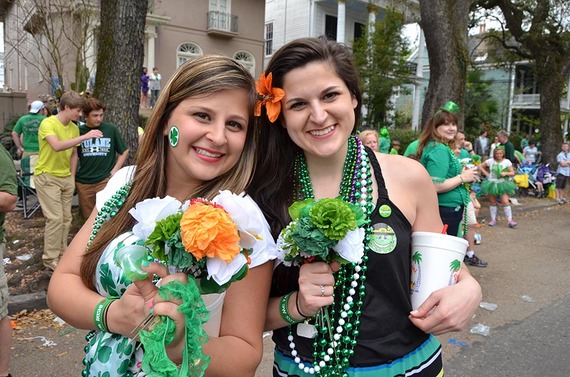 ...garters. My companions with their swag by the middle of the parade.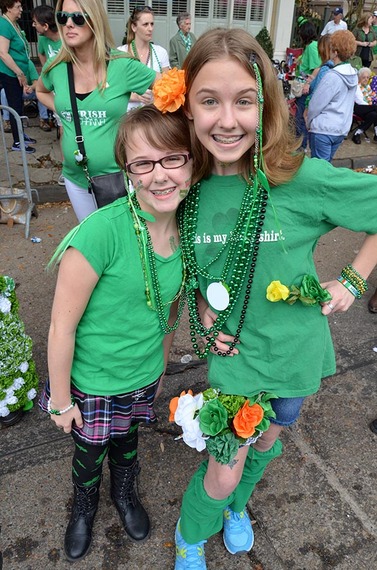 Even the youngest women got kisses and flowers, though probably not in the same fashion as my companions.
I moved with the parade from Saint Charles down to Magazine. There, near the end of the route, people were drunker, and things were becoming far more interesting.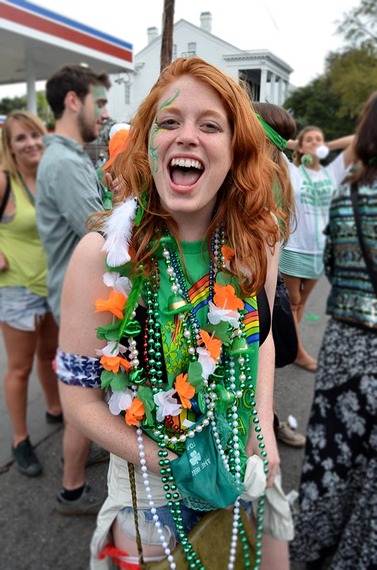 I love red heads. Have I ever mentioned that?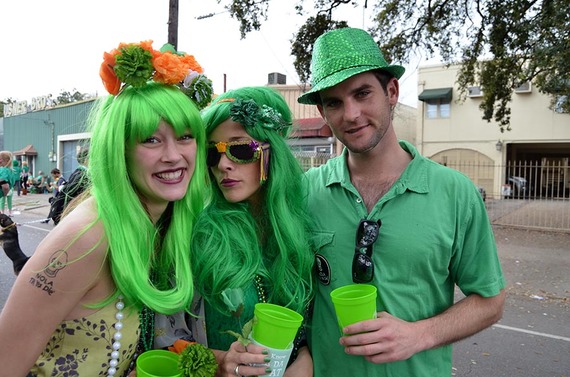 People in the crowds, waiting for the parade to reach magazine and Washington.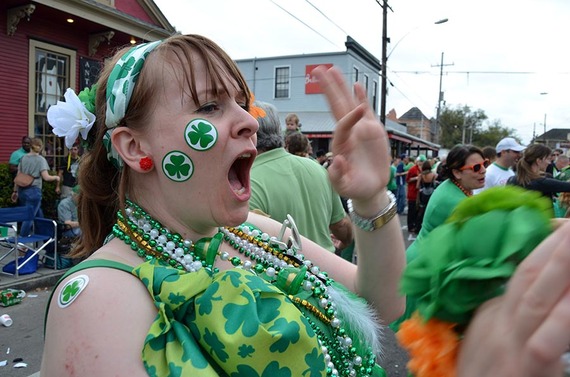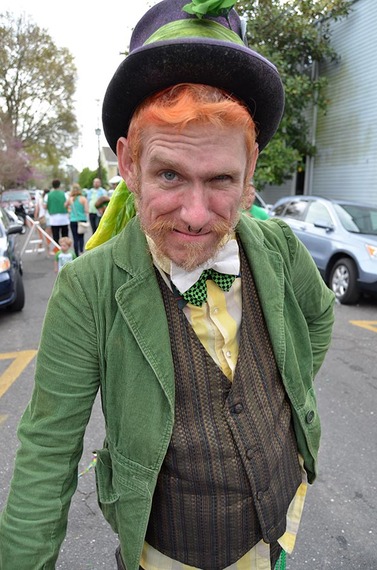 My buddy Thugsy Da Clown, and friends.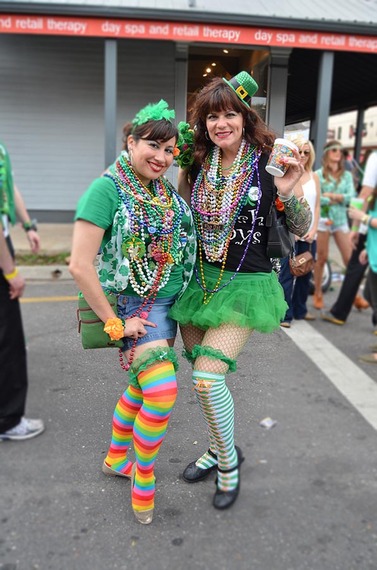 Finally the parade reached us. One of the krewes was the Daughters Of Lir, who roll a swan (part of the Celtic myth of the God Lir)...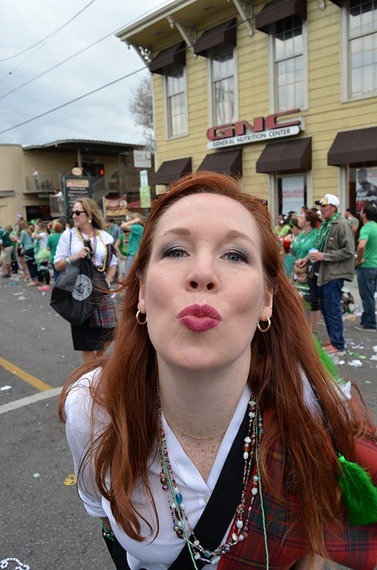 Did I mention that the Daughters of Lir include red heads?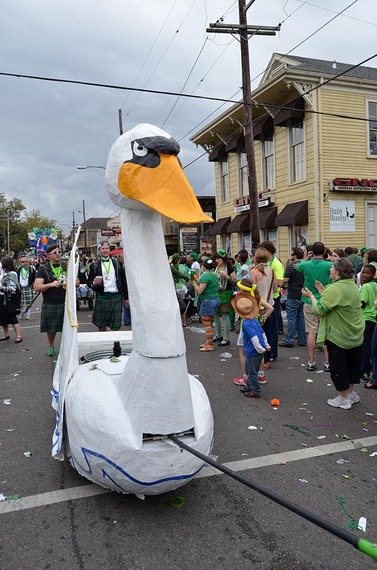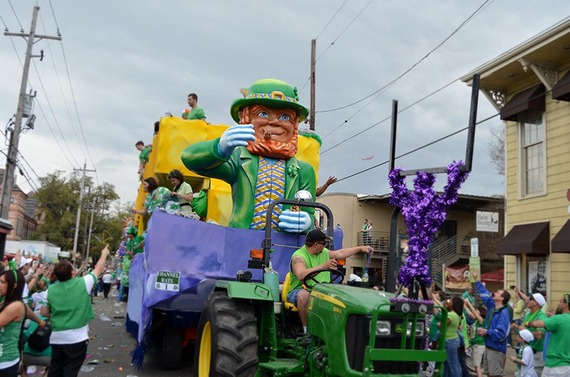 Here is one of several awesome Blaine Kern floats, from which all kinds of food and objects were thrown...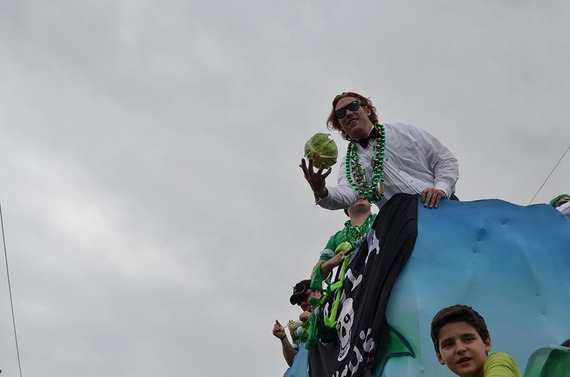 ...cabbages...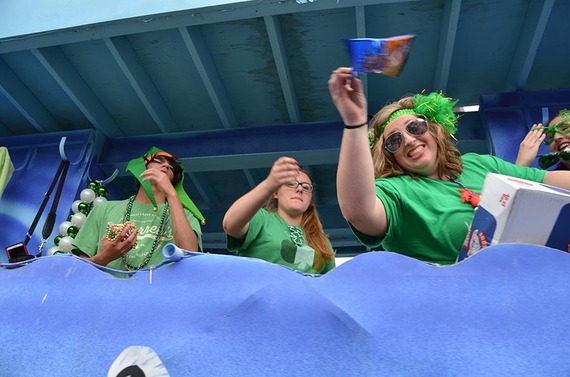 ...soup mixes...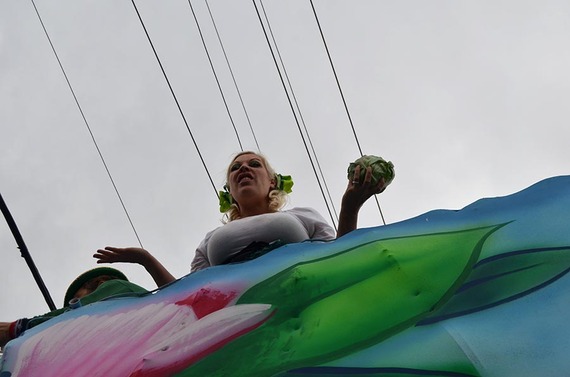 ...more cabbages...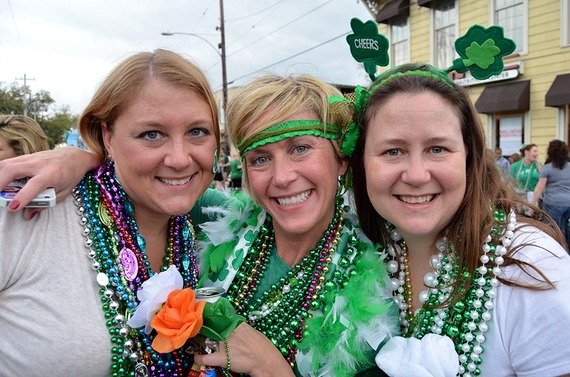 ...and a zillion beads.
I made friends with a couple visiting from New York City, who got a lot of stuff...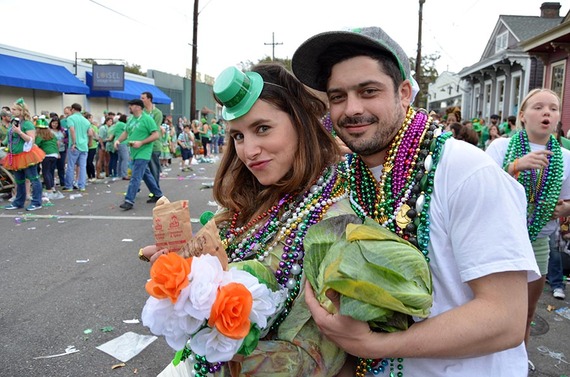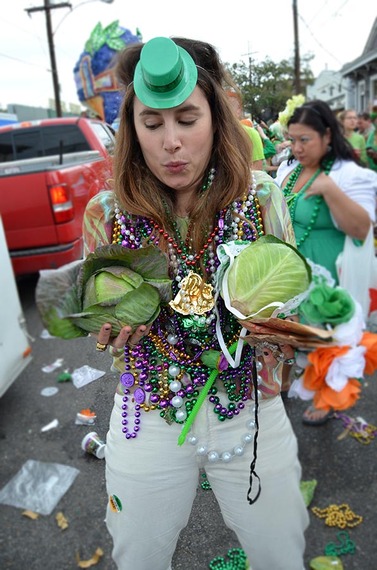 Nice cabbages!
Did I mention the zillions of beads?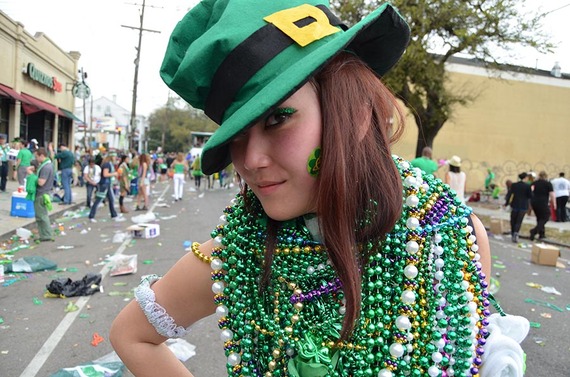 Local celebrity Chop Suzy. She's pretty adorable. We're Facebook friends!
There's no rest for the not-actually Irish! Almost immediately after the Irish Channel parade ends, the Italian-American Saint Joseph parade begins in the French Quarter.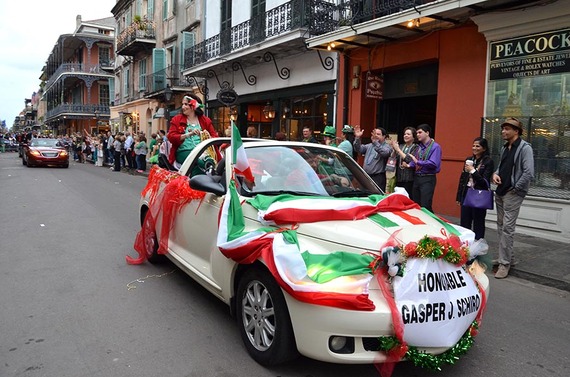 More cars.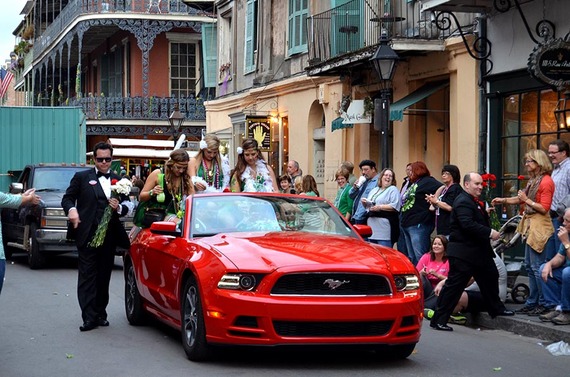 In fact, this car simply stopped and asked three young women in the crowd to get in (note the hand grenade, favorite drink of tourists). Off they rolled.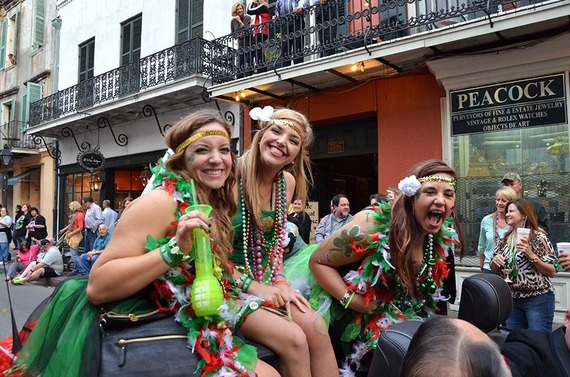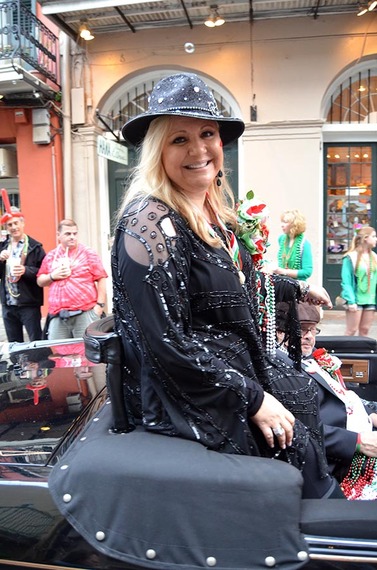 Lena Prima (in a car), musician and daughter of musician Louis Prima.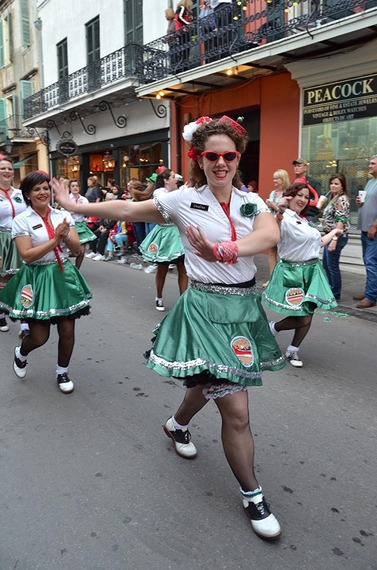 The MuffALottas again, one of the busiest dance krewes in the parade.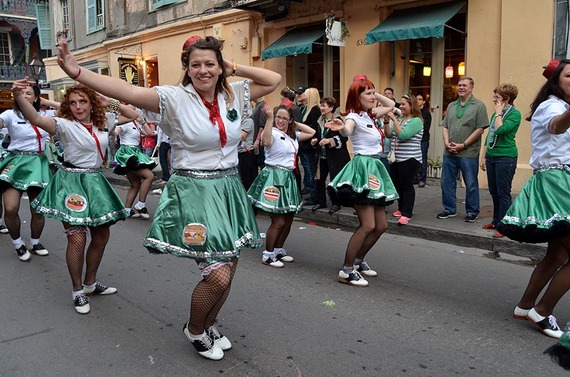 The Italian-American parade is the most "traditional" of our parades. It's more like parades in other cities: politicians ride cars, and floats carry a queen of the parade and her court.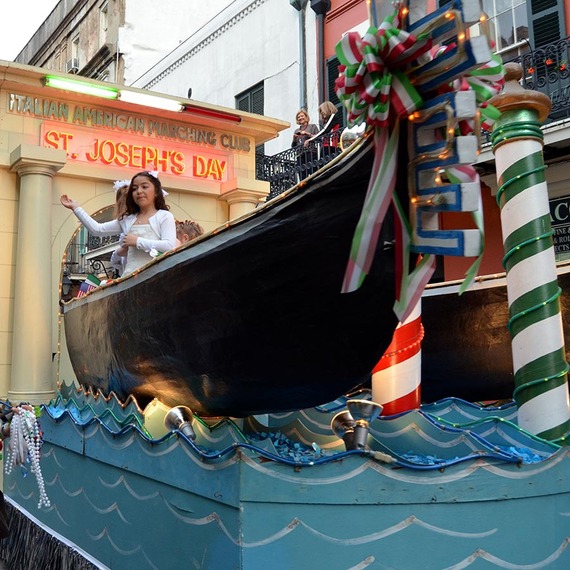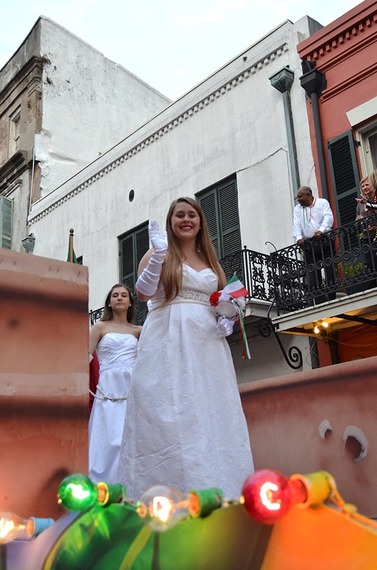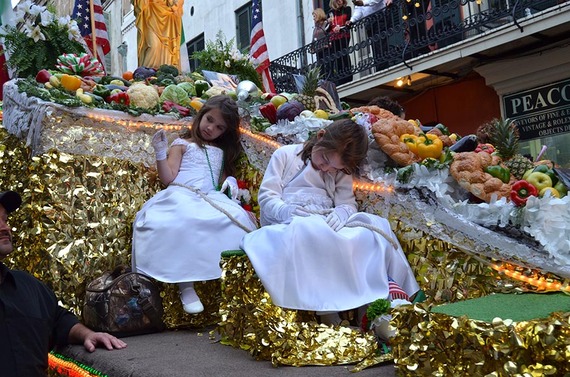 Not all of the court made it through the entire parade.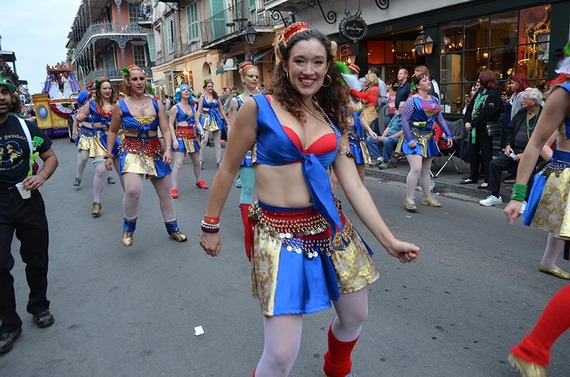 The NOLA Organ Grinders (Sexah Monkeys since 2010!). My friend Callie is part of this dance krewe (that's Callie with blue hair, below).
One of the most amazing things about living in New Orleans is that everyone can find a way to be part of our parades and celebrations. Joining a krewe is one of the ways...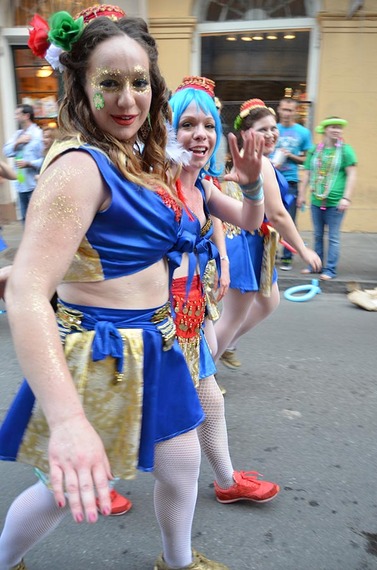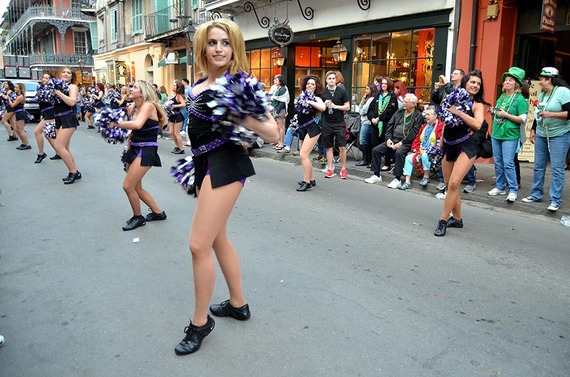 Xtreme Voltage dance Krewe was another team in the parade.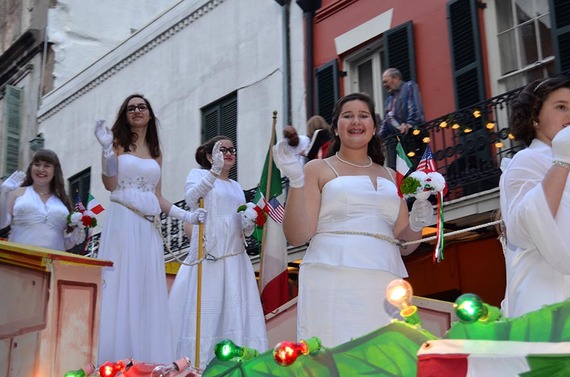 It was a hectic few days, busy, festive and a bit crazy. That's New Orleans for you.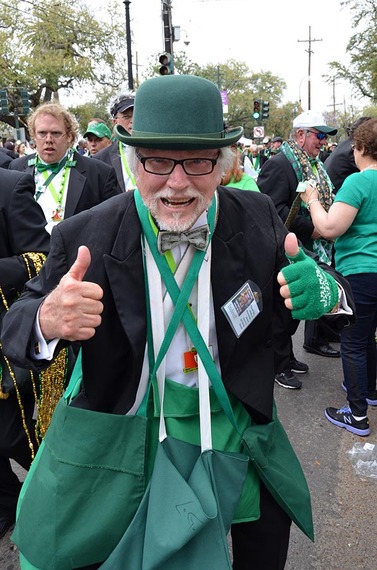 Happy Saint Patrick's Day from New Orleans.
Next week I'll be posting about Mardi Gras Indians Super Sunday, which was postponed from yesterday (the Sunday before Saint Joseph's day, when it usually occurs) to next Sunday due to forecasts of rain. We're hoping it's going to be perfect day for that event, one of my absolute favorites! You do not want to miss that post! For a preview, look at my photo galleries showing Mardi Gras Indian parades of the last two tears.
Visit my site for my music, CDs, books and photography.