Don Bustos of the American Friends Service Committee (AFSC) grows the same crops that his ancestors grew more than 300 years ago -- on the same land and using the same methods, with a few modern adaptations.
Growing organic vegetables in New Mexico's Sonoran Desert isn't easy. Conditions there are different than in many other parts of the United States. Sixteen time zones away, in the Democratic People's Republic of Korea (DPRK) -- known as North Korea -- farmers can relate. They, too, face unforgiving climates and short growing seasons.
Under ordinary circumstances, traditional farmers from these two countries might never meet. But AFSC, which works to promote peace through programs in 35 U.S. cities and 14 countries, has a way of creating unusual opportunities for partnership and exchange.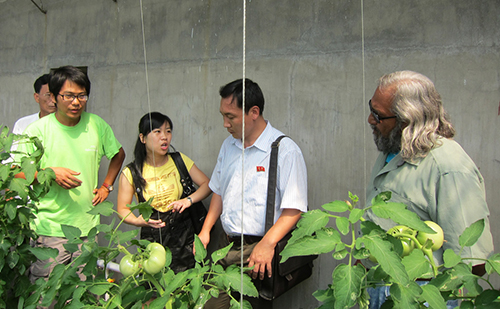 To grow food in the arid New Mexico climate, Don draws water from a river that's just three inches deep. He uses an irrigation canal dug hundreds of years ago and a reservoir built in the 1920s to manage rainfall. It's an environmentally sustainable system, but in order to make it economically sustainable, he uses solar-powered greenhouses to grow produce year-round.
Korean farmers, too, face challenges managing water. Foothills, considered too steep to cultivate in other parts of the world, dominate the landscape on many farms, making adequate food production a challenge.
This year, AFSC brought five Korean farmers to China for a study tour of agricultural practices. Don Bustos joined them there. They visited research labs to see the latest greenhouse technologies and saw small-scale farms where people choose to do things by hand and without chemicals. (See photos from the tour.) Visiting those farms alongside Don gave Korean farmers the chance to learn about the value of organic, locally grown food in the United States. Along the way, they realized that they too are organic farmers.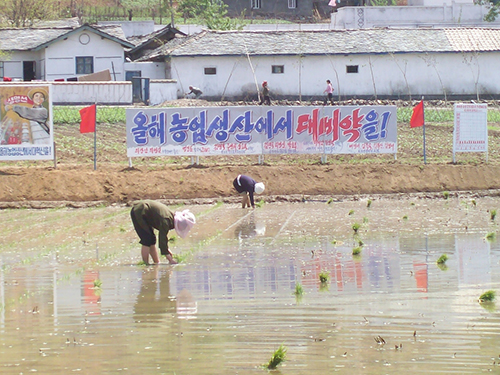 Why does AFSC, an organization dedicated to peace, care so much about agriculture and economic opportunity? Because we know through nearly 100 years of experience that lasting peace becomes possible only when the root causes of conflict are addressed. That knowledge leads us to engage in a wide variety of projects -- in communities throughout the United States and around the world -- that help meet fundamental needs from trauma healing and conflict resolution to livelihood training and food security.
During a time of famine in the 1990s, AFSC provided food aid to North Korea. Looking for more sustainable solutions, we committed to helping the Academy of Agricultural Science and four cooperative farms find more effective farming techniques. Yields have since improved. Now, Korean farm managers are experimenting with greenhouse construction and soil-erosion prevention. Aid is still needed, but these days it takes the form of supplies and education rather than food.
While New Mexicans don't face famine, they do live in one of the least food secure U.S. states. Only two percent of the food consumed there is grown locally, something Don is trying to change through his work as director of AFSC's program in New Mexico. Not only do Don's training programs help new farmers learn traditional farming techniques, but they also help strengthen the local economy. (Read more about Don's vision to sustain generations.) One trainee, Fidel Gonzales, hired nine people and provides local produce year-round to the Albuquerque Public Schools and other institutional buyers.
Right now, on top of all the other challenges they face, our partner farms in the DPRK are dealing with the aftermath of summer floods. The irrigation systems they so dearly depend on are badly damaged. There is an immediate and urgent need for repairs and relief.
You can help these farmers get back on their feet, a necessity not just for their survival, but for the thousands who depend on them for sustenance. By getting involved, you would be supporting our efforts to strengthen the economic fabric of communities from the American Southwest to Asia. Your gift would also further strengthen efforts to bring a lasting peace by bringing people together in unusual partnerships to build healthier communities -- and goodwill among farmers.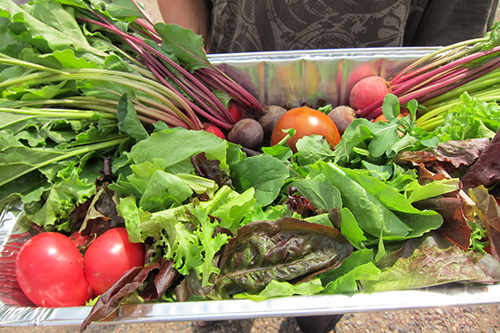 Photos courtesy of American Friends Service Committee.
Kerri Kennedy is Interim Associate General Secretary for International Programs, American Friend's Service Committee. Richard Erstad is Interim Associate General Secretary for U.S. programs at the American Friends Service Committee, a Quaker based peace and social justice organization with programs in 35 cities and 14 countries.
This blog is part of our #GivingTuesday series, produced by The Huffington Post and the teams at InterAction, 92nd Street Y, United Nations Foundation, and others. Following Black Friday and Cyber Monday, #GivingTuesday -- which takes place for the first time on Tuesday, November 27 -- is a movement intended to open the holiday season on a philanthropic note. Go to www.givingtuesday.org to learn more and get involved.