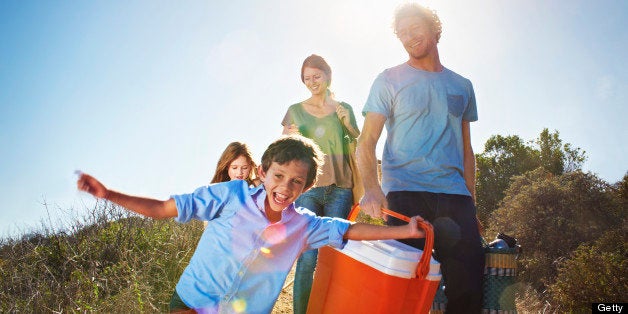 It's time to amp up your fun quotient. Why? Because August has officially been dubbed "Family Fun Month." With holidays to celebrate such as "Wiggle your Toes Day" on August 6, "Ride the Wind Day" on the 23rd and "Toasted Marshmallow Day" on the 30th, there's a little bit of everything for everyone in your household. Single or married, all moms know school is just around the corner, so game on, people! Below is a day-by-day list of our favorites for the next 31 days.
1. Create a sweet treat. Cupcakes are all the rage these days. My daughter and I love baking together. We were inspired by Cooking Channel's Unique Sweets and invented the chocolate, avocado and cream cheese frosting cupcake.
2. Take a swim. Hang out at your local pool or a lake and get wet.
3. See a movie al fresco. Many local communities throughout the country set up free movie screenings at the beach or local park. Take a picnic and make it dinner and a movie!
4. Day trip. Map out a route you can do in a day to visit one or a few parks or playgrounds you have never been to before.
5. Read a classic/watch the feature. Check out a classic book from the library. Take turns reading chapters. My youngest girl's favorite is The Great Gatsby.
6. Create a family tree. See if you can trace back a few generations. It's a great way for your kids to connect with their grandparents.
7. Play a board game. Everyone can pick a favorite game, new or old. Nothing better than a challenging game of Mouse Trap!
8. Create a giving box. Kids tend to grow like weeds over the summer. Clean out their closets, drawers and toy boxes and donate to a women's shelter or charity.
9. Teach summer kidenomics. Hold back some of the old stuff from number 8 and have a garage/yard sale. Let your kids organize the event, put up signs and posters for promotion and collect the cash during the sale. They can either donate the proceeds as stated above or start their own college savings account.
10. Head out on your wheels. Go for a bike, tricycle, scooter ride or lace up some rollerblades.

11. Take an urban hike. It's a walk around the neighborhood with a twist. Identify flowers, fruits and shrubs along the way.
12. Try a new sport. Lots of schools leave their playing fields open over the summer. You can hit the tennis courts, basketball nets or soccer fields.
13. Grill. Invite friends over for an old school backyard bbq or pack up a hibachi and cook up some burgers at a nearby beach or park.
14. Try a nature scavenger hunt. Head out to your favorite forest, desert, swamp or prairie and see who can find everything on the list first.
15. Plant a garden. Visit your local gardening store and allow each family member to pick out a favorite flower to plant in the garden.
16. Have a block party. For really ambitious moms, organize the neighbors for an evening potluck.
17. Visit the weekly farmer's market. Allow your kids to pick out a fruit or vegetable the family has never tried before. See what you think!
18. Play hopscotch with sidewalk chalk. When my daughters were younger we'd get a big bucket of colorful chalk and create designer hopscotch squares to play on.
19. Snail race. This is another family favorite. We'd each recruit our own snails from the yard and see who's team made it to the finish line first. Watch for the tricky snails who try to cheat and climb on the backs of their fellow racers!
20. Make an old school mobile. Use recycled metal hangers you get from the dry cleaners, string and magazine cut outs.
21. Have a picnic breakfast. Who says a picnic has to be for lunch? Mix things up and be the first one at the park with your blanket and cereal.
22. Fly a kite. Make your own or pick one up at your local hardware store.
23. Throw a dance party. Make a music mix tape that you all love and dance the night away.
24. Feed the ducks. Take your leftover bread and crackers down to the pond/lake.
25. Make your own ice cream flavor. You can find ice cream makers at your local big box or home goods store. Try mixing unusual tastes like black pepper, honey and vanilla.
26. Constellation gaze. Find a book or website about the night sky in your area and see how many constellations you can identify.
27. Go backyard glamping. It's not just camping, its luxury glamping. Set your tent up in the backyard and have a makeover party.
28. Rainy day puddle hopping. Summer rain days are perfect for jumping in puddles and getting chilled from the soaked clothes.
29. Volunteer at your local SPCA. It's a great way for you and your kids to give back, plus spend time with some loveable furry friends. Just don't take them all home with you when the day is done!
30. Rearrange the furniture. Move things around in your kid's rooms and freshen them up with a whole new look.
31. Photo collage. Go through the digital photos you've taken this summer, print your favorites and collectively create a family collage. You can even frame it after the glue's dried.
Do you have a great August family fun idea? I would love to hear it!