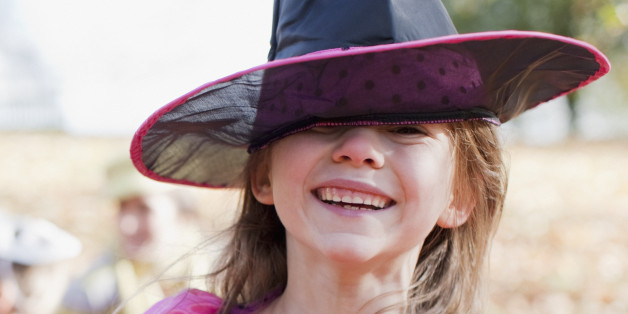 Single moms are always busy and Halloween can add to the stress. Children anxious about costumes, candy choices and keeping up with the Halloween Joneses can be too much. This October 31, you might want to ditch the door-to-door trick-or-treating and try out one of these fun-filled alternatives.
1. Decorate Pumpkins
Carving a pumpkin is a pre-Halloween tradition, but it is a difficult task and sharp knives prevent children from really participating. A great time-saving alternative to pumpkin carving and trick-or-treating is to decorate pumpkins on Halloween. All you need are a few small pumpkins and a pack of multicolored markers. Bring your pumpkin to life by using an old hat, false eyelashes, buttons or pieces of fabric to add to the design. Kids will enjoy being able to decorate their pumpkins themselves. Help your kids give their pumpkins faces and personalities for extra fun. The best part about opting out of carving? Your kids get to enjoy their handy work for longer, because un-carved pumpkins last longer.
2. Make a Scary Cookie
Another fun idea that will provide you and your kids with a fun evening at home for Halloween is cookie decorating. Connie from Donsuemor has great cookie decorating ideas that can save you prep time. Madeleine cookies have the perfect oblong shape for a spider's body. Connie suggests covering the cookies in chocolate and using black licorice for legs. Also, round cookies can make great witches' hats. Amp up the quality time with your kids, if you have the time, and make your own cookies or use premade/precut grocery store cookies that you can bake at home. You and your kids will have a blast decorating the sweet treats then eating every last bite.
3. Find Your Way Out of a Corn Maze
A corn maze can be a fun adventure for single moms and kids to spend a spooky Halloween eve together. Many local farms have them during the fall. For instance, in Albuquerque, New Mexico there is the Wagner Farmland Experience and McCall's Pumpkin Patch, which both have corn mazes. In addition to the mazes, they both offer pumpkin patches and games to keep kids entertained all night. Pumpkin patches pop up all over during the Halloween season, offering fun activities for kids while they hunt for the perfect pumpkin. Search on-line for a corn maze or pumpkin patch near you, and enjoy a night of family fun down on the farm.
4. Tell a Story
Everyone loves a good story. Pamela McMurty, author of A Harvest and Halloween Handbook, suggests spooky stories for the older kids and finger plays for younger kids. Gathering your kids' friends for a Halloween evening of story-telling is a great way to create your village. This year, your other single friends can enjoy a Halloween date night out. Then next year, it's your turn!
5. Walk in a Costume Parade
A costume parade is a great place for single moms and kids to show off all the hard work they put into their costumes. Participating in a costume parade, like the one at the San Antonio Botanical Gardens, is the perfect social activity for you and your kids. Plus you can pick up some great ideas for next year. Not only are these parades fun but some museums and schools make them educational. Check your local museums and parks to see if they are hosting a costume parade this year.
6. Take a Trip to the Zoo
Many local zoos, like the Louisville Zoo, offer non-scary alternatives for kids. The Louisville Zoo brings storybook characters to life, providing a "merry, not-so-scary" environment for young kids to run around and play. Kids can trick-or-treat throughout the zoo to keep their Halloween traditional, and who doesn't love animals? Check your local zoo's website for Halloween fun.
7. Go on a Pirate Scavenger Hunt
There is nothing like searching for lost treasure. Ceilia McCollonough, author of the Hallendale Beach Trilogy, suggests a Halloween night pirate-themed treasure hunt. Set up clues around the house with little pieces of candy attached to lead your kids to the treasure. Where "x" marks the spot place a cardboard box filled with more candy or small toys.
8. Throw a Block Party
Block parties can be a fun way to mingle with the neighbors. Kids get to celebrate Halloween by playing with their friends, and single moms get to socialize. To make is easy, have your neighbors each bring a treat and organize a fun activity, like a costume contest or a play, for the kids. Block parties take the unknown out of trick-or-treating and guarantee fun for all.
9. Take a Ride on a Ghost Train
Some cities and towns located near railroad stations offer ghost train rides for Halloween. Though they are not for the faint of heart, older kids will love the thrill and adventure of riding a train full of things that go bump in the night. Check your community center and local railroads for a chance to take a ride on a ghost train.
10. Visit a Fall Festival
Many churches and community centers put on fall festivals. They often include rides and carnival games to entertain young kids for hours. Live near LA? Older kids and adults might want to check out Rob Zombie's Great American Nightmare. It starts October 10 with awesome musical guests, horrifying attractions and is guaranteed to give you a scare. Warning: It's not for little children or adult scaredy cats. Check to see if any scary fun will be near you this fall.
Enjoy one of these fun alternatives for trick-or-treating this year and spend great quality family time with your children. For more Halloween ideas, great single mom advice or thinking ahead to a family vacation, checkout the Myrtle Beach, South Carolina free family getaway. Sign up when you visit kerrizane.com.