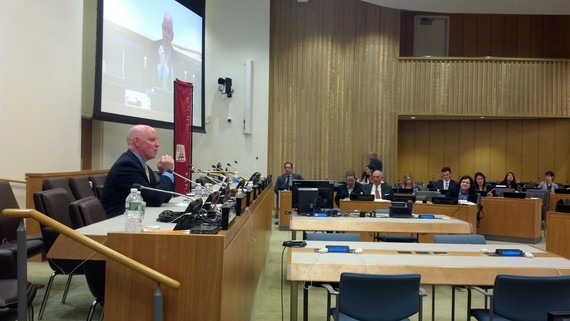 As we gathered at the United Nations earlier this month, I felt the emergence of a movement. Advocates and activists convened for "Combatting Slavery in the 21st Century," determined to shine a light on the forced sexual exploitation and forced labor that enslave millions across the world.

We heard about varying forms of slavery over the centuries, domestic workers earning a pittance an hour, and the effects of deep poverty and immigration law on trafficked people. Professor Melissa Breger of Albany Law School observed that, worldwide, two children are sexually trafficked every minute.
I told the story of young Raquel, who, at great risk to her safety, testified against her traffickers in Guatemala, and, when asked what their sentence should be, asked that they be jailed, "so they won't be able do that to other girls." (My comments start here, at 1:33:50.)
The most compelling sentence of the day? "Consent is irrelevant...in the face of great vulnerability." That's the gist of the Palermo Protocol, the United Nations document setting forth the terms of our global fight against human trafficking, which 159 countries have signed.
That one sentence sums up what we see too often among trafficked people, particularly the homeless youth we serve at Covenant House -- If you're a prostituted person who is younger than the age of consent, society still too often sees you as a criminal, when you are actually a victim of statutory rape. If you are prostituted and raped through force, fraud, or coercion, you had no real choice in the matter. And, on a larger scale, if you're prostituted because it was the only way you can obtain shelter, or food, or because your life is devoid of financial security and opportunity, you too are being exploited. The continuum is shades of gray, and the vulnerability of victims in each category often makes these distinctions essentially meaningless.

We see that far too often at Covenant House, where we care for homeless, runaway and trafficked youth across 30 cities in 6 countries. In our New York City shelter, we discovered through a recent study that 23 percent of the young people surveyed reported either being trafficked or engaging in survival sex. In New Orleans, which saw a doubling of reported human trafficking incidents between 2012 and 2013, another study showed a quarter of our male shelter residents and a third of our female residents reported having traded sex for money or shelter. Given that 1.6 million young people experience an episode of homelessness each year in the United States, the potential scope of this problem is mind-blowing.
Warda Henning, an international lawyer with the United Nations, said human trafficking is a $32 billion industry worldwide, and children make up 27 percent of trafficked people. The vulnerability of kids feeds this marketplace. Women and girls account for two-thirds of trafficking victims, and only one in 100 trafficking victims ever gets rescued.

We heard talk of nation-wide policies that have reduced the number of trafficking victims. Dorchen A. Leidholdt, director of the Center for Battered Women's Legal Services at Sanctuary for Families, spoke about how in countries like The Netherlands and Germany, the legalization of prostitution went hand-in-hand with increases in trafficking and crime, leading to the conclusion that legalization was "a well-meaning law that was little more than a subsidy for pimps."
Then she described Sweden's anti-trafficking laws of 1999, criminalizing traffickers and those who purchased sex, but not prostituted people. An intensive public education campaign, including slogans like "It's time to flush the johns out of the Baltic," proved effective, according to Leidholdt. These laws, which have become the inspiration for the Nordic Model, adopted by a handful of other countries, focus on women's rights and human rights, the right of a person never to be bought and sold by another. Several years after the passage of Sweden's laws, only 11 percent of Swedish men surveyed said they had bought or would buy sex, compared to much greater percentages of men in The Netherlands, where prostitution was legalized.

If we could do half as good a job of creating a meaningful taboo in the United States around buying and selling young people for sex as we do around smoking, we'd be so much further along the road to eliminating demand.

We must create the widest possible anti-trafficking movement, and there are burgeoning signs the movement is taking root and is bigger than the labels that often divide us. I've seen feminists and evangelicals holding hands in this 21st Century abolitionist movement, planning together how to achieve progress. And the movement must grow broader and deeper -- our abolitionist ranks should include experts in child welfare, anti-poverty, affordable housing, technology, and immigration law. We have to transcend ideological and partisan lines and keep our eyes on the prize of justice for commercially sexually exploited children and young adults. Together, we can build a better world for the exploited, if first we allow ourselves to be led by them, and if we allow their truths and yearning for justice to help us construct a world where freedom for all means freedom for all.
Building a movement is never easy, but we can start by listening to the voices of survivors and placing their intelligence and experience at the front of our work. We must follow their light, and magnify it.