It was a hot summer day in the Bronx, New York. Class 608 of I.S. 162 was going on a field trip to the King Tut Museum. Our teacher, Mr. Piekara had raised money so that we all would be able to go to the museum. That same day my teacher, Mr. Piekara, would choose 2 people who had worked hard to meet CC Sabathia and Orlando Hudson. The night before the trip, I was dreaming that I actually had a chance of going. However, when I awoke, I was in doubt. I said to myself, "Dreams don't come true, at least not mine."
Morning came quicker than I thought, I took a shower and brushed my teeth. I put on my favorite jeans, a long button down shirt with a tie, my Yankee jacket and cap. I was prepared, just in case I was picked. All of a sudden, I was feeling cocky, as if I was almost certain I was going to be picked. I grabbed my book bag, and I left with my sister because she was allowed to come with me. She was also excited to see the Museum. I wasn't really excited for the Museum, but more for the chance of actually going to the Yankee Stadium.
I picked the wrong shirt at the wrong time. It was too blazing outside to wear a long-sleeve button down shirt with a tie. First step outside, and I already broke a sweat! I couldn't believe how hot it was outside! I kept on walking to school, despite the blazing heat.
While on the trip, as always, I "met" a couple of girls. They were twins! I actually had a chance to hit on twins, could you imagine, every guy's fantasy! Anyways, we were looking at some, weird, rare, even cool stuff from Ancient Egypt. The trip eventually ended, we headed back to school to the yard for the remaining time before dismissal. While at the yard, Mr.Piekara called my friend Amanda and I over to talk. I was scared, nervous of what he was going to say. He told us, he picked us to meet CC Sabathia and Orlando Hudson! I couldn't believe it, I was shocked, my jaw dropped wide open. Once Mr.Piekara saw my reaction, he smiled and laughed, so did Amanda. We were going to the new Yankee Stadium, my dreams were actually coming true!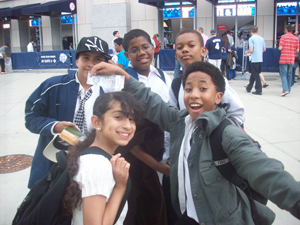 I always dreamt of going to the old Yankee Stadium, but going to the new one AND meeting CC Sabathia and Orlando Hudson! So he told us to call our Moms for permission. There was no way my Mom would say "no" for an opportunity like this! We went inside to rendezvous with the assistant principal Mr. Clark. He said we were "lucky to go", I thought we were blessed to go. We started on our journey to the Stadium, we walked by the bus, and saw my sister entering the bus, I waved her bye. Suddenly, Mr. Clark said we had to get over there as quickly as possible, because we were already late as it was. Other than me, Amanda, Mr. Piekara and Mr. Clark, Julius, Malcolm and Timothy came with us. Malcolm seemed asthmatic, other than that, we were all fine. It was getting even hotter as the day rolled by, wearing the long-sleeve button down shirt seemed to slow me down. We were speed walking, which wasn't so hard. At first Malcolm seemed okay. I was keeping an eye on him in case anything happened to him since he was asthmatic. We were making progress, however the clock was still ticking.
We were halfway there, the sun was starting to dip under the horizon. Which made it cooler and that much easier for all of us. On our way there, we passed by some projects, where it seemed to me Mr. Clark knew everyone on the street. I laughed when he said, "Thank God the police don't know me like the people on the street do." I knew what he meant by that, I guess even adults have their little moment or inside jokes.
We were now a couple blocks away from the Stadium, my excitement came back once we could see the Stadium from a long distance away. I then realized, "This could actually happen! I could actually meet the Yankees' ace CC Sabathia and Minnesota's Orlando Hudson! Thank God my sister gave me the camera to take photos of the Stadium and the superstars!" I was so thankful, I felt like I was blessed, as if God were watching over me, as if he actually heard my wishes, and saw my dreams! Then, suddenly, Malcolm stopped walking, and was breathing heavily. I was kind of scared, I thought he would collapse. He said he was fine, but he was walking very slowly. Mr. Piekara and I decided to walk with him, in case he would collapse, I was there to catch his fall. We stopped by a hot dog stand, and bought him a bottle of water, I thought he really needed it. I guess that's what friends do right? As for everyone else, Julius was the only one complaining of hunger, which made me laugh because he was so skinny. Before I know it, we were right in front of the Yankee Stadium!!!
I was so excited, I couldn't believe it! However, we didn't know where to enter the colossal Stadium. We tried one, didn't work. Another, no good. We waited in line, wasted time, to only find out it was the wrong one. I was thirsty, starting to get hungry, so weary, and dripping with sweat. Mr. Clark called his friend, who helped make the trip possible, and asked where was the entrance. He told us, and we ran over there with excitement and impatience.
We entered, I couldn't believe how big, grand, and capacious the Stadium was! We went to where the stairs led to the field was. I held my breath, waiting for a wave of emotions to wash over me! Once I opened my eyes, I couldn't close them! Before actually going over to meet CC and Orlando, we had to wait a while so that we could get tickets. Once we got the tickets, I ran rapidly down probably about 500 steps! Then I saw there was already a group of people and camera crews there. I didn't care though, as long I took a step inside the Stadium! I didn't have to meet CC and Orlando, taking a step inside the Stadium was all I needed! I still met CC and Orlando, and I also couldn't believe how enormous CC and Orlando were. They even towered over Mr. Piekara!
I took dozens of pictures of CC Sabathia and Orlando Hudson and the colossal Stadium. I couldn't wait to show my family all the pictures I took! We were asking them questions, and they answered them. Even though they were competitors, they still showed that they were great friends, I guess that's what sportsmanship is all about. CC and Orlando asked if we had anything they had to sign for us, I was devastated because I had nothing. As generous as Mr. Piekara already was, he gave me his hat, so that they could sign it. Mr. Piekara had already given me so much and now he was giving me his prized Yankees hat to get autographed! I couldn't believe it, but I actually had CC Sabathia's and Orlando Hudson's signature! Then, they gave out signed photographs of CC Sabathia doing the wind-up. I was overwhelmed with mixed emotions!
As if the signed hat, signed photograph, and pictures that I took, meeting the superstars, and going to the Yankee Stadium wasn't enough, they even gave out tickets for the game that was to be played later that day! I almost broke down and started crying! But I was able to gather all my emotions, and keep them under control. I couldn't believe yet again, I was going to my first Yankee game! We had front row tickets and Mr. Piekara gave me his so I could take someone from my family. I didn't know who to choose, I picked my sister. When I called my family, told them what happened, what I received, they thought it over and said it would be better if I went with my Father. I said to myself, "Why didn't I think of this in the first place?"
After everything, we headed back to the school, so that all our parents could come and pick us up. Amanda told me she was going, I knew I was already going, but the others weren't, they couldn't. So we traded tickets, so that me and Amanda could be sitting close together. My sister came and picked me up, we walked home together, and when we got home I showed my family all the things I received. They were just as happy as I was! I took a shower, to wash away all the sweat and emotions. It was cooler at night, so I put on a Yankee T-Shirt on with my jacket and new cap and shorts. I waited for my Dad's arrival so that we could go. My Dad came, I told him ALL that happened. He was so proud of me, and I was joyous that he was. Once he came, he also took a shower because he was tired and sweaty from a hard day of work as well. We were prepared, and we left.
As we stepped outside, it was a cool night with a slight breeze. We took a taxi over to the Stadium, my Dad thought Yankee Stadium parking was expensive so we took a cab. My Dad told the driver we were going to the game which made him drive faster. Since we were already late, he drove even faster! We got there in at least less than 5 minutes! However, when we got there to scan in the tickets, there was a problem. They said it was already used, I was wondering how that was that possible. But my Dad didn't understand, his English was still not good, we were waiting outside the Stadium for 5 minutes when I saw Amanda and told her what happened. Same thing happened to her she said. So we both went to customer service with our parent. Amanda and her Mom got us in in the 4th inning. After that, we watched the entire game. We saw A-Rod's Grand Slam and Mariano Rivera's perfect save. And we went home happily. To this day, I still have the hat, photo, and the pictures I took, and of course the memory of going to the Yankee Stadium and going to my first Yankee game with my Father. It is something I will never forget!