With combat operations in Iraq finally over, and with almost 4500 heroes lost in the mission, I am sure like all American's you are happy to see the men and women of our armed forces finally starting to return home after 10 years at war. You would think a heroes' welcome including ticker tape parades, and a future filled with optimism and happiness would be all that is on the minds of our nation's finest, but in reality that's not the case. Sadly, it is alarming to see how tough a time these heroes are having trying to adjust to life at home after more than a decade at war.
Finding a job should be the least of their worries given all they have done for the country, but unfortunately it is a very stressful concern for many returning veterans. According to the Bureau of Labor and Statistics, the unemployment rate for veterans of Iraq and Afghanistan is a staggering 11.1 percent which is almost 3 percent higher than the national average. The Department of Labor estimates there are more than 900,000 veterans currently unemployed, and at the same time, there are more than 3.4 million jobs available right now across the country. The good news is, Corporate America is stepping up in a big way to battle this issue head on.
There are a number of efforts and initiatives currently underway to help bring employers, veterans, and military spouses together in the hopes of helping them finding gainful employment. One recent effort is the announcement last week from the American Society of Travel Agents that commits to hiring 3,000 veterans by 2014. Another example is the 10,000 Jobs for Veterans and Military Spouses Challenge which is being led by Milicruit, Military Officers Association of America (MOAA), DirectEmployers Association, and for starters, 20 leading employers from a wide range of industries. Through the 10K Challenge, Milicruit will host national virtual career fairs each month that will allow employers to recruit nationwide at each of their online events from the comfort and convenience of their office.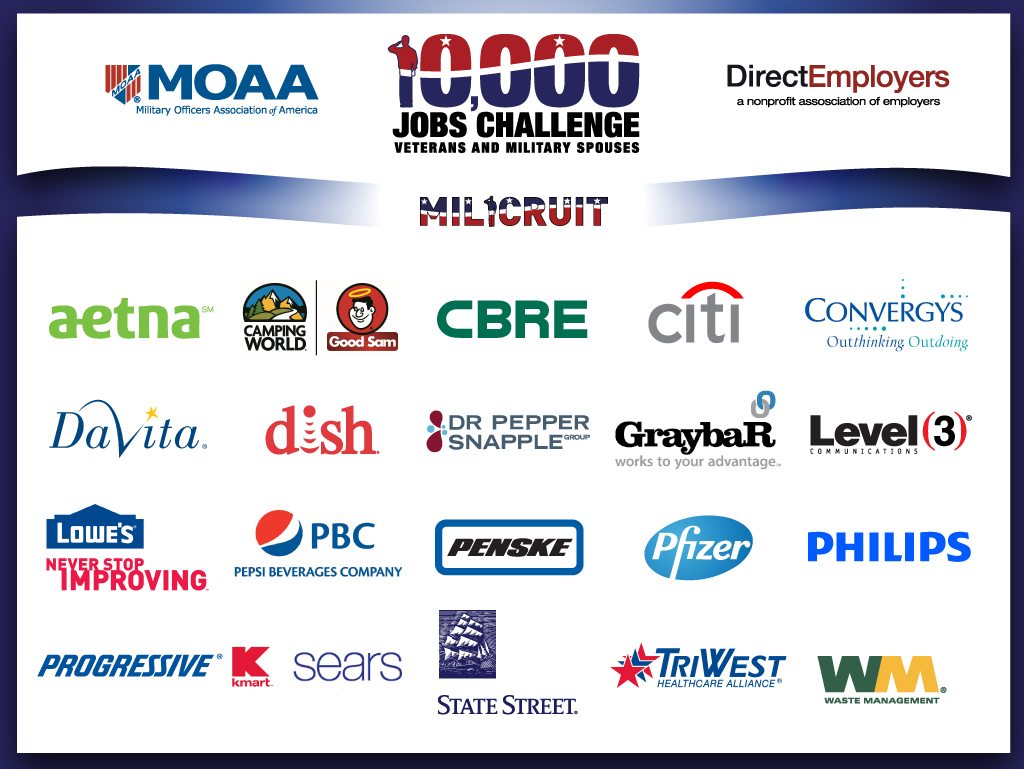 Milicruit will track the number of veterans and military spouses who are hired by the collective group of employers each month and will keep a running tally on www.10000jobs.com. Employers who are leading the way in this effort include Aetna, Camping World and Good Sam, CBRE, Citi, Convergys, DaVita, Dish Network, Dr Pepper Snapple Group, Graybar, Level 3 Communications, Lowe's, Pepsi, Pfizer, Philips, Progressive, Sears, State Street, TriWest, and Waste Management.
The First Lady and Dr. Biden are also leading the charge and in March of 2011, they started the Joining Forces Initiative to encourage all sectors of society to mobilize in an effort to do all they can to support our military and their families.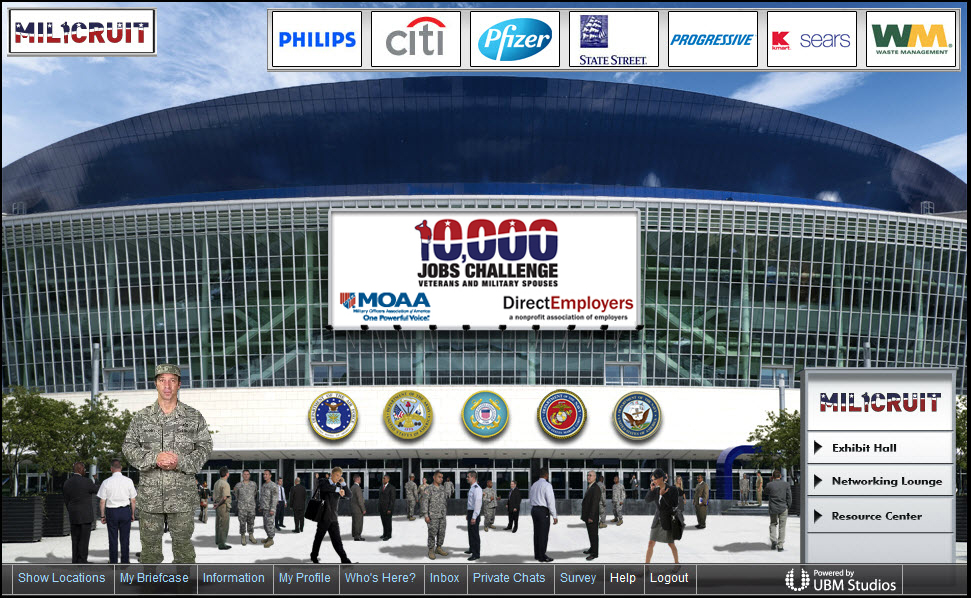 If there are more than 3.4 million jobs currently available, and if 1 in 8 of the available jobs is filled by a veteran, we can reduce the 11.1% unemployment rate significantly in a short amount of time. Hiring veterans is not only the moralistic thing to do, but if you look at the skills, training, character, and loyalty veterans bring to the workforce, you will quickly realize that it is one of the best things you can do for your business. There is no shortage of ways to chip in and be counted, and I encourage everyone to lend a hand. This is one problem that we can all support to ensure that the men and women who have sacrificed so much for all of us, can at least take comfort in knowing we have their backs when they return home.