Every year, approximately 200,000 men and women leave the military, and look to further their career in the civilian job market. The government invests billions of dollars training the service members to become some of the most highly skilled and qualified professionals in a variety of fields, however, when they leave the military, too often there military credentialing does not carry over to the civilian world. If a soldier can drive an 18-wheeler through the desert in Iraq, under very harsh and stressful conditions, surely it is logical to assume he/she can carry a retailer's freight from state to state back home. We have young service members managing millions of dollars in equipment and supplies in Afghanistan who when he/she leaves the military, often finds it difficult to land an entry level job in a warehouse.
Well, one industry is stepping up and a big way to help the men and women who have served and defended the nation. The transportation industry recognizes and values the skills, training, and work ethic our veterans bring to the workforce, and they want to hire them to fill the thousands of jobs they have available.
On Feb. 27, many of the transportation industry's leading employers will participate in a groundbreaking career fair aimed at connecting them with veterans and military spouses from all across the country. Led by Penske Logistics and many other companies from the transportation industry who will meet and interact live with the veterans through a virtual career fair hosted by Veteran Recruiting Services.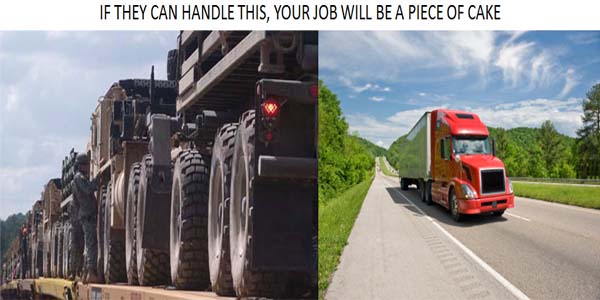 "Our company greatly benefits from the core values, outstanding work ethic and leadership skills of veterans," said Ken Hurley, Penske's senior vice president of human resources. "Their diverse insights and fresh perspectives have proven invaluable to our Penske team. We thank them for their years of service and dedication to protecting our country. "
The transportation virtual career fair is just one of the industry specific events VRS will host this year, and will be followed up by other industry specific virtual career fairs for veterans interested or experienced in: Government, Financial Services, Technology, Retail, Health Care, Communications, Entertainment/Media, Energy, Environmental, Manufacturing, Defense, Hospitality, and Food & Beverage.
Veteran Recruiting Services has also launched a military friendly employer index by industry where the industry specific virtual career fairs will launch from at www.vetfriendly.com
In addition to Penske, some of the other employers already signed on to participate in the transportation virtual career fair for veterans are; Waste Management, Lowe's, PepsiCo, Transportation Security Administration, DOD Civilian Expeditionary Workforce, Airgas, Philips, and the Department of Transportation.
We encourage all active duty, guard/reservists, veterans, and military spouses who have experience or an interest in a career in transportation & logistics to register at www.vetcareerfair.com