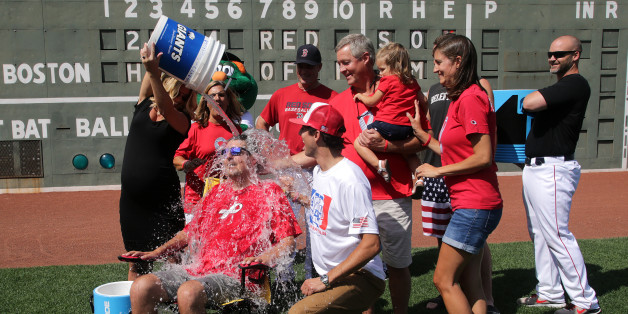 This summer, baseball celebrated the 75th anniversary of Lou Gehrig's "luckiest man in the world" speech. 75 years since the man who never missed a game was mysteriously afflicted by Amyotrophic Lateral Sclerosis, a disease that few had heard of and even fewer understood. 75 years in which very little progress has been made in understanding the disease and almost no progress has been made fighting it.
In most years, the publicity surrounding the 75th anniversary would have been the most ALS would receive. In fact, the spotlight shone on the disease that weekend was probably the most it had ever received. And at that moment no one could have imagined how drastically that was about to change.
Less than a month later, Facebook status feeds and Twitter timelines began to fill with videos of people dumping buckets of ice water over their heads, challenging others to do the same. It would become known as the ALS Ice Bucket Challenge, and it was larger than any one person. Pat Quinn, an ALS patient from New York, started it. But the face of the social media phenomena was, like Gehrig, a baseball player. It was Pete Frates, a former captain of the Boston College baseball team, and his circle of supporters, who sent the challenge soaring to new heights.
Over the next couple of months, more than a million videos appeared online. The ALS Association received more than $125 million in donations, not to mention the millions more that were donated to other ALS organizations, including my own. People who had never given money to the disease before helped raise funds and perhaps even more importantly, awareness of the disease.
At A Life Story Foundation, the organization I founded after being diagnosed at age 30, our purpose is to rewrite the end of ALS. There is still much work to be done, but the ALS Ice Bucket Challenge is our greatest chapter. For that reason, Pete Frates is my nominee for Sports Illustrated's Sportsman of the Year. Like all ALS patients, the disease does not define Pete. It is only part of his life story, one in which he refuses to admit defeat and continues to fight his own personal battle while helping lead the struggle for all of us.
I am not the only person to suggest that Pete be named SI's Sportsman of the Year. Phil Stacey and Mike Lupica have also supported the idea. And I am asking you to support it, as well. Please help us honor Pete for his role in Rewriting the End of ALS by making the attached image your Facebook and/or Twitter profile image and share this nomination through social media with the hash tag #fratesSOY.