"The Joe," the battleship-gray windowless box on the Detroit River, is slated for 2017 demolition, making way for high-rise condos, a hotel and shopping as part of a pay-back to creditors owed $1 billion. For a few months in-between wrecking-ball and ground-breaking, Detroiters will once again have an unobstructed view of the river at the corner of Fort and 3rd -- as if looking back in time and seeing the Purple Gang hijack another bootlegger at the docks, before moving its haul up the street to the speakeasy beside the church.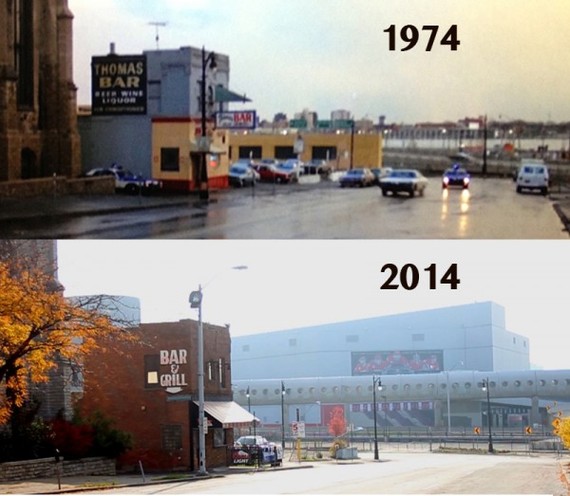 Few architects will mourn the loss of The Joe's habitrail...

And that same little brick building on the left will probably still be standing when the condos are torn down in 60 years -- perhaps making way for the next home for the Wings.
When the 1974 picture above was taken, I was probably immersed in Channel 50's after-school reruns of Get Smart, Gilligan's Island or deeper in the way-back machine, The Three Stooges and The Little Rascals. Inevitably, I'd have to endure the "Let's put on a show" moment as Alfalfa or Darla would yelp out some terrible ballad -- as I searched in vain for the Tivo remote that had yet to been invented.
My callous 10 year-old heart had no sympathy for the philanthropic spirit of Hal Roach's characters and their benefit concerts for the dog Petie and his broken leg or Froggy's necessary throat-surgery - -and there was always something a little creepy about Darla's torch songs...
So when Pete Kalinski and Tom Reed, pals from those golden days of Channel 7's Ape Week, contacted me about "putting on a show" featuring Detroit's odd-ball history (from furs, to cigars, to cars, to Motown to bankruptcy) we decided to dream a little--not unlike Darla behind the patchwork curtain -- that we'd crank out a few mini-episodes as auditions for a "real" show on our PBS affiliate. After all, didn't At the Movies with Siskel & Ebert and Antiques Roadshow start somewhere?
I would handle the techie stuff (video taping, editing, social-media website, yada-yada-yada) and Tom and Pete would hunt up the stories and wrangle and conduct the interviews. We needed some good tales, ones that not everyone knows -- and we needed to somehow get the shows seen by more people than our parents and poor spouses.
We decided on the principal of short-and-sweet similar to blogging (except for this piece) -- try not to go over 1,000 words -- or 15 minutes for our purposes on YouTube, unless you're featuring a cat walking on a piano.
Tom suggested Digging Detroit and we liked it. Okay, that part's over. Now what?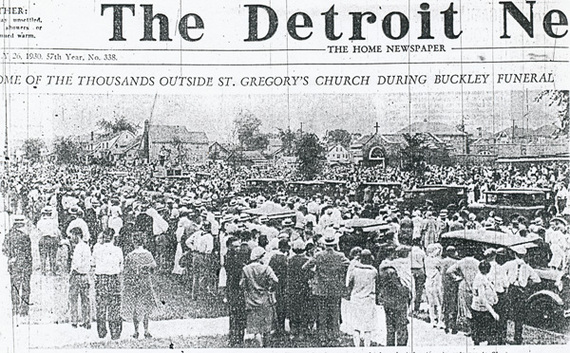 Step 1: Hooking the Audience for Show #1
I pitched my stand-by, one that I wrote about in my blog -- radio announcer Jerry Buckley's assassination in the LaSalle Hotel lobby the eve of corrupt Detroit Mayor Bowles' recall in 1930--the process cheer-led by Buckley (link). There were no convictions, no ties to the mayor -- but 100,000 people attended Buckley's funeral and my great-uncle Harry Kelly, who would be Michigan's WWII governor, made his bones leading the grand jury team.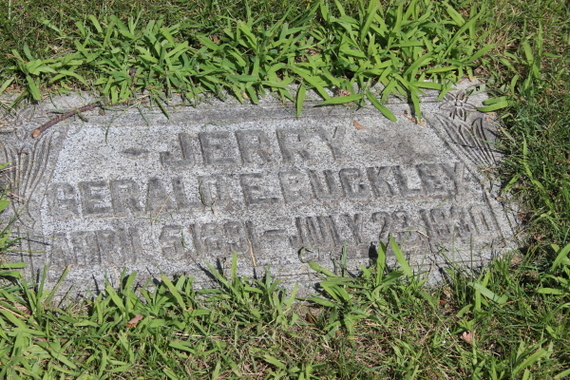 The grave of Jerry Buckley, obscure now, but his death was front-page in the New York Times in 1930.
We also discussed other catchy stories -- the salt mines under the city, where our parents remembered touring remains high on our wish-list which continued to grow longer. But we went back to watching the ball game and said we'd sleep on it.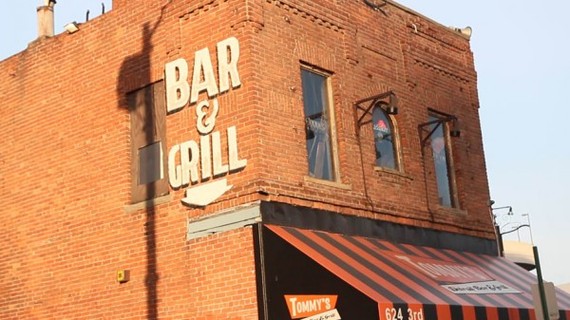 I spoke with a colleague, Wayne Miracle, who leads paranormal investigations in the Detroit area who put us in touch with Marion Christiansen of Preservation Detroit who put us in touch with Tom Burelle, the owner of Tommy's Detroit Bar & Grill.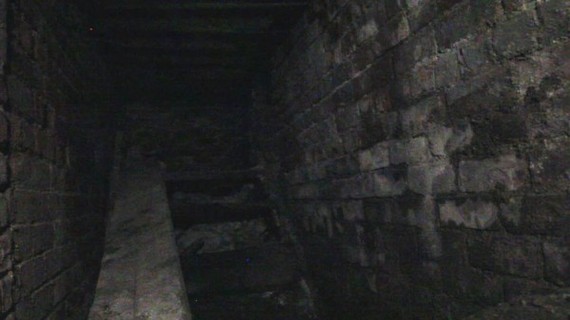 Forgotten speakeasy staircase...
Step 2: Shoot the Foundation --The Interviews
Tom was gracious and invited us to the 1840 building that he had purchased three years earlier. He gave us a fun tour of his basement -- complete with ghost-stories, rumors of underground railroad tunnels and our first episode -- the remains of the secret speakeasy entrance.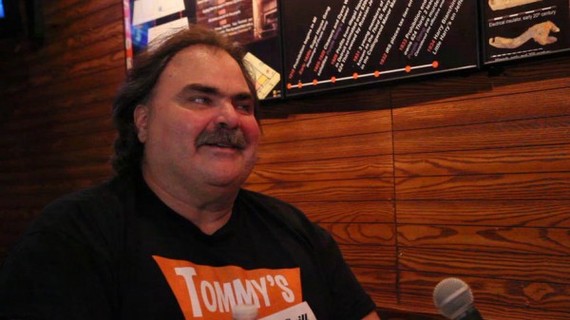 Owner, Tom Burelle
It was clear that his bar was a goldmine of history. When Marion's organization, Preservation Detroit, reached out for further discovery, they also enlisted an archaeological team from Wayne State University, led by Prof. Krysta Ryzewski in a summer 2013 dig.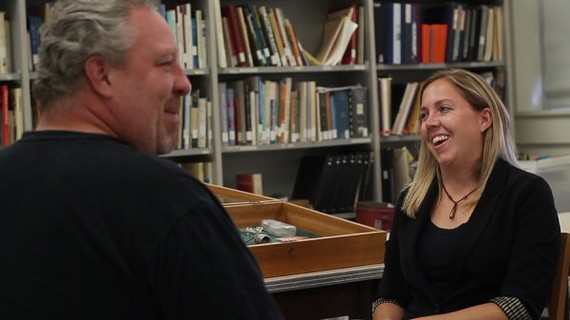 Digging Detroit host, Tom Reed, with Krysta Ryzewski, Ph.D. Wayne State University
We scheduled a time to come back with our gear. Without a baseline of the interviews, you don't really have the content -- other than through a narrator's contribution. But in this project's case, we wanted it to be told directly by the experts. And perhaps the nicest bonus of great stories is finding great story-tellers -- holistic in their love of their world and in sharing their world with others.
Marion took the time to speak with us numerous times, despite her very busy schedule -- one time talking to me at length on a bus tour she was conducting. Tom Burelle continues to give tours to fellow history-buffs, taking them down the steep old staircase and answering all of their questions--to the chagrin of the occasional tour-bus driver tapping his watch. And at Wayne State, Krysta kindly had tables of artifacts and maps waiting for us.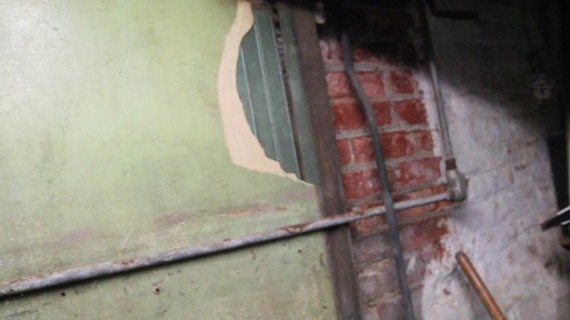 A few layers of history removed from the skin of Tommy's basement.
When my day-job finally allowed the assembly of our June interview with Tom and our August interview with Krysta, both were extremely understanding of the delay -- perhaps a handy side -e ffect of working with historians and proprietors of extremely old buildings.
Step 3: "Even bad b-roll is better than no b-roll."
When the interviews were dovetailed together in a semblance of appearing not to be six weeks apart, we knew we had to remove the standard 85 percent -- shelving the possible abolitionist escape-routes and creepy ghost-stories (including a fun interview with the short-order cook detailing his lonely trips downstairs).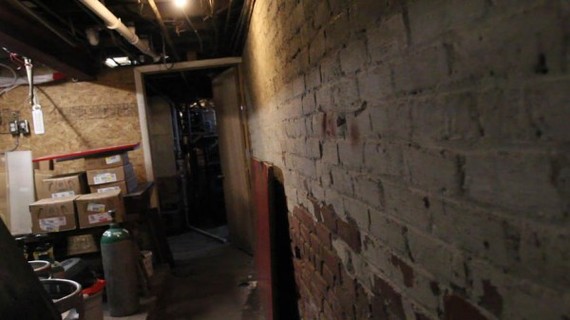 To your right, a mysterious room full of dirt...
The next step was adding the b-roll, including footage of the weird door-less dirt-filled room (perhaps moved to make space for a casino under 3rd Street) or Krysta's artifacts and old photos of the neighborhood--including the Union Depot train station that was across the street made obsolete -- like Joe Louis Arena's need for wider chairs, increased leg-room and luxury suites.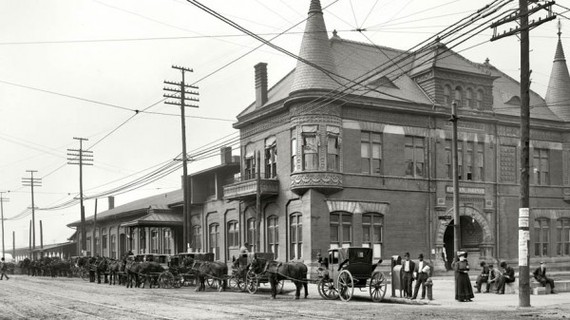 Union Depot. Courtesy of the Reuther Library collection, Wayne State University
And Tommy's has had one steadfast neighbor through the centuries--despite two collapsed roofs, fires and a fallen spire -- Fort Street Presbyterian Church.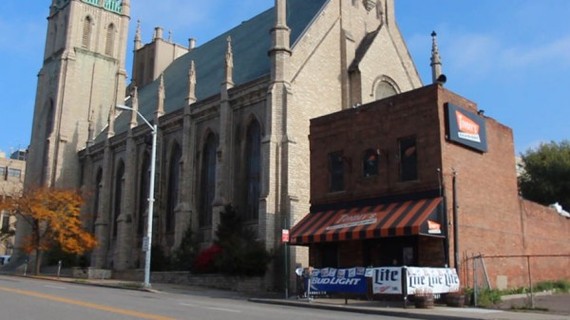 Fort Street Presbyterian Church -- probably the closest beer-to-pew proximity in the country.
And while we did not feature Tommy's own ghost-sighting, I did get goose-flesh when I shot the location where, one late summer's evening, Tom saw a white-suited man in a fedora walking toward him -- who suddenly vanished. "People asked if I was drinking," he laughs, "I said, I was after."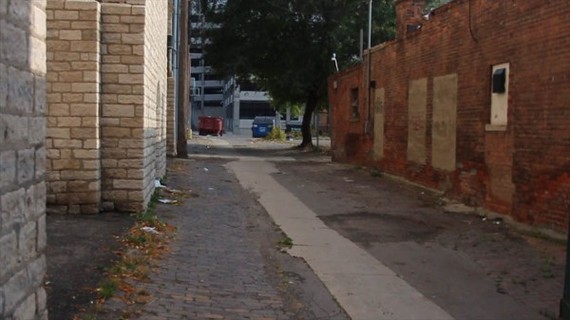 The alley between church and bar -- looking to where the old train station stood.
Step 4: Branding It
The show-to-be needed an opening sequence and a theme song, so I had a great excuse to drive around town and gather images of some favorite places including Belle Isle's Casino...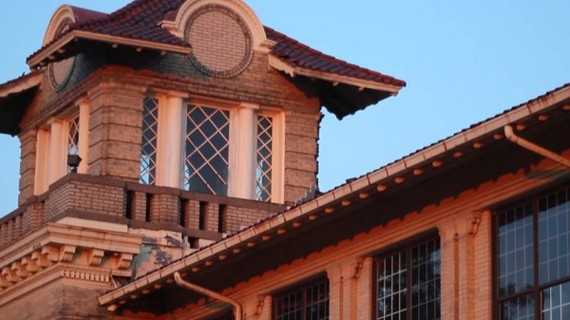 Then, after slapping together a theme song in Garage Band, we needed to design some kind of logo as well...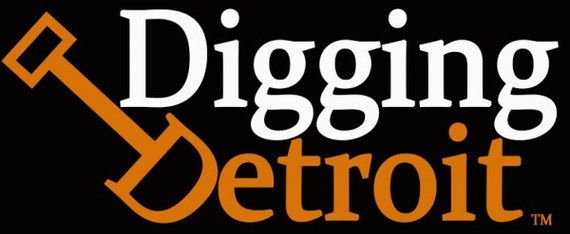 Sometimes you get lucky -- like when a D looks like a shovel. A little basic animation and I had the "D" turn sideways for the opening -- the handle appearing on the last beat of my song. (Legal Side-Bar: Anyone can use a © or TM without filing paperwork -- it's just staking your claim. The little ® you can't use until you go through 8-10 month process with Uncle Sam.)
Step 5: Designing a Multi-Pronged Attack
The lazy side of me wanted to just put the video on YouTube under my own account and bounce it around emails and Facebook posts, but I knew we needed a brand and a multi-pronged attack. So, six hours later I took care of the following...
New Website: At the end credits, I wanted somewhere to viewers to go to submit their story ideas, etc. Fortunately, www.diggingdetroit.com was still available, so I grabbed that and set up a basic hosting package for5 per month. I used WordPress to create a site that will be continually tweaked--but wanted an "About Us" page, a Post where the show would sit, a way to get subscribers - -and, most importantly, a submission form for ideas for more shows.
A Dedicated Facebook Page: This didn't take too long, the key part is getting folks to "Like" it. Once you've invited someone to like it, you can't do it again -- not through the invite-route, anyway. It was also important to make a little square logo -- so more playing around with Photoshop...

Twitter Handle: The handy thing with owning your own website is the new email address you can have (e.g. kevin@diggingdetroit.com) so you can create a new Twitter account pretty painlessly as well--tossing in the square logo. (At least I found it less painful than speaking with #annoyinghashtags and @ampersands--as if you're a foul-mouthed comic strip character.)
YouTube Account: Creating a GMail account, like Twitter, is made easier with the new email address, as well. And with a Gmail account, you get the whole e-smorgasbord, particularly the prime-mover, YouTube.
Step 6: Cutting the Umbilical Cord
As is the case with any creative process -- particularly if tons of people will see it and point out your child's funny ears, there's a tendency to continually tweak, tweak, tweak -- like I've done with this blog post. After all, there were dozens of reasons not to launch the video, including...
I need to make the audio cleaner, it sounds scratchy/echo-ey/tin-canny, etc.
I hadn't yet purchased my nice microphone. Maybe I should re-interview? Nope. I couldn't do that to them.
My pans were shot at the wrong frame-rate and its a bit choppy. Maybe I should go do those again.
The bar was dark and I brought the wrong light kit.
It could be tighter.
Let's add a narrator after all.
Blah blah blah.
I did know enough to send the nearly-done draft to Tom and Krysta--to be sure they could live with the edits. Tom made me laugh with his voice-mail, "You made me wait so long for this?" I had to fix one typo on Tom's name in the end-credits. Krysta gave it the green-light, too.
Okay. Out of excuses. Baby and bathwater--out you go. But, wait, maybe I should create a Pinterest account?
Nah. Click the button and hold your breath...
Step 7: Post-Op
Once the barn-door was finally open, I created the links on Twitter, Facebook and sent a few key emails. Tommy's Bar put the link on its Facebook page as well as on its website.
That evening, Tom texted me that his site had 3,000 views. In 30 hours DiggingDetroit.com had 180 visitors and the YouTube page had nearly 640 views. Our newly minted Facebook page indicated that my post had been seen by 1,600 people.
Not sure what that all means for our grand scheme of getting a "real" series together, but our entrepreneurial spirits are considerably higher today -- perhaps the same enthusiasm as someone who cared enough to build a pretty archway in a basement for his guests.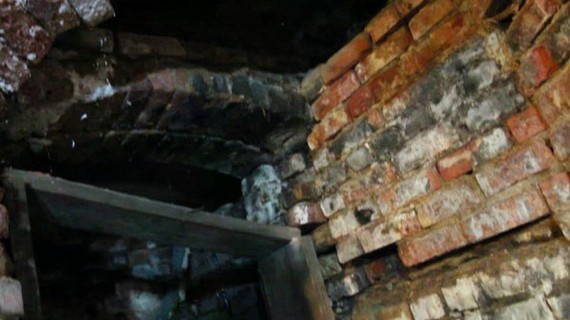 Tommy's Detroit Bar & Grill is located at 624 3rd Street, Detroit. (website)
This post was originally featured on Kevin's blog, MyMediaDiary.