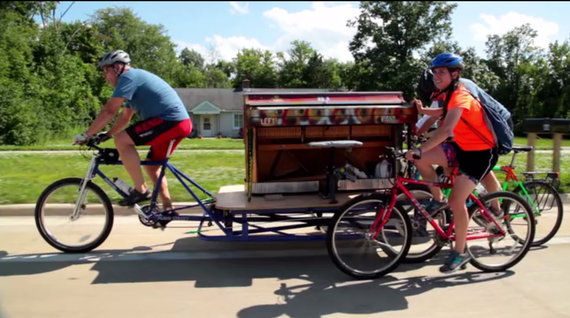 It started when my friend Mark Braun, better known as the blues and boogie-woogie piano phenomenon Mr. B, asked me to go for a bike ride with him, or rather with him and his custom built piano-bike contraption, the Joybox Express. I had heard of Mark's unusual creation, but had never laid eyes on it. It was when I finally did see it -- a Baldwin Acrosonic, covered in colorful stickers, bottle caps and other beautiful detritus, bolted to a platform with wheels and three bike connecting hubs -- that Mark told me of his plan to ride the Joybox Express the length of the Mississippi River, from the headwaters at Lake Itasca, Minnesota, to the birthplace of blues and jazz, New Orleans. A reverse migration of the blues, he called it.
While entirely comfortable on stage, or performing on the road, porch, street or wherever with the Joybox Express, Mark is not someone I'd characterize as a self-promoter. If he were, you'd find his name often beside the likes of Harry Connick, Jr., Marcia Ball and Dr. John. You see, Mark is the genuine article, someone for whom playing the blues is like breathing. In addition to possessing an insane amount of natural talent, Mark learned blues and boogie-woogie directly from those who were original purveyors of the form.
In the early '70s, as a teenager from Flint, Michigan who had recently fallen hard for some of his father's blues recordings, Mark showed up cold on Little Brother Montgomery's doorstep in Chicago. "What can I do for you, son?" said Little Brother sizing up the skinny white kid before him. "Sir, I'd like you to show me how to play the blues," replied Mark, who was no longer confident that this pilgrimage had been a good idea. Nevertheless, Little Brother let him in, led him to the piano and told Mark to show him what he could do. Mark sat down and started playing what he had learned from listening to his father's collection. Little Brother left the room.
Not knowing what on earth to do, and at this point red with embarrassment and confused about what he had gotten himself in to, Mark continued to play. Fifteen long, long minutes later, Mark heard a knock on the front door. Little Brother finally reappeared to greet the visitor. It was Sunnyland Slim, whom Little Brother had phoned, telling him to come over to hear the white kid playing their music in his living room. Both gentlemen then offered tips and generous words of encouragement to the relieved young man.
Little Brother Montgomery (aka Eurreal Wilson) grew up across Lake Pontchartrain from New Orleans. A family friend was Jelly Roll Morton, who would boat over on weekends and showed the young Eurreal how to play.
Just as Montgomery, Boogie-Woogie Red and Blind John Davis showed Mark how to play.
That Mark's Joybox Express reverse migration of the blues down the Mississippi screamed DOCUMENTARY FILM to me is to put it mildly, despite the fact that I'm not a filmmaker. But having been in and around the entertainment business for my entire adult life, I set about trying to put a team of people together who could make it happen. Through a good friend of mine, I was able to get in touch with filmmaker Brett Leonard. Brett instantly saw the cinematic potential for Mark's trip in much greater detail than I, but was otherwise unfamiliar with Mark's talent.
As luck would have it, within a month after I had connected with Brett, Mark was putting on his annual Boogie-Woogie Piano Celebration at The Ark in Ann Arbor. This is an event where Mark brings together some of the best boogie woogie players in the world and 2014 was no exception. In addition to Mark, the 85 years young Bob Seeley wowed the audience with his speed and and energy, and Germany's Axel Zwingenberger did the same with dazzling precision. When Mark eventually came out, rather than try to competitively match and surpass Bob and Axel, Mark slowed it down and played 45 minutes of some of the most soulful piano music I have ever heard. It was that rare experience of watching a master, muscularly and sensually, speak with absolute purity through their instrument. Brett, needless to say, was completely sold.
Around this time, it had also come to my attention that Jeff Daniels is a fan of Mark's, which -- despite the little I know about filmmaking -- seemed like a fact pregnant with possibility. Fortunately, I was able to arrange for Brett and Jeff to meet last month. Equally fortunately, the outcome of that meeting is that our production team consists of Jeff, Brett and myself -- and that Jeff will narrate the film.
Oh, and did I mention that the trip starts on September 1st? And that Mark has a non-profit called Joybox Express, the purpose of which is to raise money for arts and athletic education for children? And that the Mississippi River trip will also be an effort to raise money for these purposes? And that Artrain has been the organizing and focusing force that will allow this trip to happen? So much to do, so little time. Regardless, I'm in. Because for me, when Mark plays, time stops.
Khalid Hanifi is a singer/songwriter and producer from Ann Arbor, Michigan. His Kickstarter campaign for the movie Joybox Express will be active until September 10.