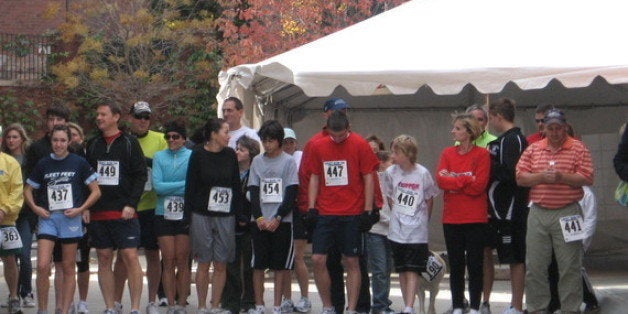 I am in the sixth year of parenting college kids. Two sons are heading to college, I have two more years to go. It gets easier. But this is what I wrote after that very first year of college when older brother began:
April 30 marks the last day of my older son's freshman year of college. On that day, we'll pack up our cars with his clothes, Mac, guitars and amps, dirty laundry, linens, girlfriend's photo from his desk, fridge and him.
A different "him" from the one we dropped off last August, but still him. He'll take the four-hour drive back to Maine for the last time of his freshman year with accomplishment tucked into his backpack. Hopefully, in subsequent years, that drive back and forth will only get easier.
For him, it's been a year of introspection, observation and change.
For Mom, it's been a year of introspection, observation... and change.
I thought I was "prepared Mom," all set organization-wise, emotion-wise and with a young man who was "ready" academically and maturity-wise. I didn't fear Matt couldn't take care or lead himself; as a first child, he's been doing that since about the second grade.
I didn't fear he lacked self-confidence, because never in his life have I seen fear in his face.
I didn't fear he couldn't make friends. His group of friends from the neighborhood are about the nicest, most grounded, fun, thoughtful kids I've met. Mind you, there were times as he grew up that we questioned his friends (not the current ones) and tried to influence his choices.
What he chose himself was so far better than we ever could have for him. It's a testimony to who he is. We've learned over his young life that what he chooses for himself has been better in every instance than we ever could have chosen for him.
So, what happened with all this preparation and apparent readiness? Tough.
Freshman year has been an emotional roller coaster.
I've missed him more deeply than I anticipated I would. Our house is so obviously missing the sounds of him: his guitar playing, his singing, his music, his feet running down the stairs, his "hey," the slamming of doors just from force not from anger, his laugh.
I've prayed almost every night, something I hadn't done faithfully for years. I wander the halls slowly and look at photo montages of when the boys were young and linger on the little-boy smiles that show him at 5. I re-look at graduation photos. I tear up at the oddest of times, especially when driving and hit with a particularly pertinent song.
I wonder what he's doing at any odd time -- is he warm enough, is he in danger, is he lonely?
There's nothing I would have liked more than a child who said, "Bye, Mom," eagerly and happily and that he "LOVED" college. As hard as it is to let go, that scenario is actually easier than when you know it's not the be-all and end-all, all fun and games. That it's not where they want to be.
This year has been a test of my parenting skills in a new way as we run headlong into this new phase, what is most important for me to give and say at this time. It's all new, as each phase is. It takes a little trial and error to figure it out.
As much as I'd love to jump in and help, I purposely make myself hold back and wait to be asked. And even then, teach and encourage instead of do.
My best friend's nephew leaves for Afghanistan for two years just before Matt will return home from college. That gives me perspective. And now for him and Matt, I will continue to pray every night....