I was the same age my twin daughters are now in this picture -- 10 years old. Do I look bossy? Well, as a matter of fact, I was. And yes, I was teased for it. But once I learned that being "bossy" was necessary if I wanted to get ahead, I got comfortable being assertive.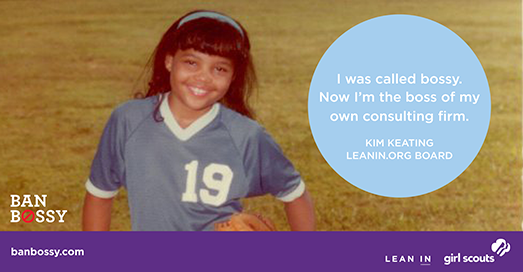 Girls are often branded "bossy" when they are determined or bold, and it takes a toll. By middle school, they are less interested in leadership roles than boys. My daughters enter middle school this year and we are a Ban Bossy household, where being assertive is not only accepted, but encouraged. It seems to be working. See the email below that I received from my daughter Nikki over President's Day weekend.
Project Proposal
Prepared for: Mrs. Keating
Prepared by: Nicole Keating
Dear Mrs. Keating:
I've studied the years of work you have done with Lean In and Keating Advisors and I like what I see. But the one thing you don't have is an assistant. So, I've taken the time to write this letter to tell you the things that I can do and can't do and why you need my services. So, shall we begin?
Let's first start with things that I can do. I can organize and type up reports and read and take notes on things you need for work. I also can do a lot of things not in the work area like getting you snacks and water and taking notes when you're on a call.
The next thing is work schedule. I can work from 5:00 p.m. to 6:45 p.m. on Mondays, Tuesdays, Thursdays and Fridays. I will come to work every two weeks. On weekends, I will work, but not on a timed schedule. The work that you give me on weekends must be small jobs. I will tell you when I can and cannot do work that day. Do realize that I have school, so that might get in the way sometimes.
Please contact me for more information. My prices are very cheap and so I was hoping you could think about it.
Sincerely,
Nikki Keating
I don't know if I was more proud of the fact that she wants to work with me or the fact that she is so matter-of-fact about her terms of engagement.
We even have a "bossy" boisterous dog, Bella, who looks like a cuddly teddy bear, but takes no prisoners when it comes to guarding our house.
When it comes to girls and ambition, girls are discouraged from leading. When a little boy is indecisive and assured, he's called a "leader." Yet when a little girl does the same, she risks being branded "bossy" -- a precursor to words like "aggressive," "angry" and "too ambitious." Calling girls bossy is one of many things we do to discourage them from leading.
Now is the time to start building female leaders. I hope you'll join me at Ban Bossy -- and encourage girls to lead. Post "I will #banbossy" to your social media channels and pledge to Ban Bossy and encourage girls to lead.