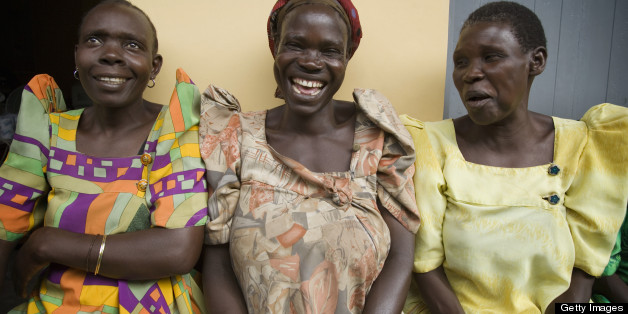 As Earth Month comes to a close and we send off the last few packets of activist swag, it's fitting that our stack of factsheets on the Millennium Development Goals (MDGs) is rapidly dwindling. We are fast approaching the 2015 deadline to achieve these eight indicators of global poverty reduction and development gains, and the D.C. and international communities are looking back to gauge our success.
It's encouraging to see enormous progress in meeting some of these goals: we've halved the number of people living on less than $1.25 a day, bolstered enrollment in primary education in the developing world and increased access to lifesaving HIV/AIDS treatment worldwide. Yet the goal of achieving universal access to reproductive health (MDG 5a) has seen the smallest amount of progress.
As we transition from the MDGs to a new path for global development in the post-2015 era, the future of women, families and the planet depends on increasing access to voluntary family planning and the life-saving reproductive health services that all people deserve. It's time for a new factsheet -- and a new focus on sustainable development that puts women at the center.
"There is broad agreement on the need...to arrive at one global development agenda for the post-2015 period, with sustainable development at the core," explains the United Nations Economic and Social Council. And knowing that women are the primary resource managers for families and communities in most parts of the world, it would seem obvious to prioritize the education, empowerment, economic opportunities and healthcare access of women and girls to ensure that we achieve sustainability.
Yet the strong ties between universal reproductive health access and the rest of the MDGs seem to have been overlooked, given the gaps in access in many regions of the world, the increase in contraceptive access in the 1990s that fell off during the 2000s and the persistently high unmet need for family planning that affects 222 million women worldwide.
Women and families who can choose whether and when to have children are better able to manage scarce resources like food, water, and fuel and are more resilient to climate disruption. And meeting the unmet need for family planning slows population growth, reducing pressure on these resources and, in turn, helps communities continue to farm, fish and thrive.
Reproductive health and environmental activists need to make our voices heard and push for the inclusion of this goal in the post-2015 sustainable development agenda. At worldwewant2015.org, individuals can add their input to help shape the forthcoming United Nations goals, and all this week, Twitter and Facebook users can participate in a campaign led by the International Women's Health Coalition to encourage putting women and girls at the center of the post-2015 development agenda.
When asked about the role of family planning in the post-2015 development process, UNFPA Executive Director Babatunde Osotimehin explained that MDG 5a, the goal of achieving universal access to reproductive health, "has to be rolled over, if we are going to talk about equity in the world today." The reality is, we must be talking about equity -- equal access to clean air and water, voluntary family planning, healthcare, resources and the power to make decisions about one's family and one's future -- as the world decides how to pursue development in 2015 and beyond. Together, let's make sure we keep this conversation going, hold leaders accountable and ensure these new goals include universal access to reproductive health for all.