Three weeks ago my husband took me to a signing for producer Jerry Bruckheimer's book, When Lightning Strikes -- Four Decades of Filmmaking. No matter how long the line, there was never a question we wouldn't enjoy every minute of the wait, with my love for books and my husband's love for everything CSI-everything-Bruckheimer. A tribute to Mr. Bruckheimer, since my husband just retired from policing after 30 years. So on a perfect, sunny day, we, along with countless others, hit the back roads to line up on the bucolic sidewalks of Bloomfield, a charming Kentucky town.
Jerry Bruckheimer has indeed produced legendary films across the decades -- Flashdance, Black Hawk Down, Remember the Titans, Pearl Harbor, Pirates of the Caribbean and many more, as well as multiple smart and captivating television series CSI, The Amazing Race and others.
The beautifully-crafted When Lightning Strikes covers those four brilliant decades. It includes stunning photographs, beautiful writing and many little-known facts and features.
This week I got the rare chance to talk to Jerry Bruckheimer one on one. I asked about his book signing. He said "all the book signings have been a great experience, but Bloomfield was a real family affair." Part of his and his family's deepening connection to the beautiful bluegrass state of Kentucky.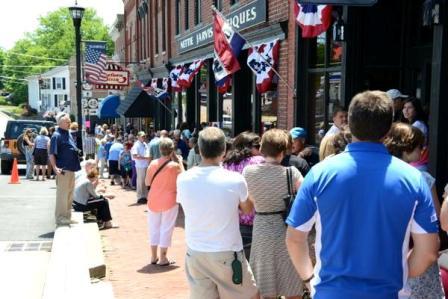 Courtesy of Jerry Bruckheimer
I asked and also wanted to know, "What is the one thing you credit for your success?"

Jerry responded, "One word, Love. You have to love what you do if you want other people to succeed." That perhaps sums up the sense of this man, who does and must inspire the very best in all the many around him needed to produce great films.
One of his many resonating quotes in the book, "Don't get a job where you spend your time counting the days until your two-week vacation." should be framed in every home, college dorm, and hiring office. This quote speaks to his deep conviction that the happiest people are those who create lives of purpose and passion, which this man genuinely and humbly exemplifies.
Jerry is quick to credit 'all the wonderful people on both sides of the camera who constantly make me look good'. And he adds, "It's all about hard work, learning your craft, and endless perseverance."
I wondered if he ever had to alter his artistic choices for political or financial reasons dictated by others.

Jerry said, "There always has to be give-and-take in filmmaking, but it's a natural process which comes from collaboration, not dictation." It doesn't surprise me that working with others is a deeply natural process for him.
I asked his take on any more quiet projects. He said, "There's still room for every kind of film. I've produced some movies which I'm very proud of that were relatively 'quiet', such as American Gigolo, Dangerous Minds, Veronica Guerin, Remember The Titans and Glory Road."
He continued, "There's plenty of room for every kind of motion picture, it should never be limited to only blockbusters. There are so many great independent films being made. It's great for audiences to have choice."
Jerry talked about his current projects. "We're developing a fifth Pirates of The Caribbean starring Johnny Depp, as well as a new Beverly Hills Cop with Eddie Murphy starring and Brett Ratner directing, a third National Treasure and a few dozen more in various states of planning. We also have a new show, CSI: CYBER, starring Patricia Arquette, which will have a midseason start on CBS."
He's grateful to the industry and says, "It's been very good to me. I just keep moving forward, and continue to love making quality films and television."

When Lightning Strikes -- Four Decades of Filmmaking deserves to be displayed, admired and read. It's a treasure trove of gorgeous photographs of Jerry Bruckheimer's films and an inspirational narrative of a remarkable life.
Jerry lives with his wife, author Linda Bruckheimer. They have adopted Bloomfield Kentucky as their home.