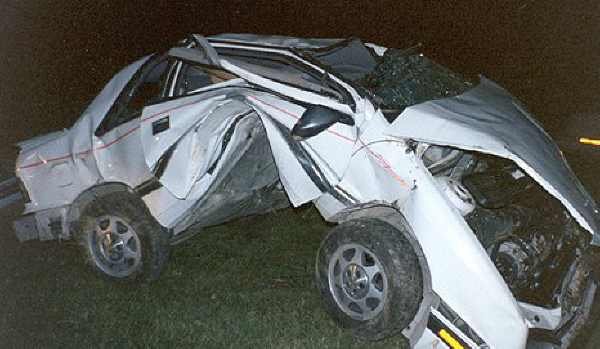 On Oct. 19, my 16-year-old daughter's school was surrounded by EMTs, police and fire fighters. A helicopter hovered above the campus grounds. The coroner came first, then came the hearse.
There was a car crash on campus involving drunk drivers.
Four 16-year-old girls had been drinking: one dead at the scene, two critically injured and one non-injured -- the drunk driver.
They rushed the critically injured away in ambulances. The non-injured drunk driver was handcuffed and arrested at the scene. The last girl was released by the fire department using the Jaws of Life, then placed in a body bag and taken away in a hearse.
All students and teachers were watching -- weeping.
Here's the lesson: This was an elaborate, very expensive, mock set-up, done only every few years due to cost, to mark Teen Driver Safety Week, Oct. 17 to 23.
And here's what happened next to educate the teens on driving and drinking. That night, one girl -- the drunk driver -- spent her night in an actual jail. The two critically injured spent their night in a hospital's intensive care unit. And the girl in the body bag was taken to the morgue, via hearse, and spent the night alone, sans cell phone, lip-gloss, anything or anyone.
She was dead and needed to feel the deadness.
The high school students all volunteered and wore fake blood, and a few of the observing students watching suffered faintness and stomach illness. And in all, several students received on-site medical treatment due to the intensity of this lesson.
The next morning, parents came to the school and gave their daughter's eulogy.
The crashed car will remain on campus for two weeks.
I am thankful for this powerful, emotional lesson, and so very grateful to the professionals who donated their time and monies to educate our youth on the dangers of drunk driving, preventing death and insuring the safety of our most precious gifts -- our children.
To learn more about the statistics and protecting youth from drunk driving, please visit the National Highway Traffic Safety Administration (NHTSA) website.