Forget to make dinner reservations and order a bouquet for your partner this Valentine's Day? Scrambling for last minute Valentine's Day ideas? Slowly realizing your relationship is doomed if your partner realizes you have nothing planned? Relax. Here's a ten quick and dirty tips for surviving AND making Valentine's Day special for your mate:
1. Create a treasure trail around the house with little notes of where to look next, leaving something special on each stop to make your partner smile (like a chocolate kiss) ending up with something "nice" at the end. Put the notes on post-its, or grab a handful of hallmark cards, if you have time. Handwritten notes always get big points (that is, if you're aiming to "get points").
2. If your partner works long hours and is exhausted the second they walk in the door, give them a massage. Physical touch usually leads to more physical touch.
3. Recreate something that you did together when you first met -- have a coffee at your first date spot and take new pictures, rekindle memories over re-watching the first movie you saw together (get it on Netflix or Amazon). It's incredibly romantic to reminisce and show them you remember where it all started.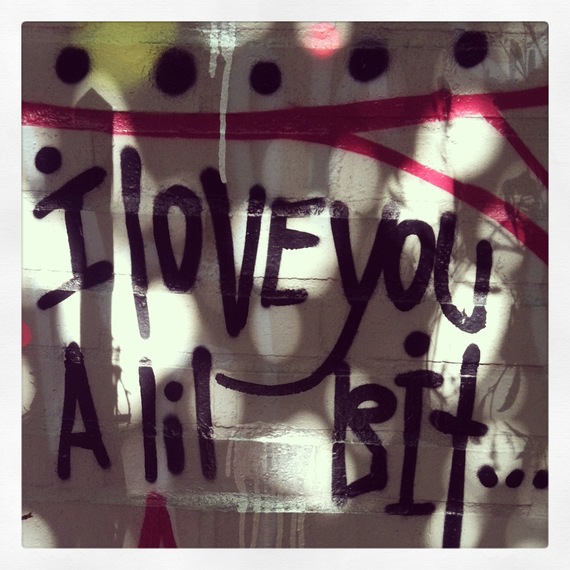 4. Make a CD or playlist of your favorite songs -- especially the ones that remind you of the early days of your relationship. If it's a CD (or cassette tape!) handwrite the songs on the cover.
5. Cook a nice meal at home -- it doesn't need to be overly elaborate. Cook from the heart. Trust me, they'll notice.
6. Take a bath together and rub each other's backs. Light a couple candles and put on the playlist you just made. This is super easy, yet sentimental, and probably doesn't require a trip to the store. (Plus, you're naked!)
7. Make a scrap book with photos or selfies on Instagram. Most drug stores have photo printing machines where you'll be able to print the ones you emailed yourself. Make funny captions and give it to them to take home.
8. Go to a movie, sit in the back and make out like teenagers.
9. See what is going on in your community -- be it a comedy show or a new artist. Even if it's not your cup of tea, laughs are an excellent precursor to furthering the bond between you two.
10. Breakfast in bed. Enough said.
Do a few of these simple things well, with care, and there's no reason to worry. Valentine's Day doesn't need to be a glamorous evening of champagne, oysters and roses. In a true relationship, it's "the thought that counts" -- so spend minimal effort (and minimal cash) and realize that Valentine's Day can be memorable without the stress.
*Contributions from Meghann Novinskie, matchmaker of nine years and partner at Mixology -- Matchmaking with a Twist.