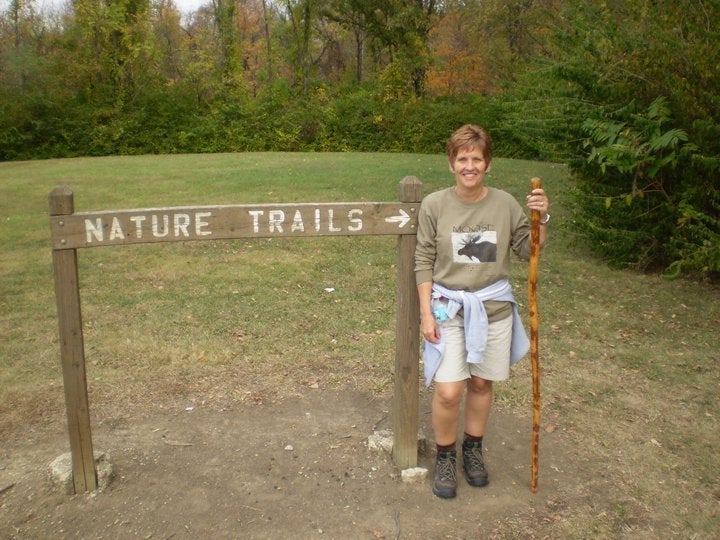 At age 39, I was in the best shape of my life. I ate a heart-healthy diet, and I exercised. My favorite exercise at that time was kickboxing. I started feeling more rundown than usual and short of breath with little exertion. I made several trips to my family physician and was told I was too busy and to slow down. I was diagnosed with asthma and placed on several inhalers. None of those medications worked for my shortness of breath. One doctor scheduled me for a pulmonary function test to check the severity of my asthma.
On June 21, 2001, my world changed forever. I got up that morning and couldn't walk 10 feet without sitting down. My face was red and swollen. I couldn't fit into my own clothes. I felt like I had run a marathon. Instead of the pulmonary function test, I chose to go to the emergency room. I would have never made it through the pulmonary function test. When I arrived at the hospital, the ER doc took one look at me and said, "Has anyone ever checked your heart?" Not one doctor ever checked my heart or even suggested my symptoms could be heart-related. After several tests, I knew things were not good by the look on the doctor's face when he came to give me the diagnosis. He told me I had less than 5 percent of my heart functioning and that I would never survive without a heart transplant. I was told I had one-sixteenth of my heart working. I had congestive heart failure and cardiomyopathy and was holding more than 30 pounds of fluid.
I was admitted to CCU and had a cardiac catherization to determine what caused my heart condition. The test revealed I had no valve problems and no blockages. In fact, my doctor said my arteries were the cleanest he had ever seen. Surgery was not an option. Most likely, a virus caused my condition. I would need a transplant, follow a sodium-restricted diet, and take heart medications. I spent seven days in CCU and had a lot of challenges. My daughter was 6, and I knew I had to fight for her.
My husband, Steve, made sure I walked every day. Each day, he pushed me to go a bit farther. I was told not to be a couch potato. I did as much exercise as I could, and at first it was very little. I learned to cook differently, and it was a challenge finding things that fit into a low-sodium diet! Hours were spent in the grocery looking at labels! Within a couple of months, I was feeling much better. I was back to walking three miles a day, and tests determined my heart function had increased to 15-20 percent. I would not need to be placed on the transplant list. I had surgery to implant a pacemaker that was supposed to help my heart function improve, but the device just never did what doctors expected. My heart was extremely enlarged, and doctors hoped the pacemaker would bring my heart back to normal size. I felt great, so on June 21, 2002, I married my best friend. We chose to celebrate life just one year after my diagnosis.
My heart function managed to get to 25 percent, until I came down with bronchitis twice within a couple months. My heart function started to slip, and I started having irregular rhythms. Doctors decided I needed a defibrillator. My medication dosages were increased, but nothing worked to bring improvement. Doctors finally told me there was nothing that was going to work for me. I was referred for transplant and would see a new doctor from Ohio State University Hospital (Dr. William Abraham). During this time, I started feeling rundown and tired. I wasn't able to exercise. I was scared to exercise since my heart function was declining. Doctors kept urging me to exercise, but I couldn't get past the fear.
I had my doctor enroll me in cardiac rehabilitation. I wanted to try everything before transplant and cardiac rehab was the best decision. I regained my confidence to exercise and started feeling better. I no longer had irregular rhythms, and I felt like I was getting my life back. Dr. Abraham told me I needed to get my heart function to 35 percent to be considered safe. After a year of exercising, an echocardiogram was done, and my heart function strengthened to 35 percent for the first time. My heart was back to normal size! I was no longer in need of a transplant.
Over the years, my exercise routine has increased to include Zumba, running, using the elliptical and treadmill, strength training and spinning. My husband and I hike every chance we get. I no longer get short of breath or feel tired. Doctors are absolutely amazed at what I can do. March of 2011, I had a MUGA scan to test my true heart function. The MUGA scan showed I have 48 percent heart function, which is just 2 percent below normal! I have gone from less than 5 percent heart function almost 12 years ago to normal heart function today. I am living well after being told I had 4.5-5 years to live. God had other plans! Lots of prayers went up.
I'm not sure if you believe in miracles, but I firmly believe I am one. I couldn't be more grateful for the care I have received from all my doctors. They all played a huge role in saving my life. God brought the best of the best into my life at just the right time. I am here today because of prayer and my great team of doctors! God has blessed me with a wonderful family and support system. I don't take life for granted. Please listen to your body and find a doctor that will listen. Going to the ER that day saved my life.
For more personal health stories, click here.