We said goodbye to India and hello to Nepal, the birthplace of Buddha. We landed in Kathmandu around 3:30 p.m. after a two and a half hour flight from Mumbai. Before we left Los Angeles, we both had a handful of passport size photos taken at Costco because a few countries require it upon arrival for visas. Nepal was one of those. However, I completely forgot to put them in my little backpack and Jet Airways made me check my big backpack so I didn't have them in my possession when I needed them most. Of course I was freaking out because on the visa application form it clearly has a section for a photo. How could I be so organized prior to leaving yet so disorganized when push comes to shove? As we approached the immigration officer, my palms profusely sweating and my heart rapidly beating, I fearfully told him our photos were in our checked luggage. Nevertheless, he didn't seem to care at all as he looked at me, smiled, stamped our passports and on we went. Phewwwwww. I guess having the $25 USD to pay for our visit was all they really cared about. Works for me. Nepal is fifteen minutes ahead of India (so weird) and now thirteen hours and forty five minutes ahead of LA. And their currency is also called Rupees but Nepalese Rupees. The exchange rate is more in our favor being 106 to 1 versus India which was about 66 to 1. Cha Ching.
As we exited the airport, there was someone waiting for us from our AirBnB (I pre-arranged this and it cost about 1500 Rupees or $14). While following him in the parking lot, we noticed there was another guy tagging along. We figured they came together. When we were approaching the car, the random sidekick offered to take our bags and help put them inside. Well, wasn't that nice of him. But about forty seconds later, he pulled out a wad of American bills and said "feel free to tip now". Excuse me? That's like picking up a girl on the first date and kissing her before she can even say hello. A little too aggressive and a little too premature. Especially when all he did was lift our bags off our back and threw them about five feet. Ummm no thank you. Good thing we listened to our gut because it turns out, he wasn't even with us. A few minutes later, we saw him pull the same move on three other Americans. I always have to give these guys props though for having the nerve to be that straightforward.
After an eventful thirty minute drive from the airport taking in all the sights of this new foreign country, we finally pulled up to our home for the next four nights around 5pm. As we walked up twenty five wooden stairs, then up eleven windy metal stairs and then down five more wooden stairs, we joyfully entered our "roof terrace studio in a Newari House", owned and operated by Cosy Nepal. It sure was an adorable little place with a patio in front, walls made out of brick, a kitchen that we most likely weren't going to use, floor made out of bamboo and a simple mattress, no bed frame or box spring, on the ground.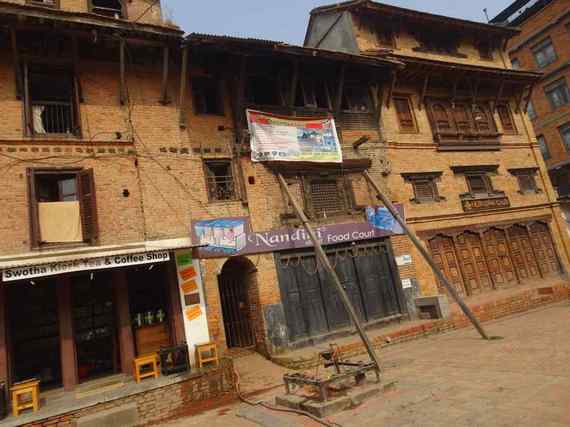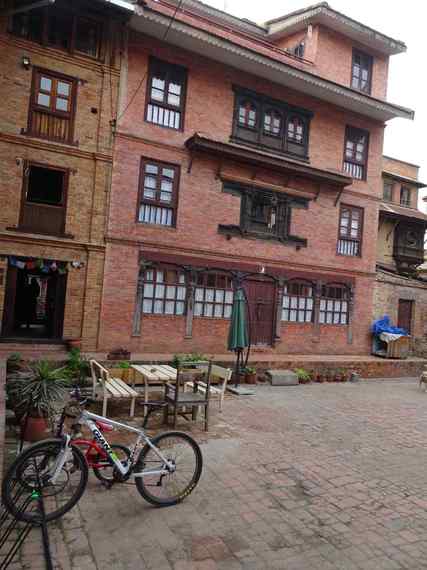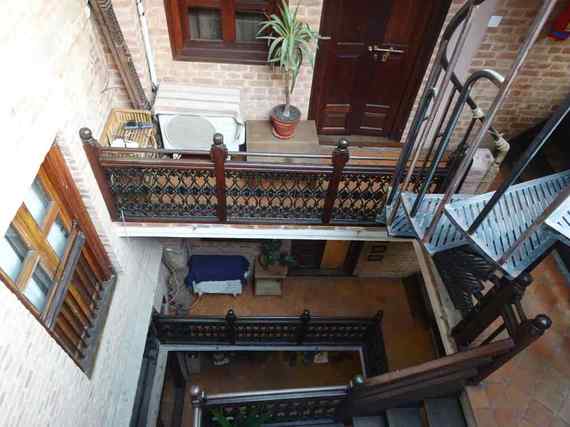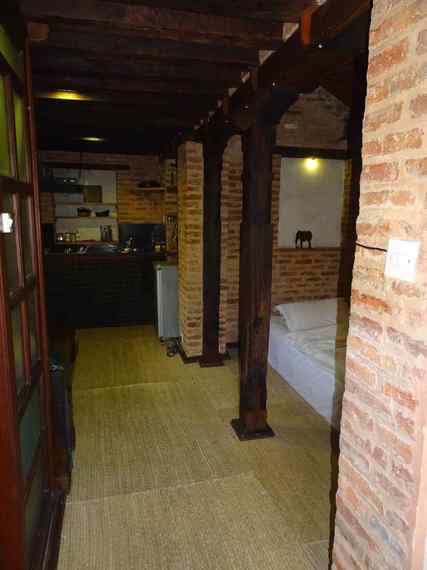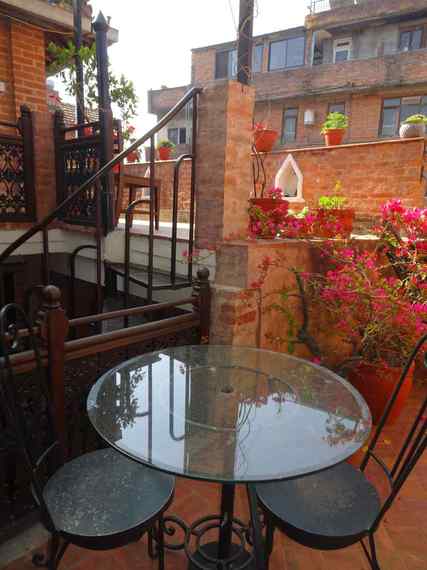 We decided to stay in a town called Patan, which is located about five kilometers south of Kathmandu, in the Kathmandu Valley, on the southern side of the Bagmati River. It is the oldest of the three Kathmandu Valley cities (Patan, Bhaktapur, Kathmandu) and is believed to be one of the oldest known Buddhist cities in the world. The official name is "Lalitpur", meaning City of Beauty. Reading more and more about Kathmandu while we were in India, I realized that it is just another chaotic big city and we wanted something a little more quiet, quaint and charming. From the looks of it, Patan was exactly that. We took a few hours to settle in and then decided to head out around 7:30pm to grab some dinner. Sailesh, the twenty four year old guy I had been communicating with through Cosy Nepal (who was quite a cute Nepalese hipster by the way), recommended a restaurant that was a short two minute walk away. But first we needed to go to the ATM and get local currency. When we walked outside our room, down the thirty one stairs, and out of the front door of the main building, it was pitch black. No street lights, no shop lights. Did they have a power outage? We would randomly get some relief whenever a moped would drive by with its headlights but other than that, you couldn't see two feet in front of you. Plus, the roads were all unpaved and we had no idea where we were going. Something tells me this is normal though because the locals were going about their everyday life, pretty unfazed at the lack of electricity. We quickly decided to give up on our ATM mission but luckily, Cafe Swotha took credit cards so we were good to go for now. In India, restaurants didn't open until 7:30pm as everything seemed to start later there than usual. Now in Nepal, or at least Patan, restaurants seem to close before 8pm. That's the beauty of traveling. You are always adjusting to new cultures and new lifestyles. It doesn't allow you to get too comfortable, always forcing you to sit on the edge of your seat. That night I stayed up to 1:30am (I know, I'm such a wild child) because I couldn't go to bed until I knew Jennifer (my family friend/childhood friend/somewhat sister/pseudo cousin) had arrived safely at her Cosy Nepal AirBnB down the street. I felt like a mother waiting for her child to get home from a rebellious friends high school party. I just remember how overwhelmed I felt landing in India at night after twenty four hours of flying and I had Vinny to protect me (that macho man he is). Jennifer was all on her own so knowing that she was in one piece allowed me to get a restful night sleep. Welcome to Nepal, Jennifer!
The next morning we all met up around 9am. It was so great to see her outside of Los Angeles, outside of California, outside of America and not to mention, have a familiar face in such a foreign place (besides Vinny who I've stared at for the past seven weeks). She walked to our house, then we all walked to Patan Durbar Square, which was filled with temples, statues and fantastic people watching.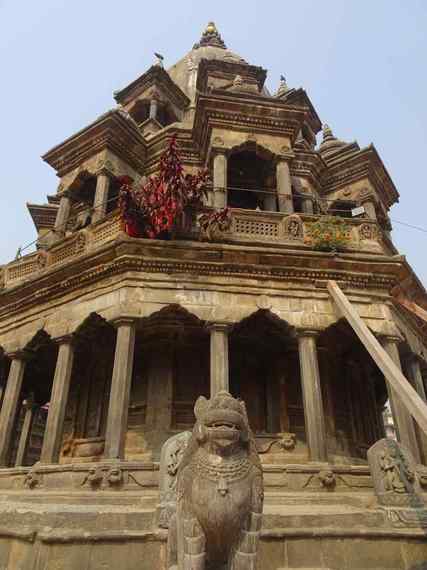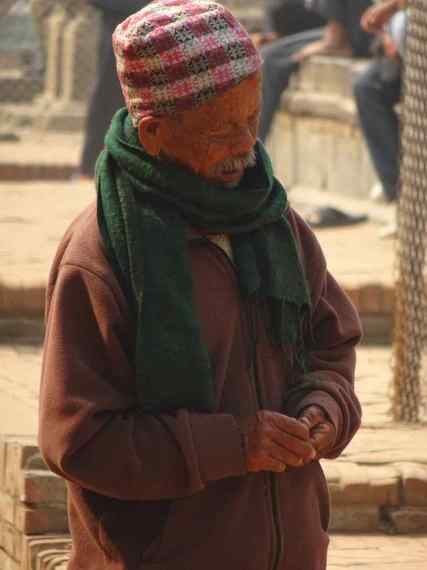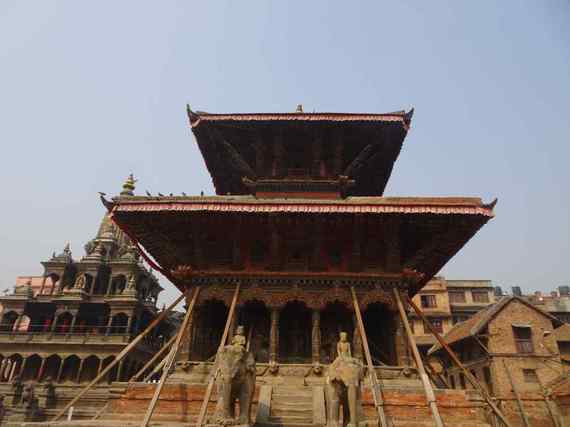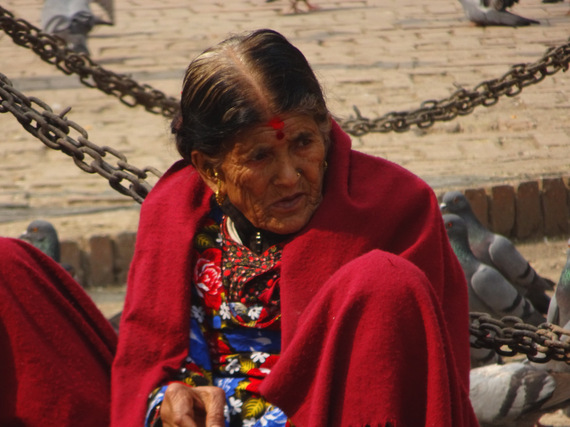 Afterwards, we grabbed breakfast at Cafe du Temple, a rooftop restaurant that overlooked Patan Durbar Square.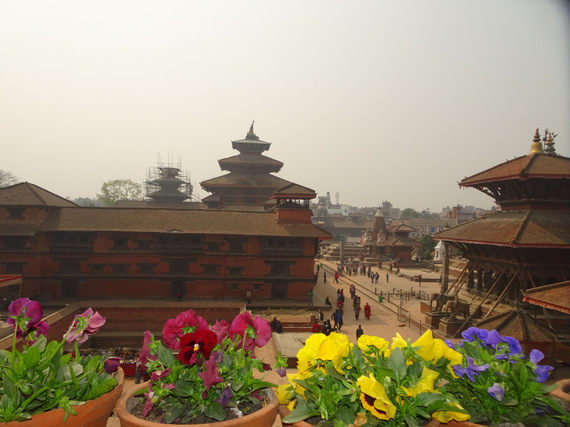 Then we went on a three hour self guided walking tour of Patan thanks to Lonely Planet. We saw kids playing marbles, soccer with an empty plastic bottle and table tennis...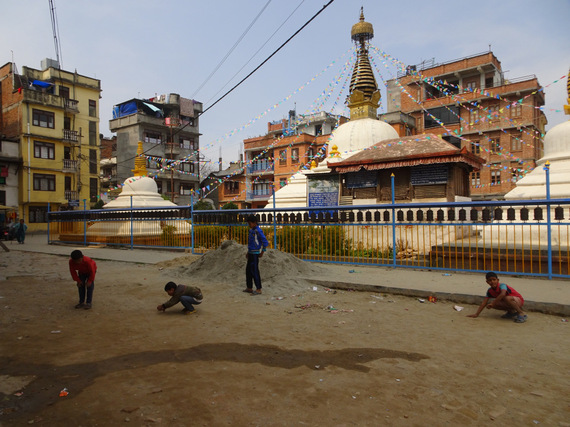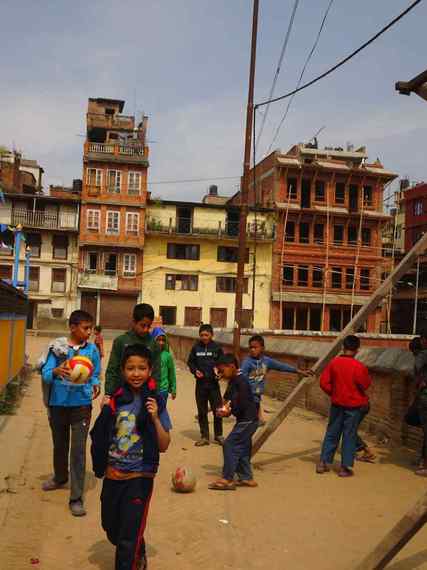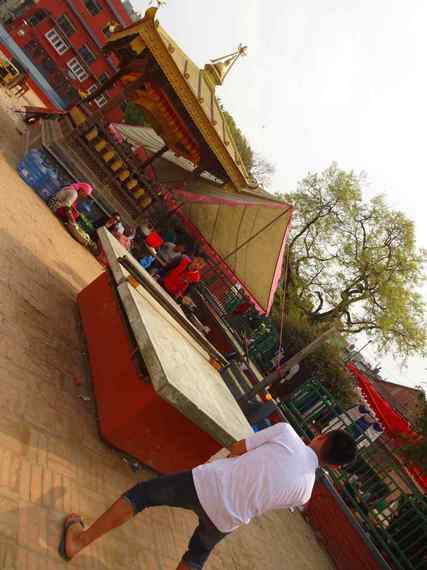 Buildings that were colorful and made of brick...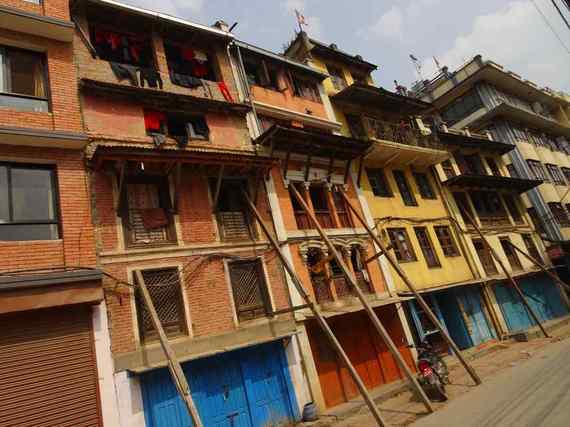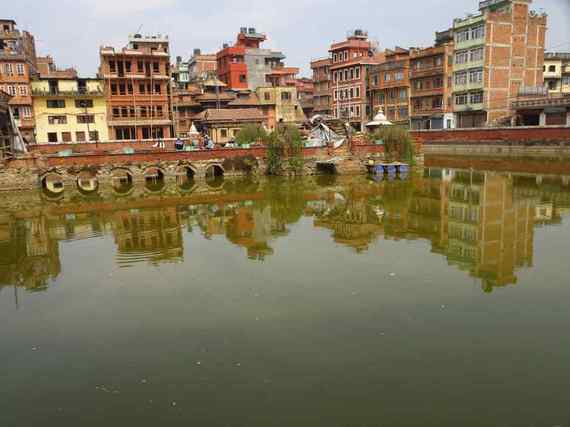 A "catering company" preparing for a wedding that night...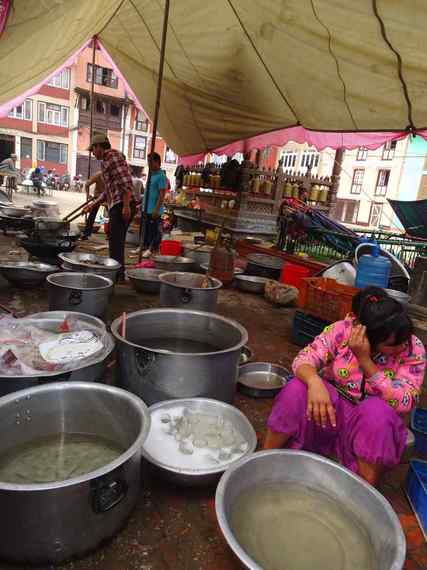 A few older ladies chilling outside, enjoying the weather...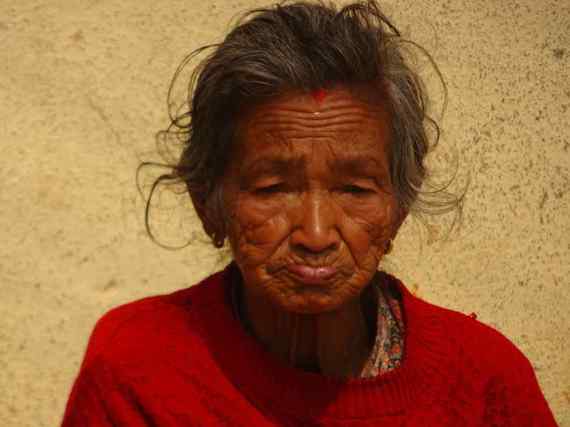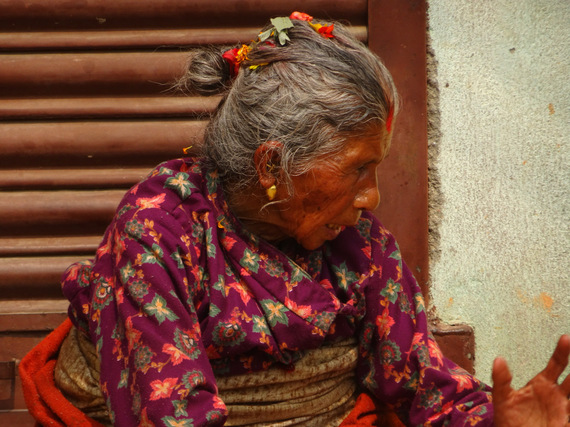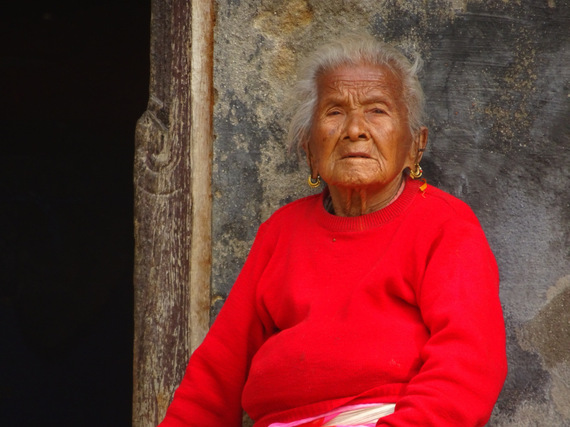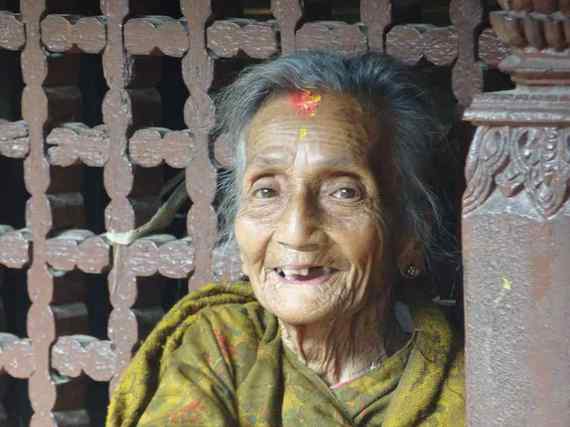 A group of older men contemplating who had the better hat...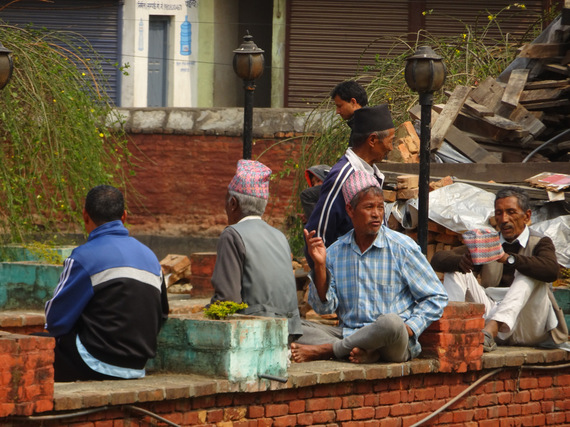 Someone washing their hair, in a bucket...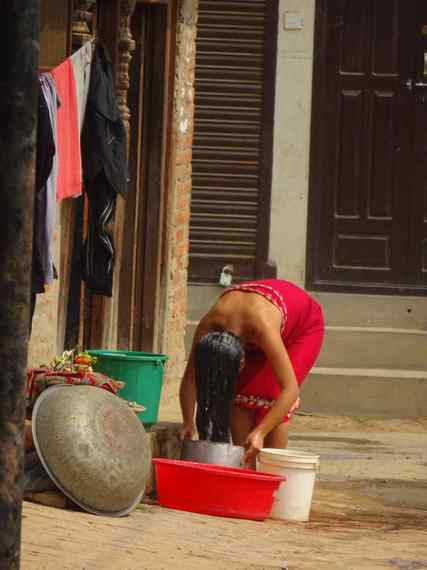 A giant Buddha statue...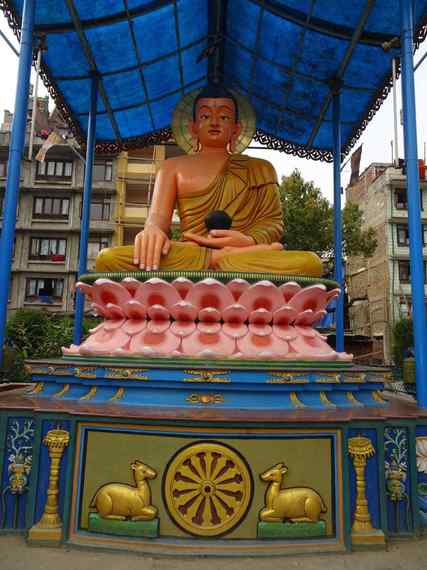 A traditional Nepalese stupa...
One of the main highlights of Patan is the Golden Temple (Hiranya Varna Mahavihar), built in the 12th Century by King Bhaskar Verma, located just north of Durbar Square. This three-roof Buddhist monastery is adorned with a golden facade, four large gateways, a clock tower, and two lion sculptures. Inside are golden images of Buddha, wall carvings, and a prayer wheel. The outside features more bricks while the inside shines with gold.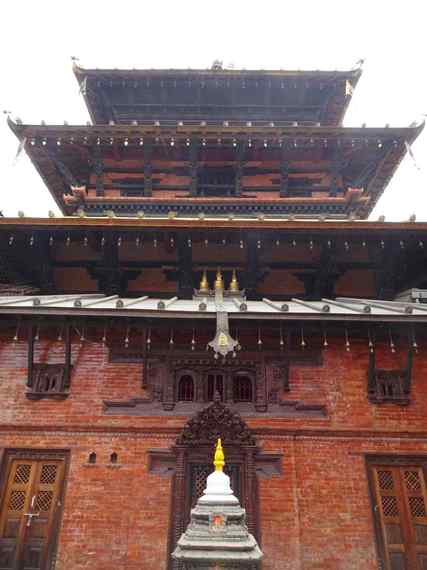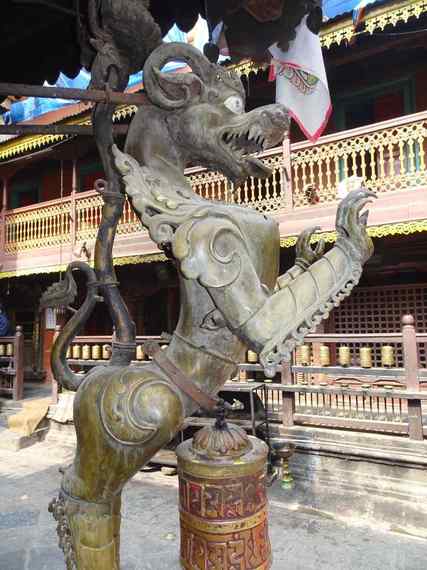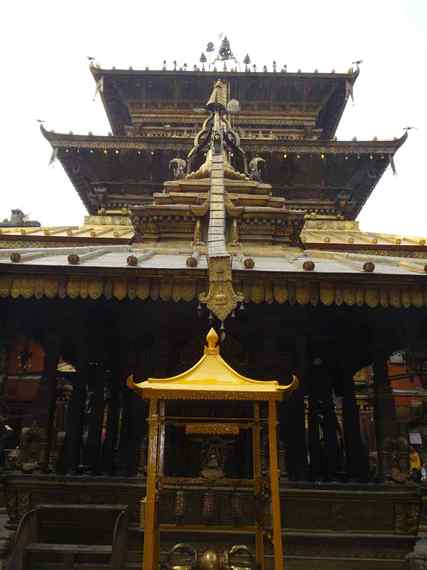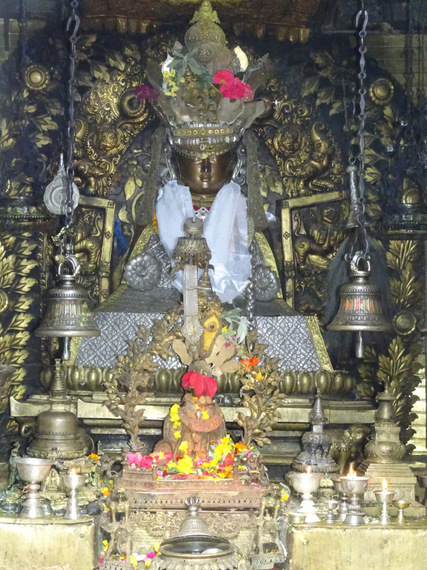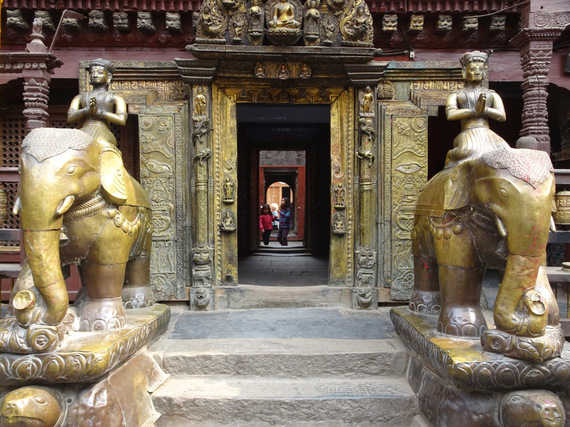 While we were at the Golden Temple, we saw a bride and a groom taking what looked like some pre-wedding photos. I just love how different their attire is than what we are used to. Red and gold, jewels galore, midriff showing. Stunning in my opinion.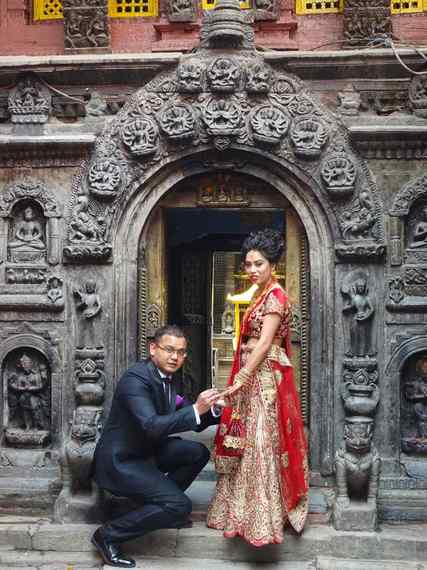 Now that we had worked up an appetite, we grabbed a rather late lunch at Dhokaima. They had a lovely outdoor patio that we thoroughly enjoyed. Nepal is famous for their Momos, which were delicious, almost resembling a Chinese steamed dumpling. A random observation that we all noticed was that restaurants here always tend to bring you mustard and ketchup, even if what you ordered doesn't call for it. Weird but okay. I mustard not ask any questions (HA HA!).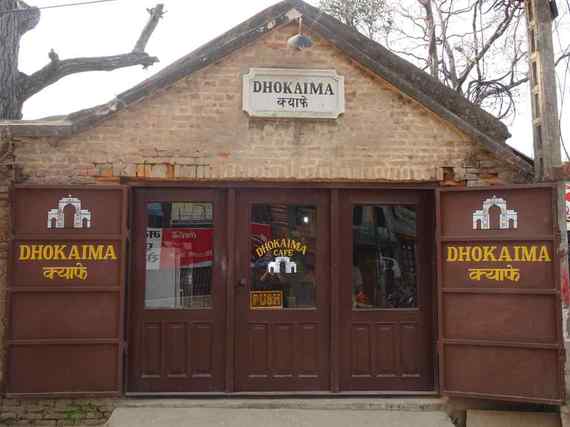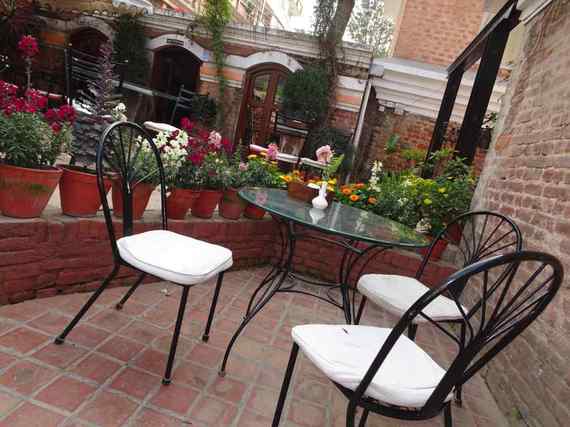 Then we wandered to a "super store" to buy some snacks, water and whatever else we laid our eyes on. This was the first legit market we've seen since our trip began. Certain aisles smelled so bad we all gagged at the same time. Still not quite sure what it was but hopefully I'll never have to experience that again. And on the left hand side here is a Head & Shoulders sponsorship activation testing for lice. Oh the good old days of selling advertising to brands. I think I like my life now a little better, although I know it can't last forever, I'll enjoy it while it while I can.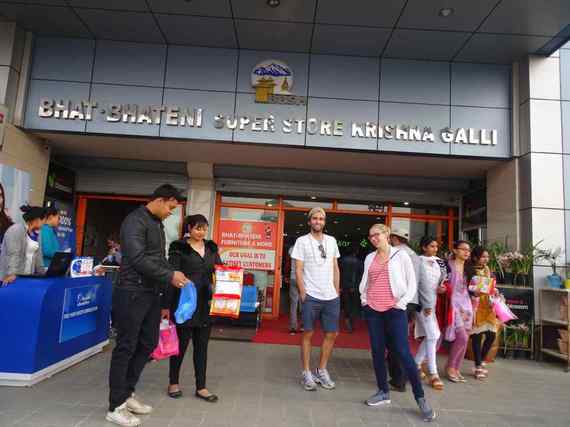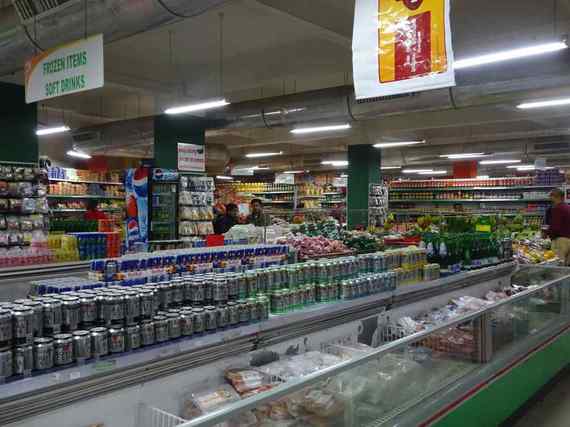 After a few hours of some much needed R&R, we went to pick up Jennifer at her house (about a three minute walk from our house) and then headed to find a restaurant that was still open. Here is the street we walk along between our two houses as well as a photo of her house (both taken earlier in the day when there was light). The door is so tiny. If you are taller than 5'6 and larger than 150 pounds you most likely won't fit. Sorry.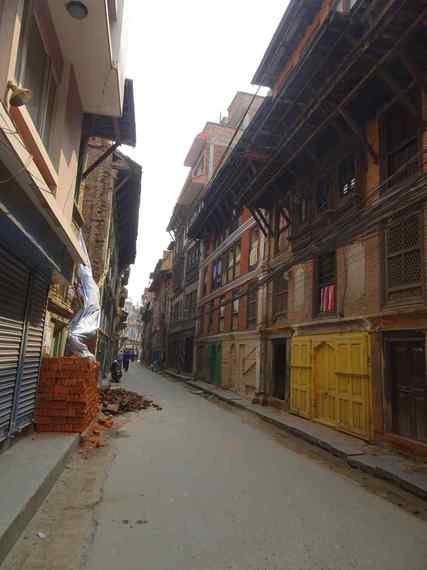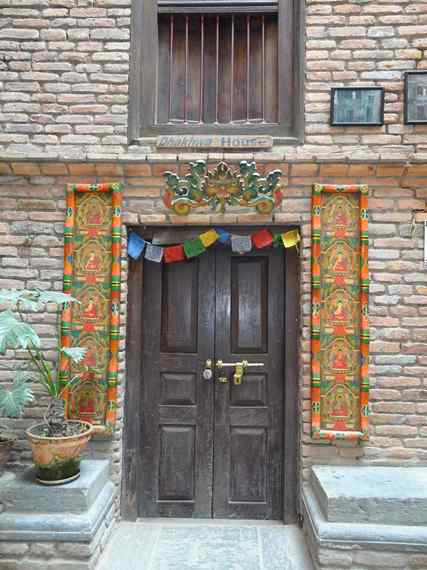 Without cell service, without street lights, without street signs, and without knowing where to go, we tried a few places that we had read about but unfortunately, they were closed already. I'm telling you, this town is made for senior citizens but that's what makes it so special. I honestly think it is because it is so dark at night. When the sun goes down, the people go down too. So we headed back to Cafe Swotha again, which was just as delicious the second night, but we definitely prefer variety if and when possible. Something is telling me that variety isn't possible here in Patan.
The Nepalese, at first glance, all seem so happy, so friendly, so welcoming. They smile and say Namaste, which is by far one of my favorite things about this country. Namaste means hello in Hindi so it's exchanged all day, every day. You feel like you had a quick hot yoga session every time someone passes by. Namaste. Namaste. Namaste. Namaste.
Share this: