A recent attack on a gay and lesbian nativity scene at a California church proves how much these liberating images are needed.
My own queer nativity projects have gotten nasty accusations of blasphemy, so I was outraged but not surprised when I read news reports of the vandalism in Claremont, Calif. Attackers came in the night to knock over the same-sex couples in a manger scene at Claremont United Methodist Church. Police are investigating it as a hate crime.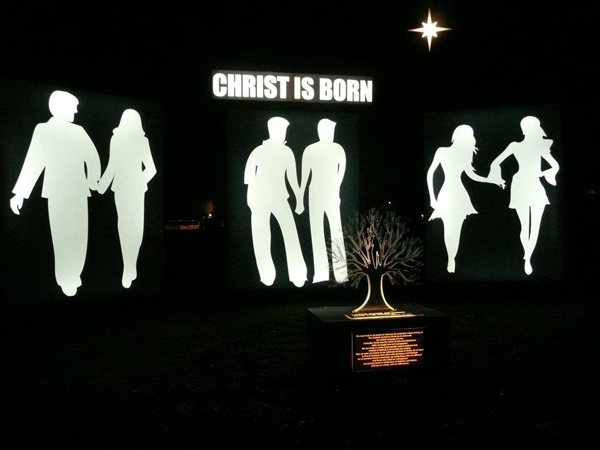 The gay and lesbian nativity scene at Claremont United Methodist Church, before it was vandalized (photo courtesy of the Claremont United Methodist Church).
Unfortunately, the assault on Claremont's gay and lesbian nativity is part of an ugly trend targeting LGBT Christian art. Many artists who use queer religious imagery have their work destroyed -- if they can find a way to exhibit it at all. LGBT-positive Christian images are needed now because conservatives are using religious rhetoric to justify discrimination against queer people.
The Claremont church bravely re-envisioned the nativity scene as three couples -- gay, lesbian, and heterosexual. They stood on the church lawn in life-sized silhouettes built from 600-pound light boxes. Each pair held hands beneath the star of Bethlehem and the words "Christ is born." There was no baby Jesus, but a small tree of life grew atop a statement about Christ's "radical message of love." On Christmas Eve vandals knocked down the gay and lesbian couples, doing $3,000 in damage. Only the straight couple was left standing.
The Claremont nativity is open to multiple interpretations: maybe people today are following the star in search of Christ, hoping that there will be room at the manger for gays and lesbians, too. Maybe Christ is born anew to each couple, regardless of their sexual orientation.
I believe that everyone should be able to see themselves in the story of Christ's birth, including the growing number of LGBT parents and their children. Gay and lesbian nativity scenes enhance my faith by embodying God's wildly inclusive love for all. They are true to the spirit of Christmas as told in the Bible: God's child conceived in an extraordinary way and born into disreputable circumstances.
Leaders at the Claremont church said that they were trying to show where Christ might be born today. "We do believe that Christ is in the world for the outcast and not for the privileged, and so each year we want to represent that through our nativity scene," youth minister Rev. Dan Lewis told KTLA-TV news.
For the last six years artist John Zachary has worked with the church to create progressive versions of the nativity scene, but nobody damaged them until now. Previous versions showed the Holy Family surrounded by soldiers in the Middle East, as illegal immigrants at the U.S.-Mexican border, and as an African-American mother and child in prison. When the Madonna, child, and Joseph appeared as a homeless family, strangers spontaneously left bags of food and clothing, prompting the church to launch a Christmas homeless outreach. The gay and lesbian nativity evoked no such compassion. Police quickly labeled the attack a hate crime because it occurred on church property and targeted as specific group: gays and lesbians.
No graffiti was left to explain the crime, but I can well imagine the thoughts of the attackers based on the hateful comments made about my lesbian and gay nativity scenes. "Love..is NOT the criteria for making a 'Family'. A REAL Family is a MAN & a WOMAN producing a child or children," commented one of the naysayers. Others accused me of "vile blasphemy" that is "repulsive to true Christians" -- all because I made a video of my alternative manger scenes, asking the question, "What if the child of God was born to a lesbian couple... or a gay couple? Because, after all, love makes a family, including the Holy Family."
Many artists have faced opposition for making LGBT Christian art as religious freedom clashes with freedom of expression. I covered some of these controversies in my book Art That Dares: Gay Jesus, Woman Christ, and More. For example:
Last year thousands of negative emails from Christian conservatives compromised the email system of an Irish university that hosted the exhibit "Our Lady and Other Queer Santas (Saints)" by Latina lesbian artist Alma Lopez.
Vandals broke through the windows of a San Francisco gallery and smashed a picture of Jesus kissing the Hindu god Rama in the "My Cathedral" series by Alex Donis.
Swedish photographer Elisabeth Ohlson Wallin recreated Christ's life with contemporary LGBT settings in her "Ecce Homo" series in 1998. Opponents took an ax to the art, threw rocks at the artist, and issued death threats. Even the pope expressed disapproval by canceling an audience with the Swedish archbishop.
Some denounce LGBT Christian art as blasphemy, but I join with those who experience them as a blessing. The solution was spelled out clearly in the statement at the base of the tree in the Claremont nativity. The attackers should have stopped to ponder these words:
We must look to all people to discover the prophetic voice that is among us. The ancients looked to Christ as he delivered his radical message of love. Ironically, Christ was the victim of hate and intolerance while he taught love and compassion. We are living in a time where people need to embrace love instead of fighting and devouring one another.