By Kristrún Gunnarsdóttir, Kiva Fellow
One of the essential parts of the Kiva Zip model is the Trustee. Trustees are the organizations or individuals that work directly with Kiva Zip and help identify borrowers and support them throughout the loan cycle. What those Trustees all have in common is that they are motivated by helping people and changing lives.
Apart from that common vision, Trustees can differ a lot in terms of the services they provide. As a Fellow working in Nairobi, I have identified another commonality among several Kenyan Trustees, though - they not only help people but also the environment!
The Challenge
One of the biggest challenges in the Kenyan slums is the lack of sanitation facilities and solutions for waste management (reduce, reuse or recycle). Thus, this is an important topic toward which an increasing number of NGOs are shifting their focus.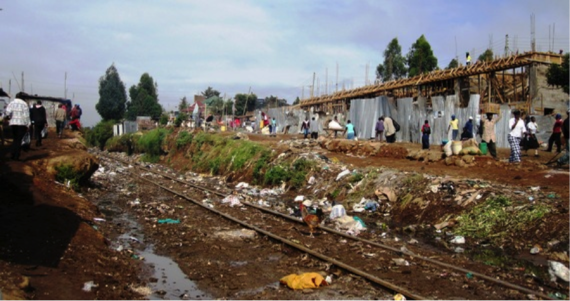 Pictured: Common sight in Kibera, Nairobi's largest slum
Recycling
One way to address the issue of large amounts of waste is to view the waste as an opportunity rather than an unsolvable problem. Kisumu Innovation Center Kenya (KICK), for example, endorses borrowers who make paper products that can be produced out of old newspapers and Christmas ornaments out of old soda cans.
Another Trustee shreds down plastic waste to produce recycled components for construction or neat photo frames. In some cases the material is free, but in other cases the organizations even buy the waste from waste collectors, which in turn creates job opportunities. Like one Trustee put it, "We might lack the capital, but we do not lack creative ideas!"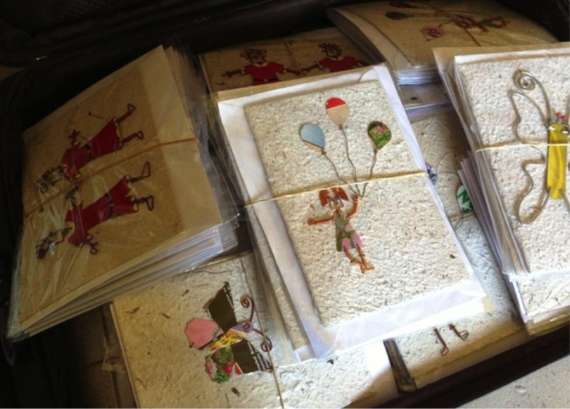 Pictured: Gift cards made out of recycled waste
Promoting Cleaner Energy
Solar panels and biogas are becoming more and more popular sources of energy, and a number of our Trustees provide or encourage this type of power. One such Trustee, Umande Trust, builds sanitation facilities in slums where the waste is then used to produce biogas. Umande endorses Kiva Zip borrowers that are part of the communities that run the sanitation centers.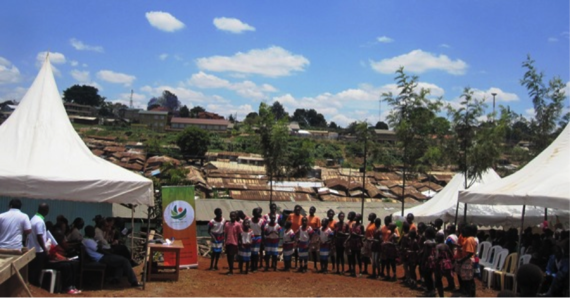 Pictured: Umande Trust celebrating the opening of a new community center
Energy Conservation
Another way to reduce fuel consumption is to make sure the energy is used in an efficient way. A brilliant example of this is the Trustee Global Village Energy Partnership (GVEP) International, who works with entrepreneurs who produce clay liners for cook stoves. It is a simple idea, but the clay conserves heat and reduces the fuel needed to cook a meal significantly.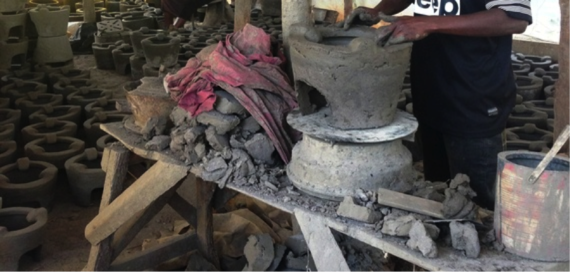 Pictured: GVEP clay liners in the making
While helping entrepreneurs launch and grow their business, these Trustees are magnifying their impact through their work to preserve and better the environment.
Explore the full list of Kiva Zip Trustees here and support the borrowers they endorse by making a loan!


Author Bio: Born and raised in Iceland, Kristrun had the chance to travel the world, working and studying abroad for several years of her life. Holding a double master degree in Economics and International Management, the main focus of her studies and professional career is in the financial service sector and development economics. Microfinance can be seen as a bridge between those two fields. An active Kiva lender since 2007, Kristrun currently lives in Sweden and has been working as a consultant for major financial institutions across Europe on various risk and strategy related topics. Besides regular work and studies, Kristrun volunteers for the local Red Cross helpline in Iceland, visiting and giving advice to improve conditions for orphanage homes in S-India as well as assisting with fundraising to build a school for street children in Nairobi, Kenya. Now it is time to take one step further into the field of humanitarian work and help developing the Kiva Zip model.