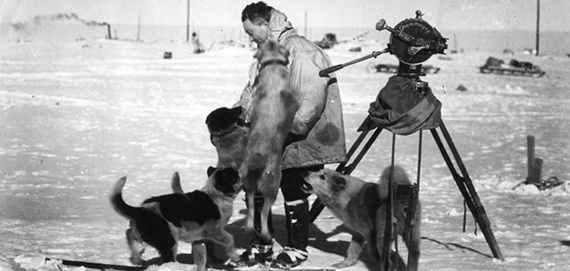 Admiral Richard E. Byrd in Antarctica during his second expedition 1933-1935. Courtesy of BPCRC.
In 1985, the Polar Research Institute at the Ohio State University made a successful bid to acquire the archives of noted polar explorer Admiral Richard E. Byrd (for more about Admiral Byrd, please see accompanying article, "Mysteries in Ice," here). OSU and the Institute, now renamed the Byrd Polar and Climate Research Center, received a grant from the U.S. Department of Education for the processing of the Byrd archive, which took place over a two-year period from November 1, 1992 through October 31, 1994.
Contained within the archives, which before their acquisition by Ohio State had been housed in varying locations, among them several warehouses and a barn -- environments not conducive to preservation -- were reels of acetate and nitrate film, including 28 reels containing Byrd's Discovery Lecture Film Series.
After copious analysis by a film intern from New York University, only 10 of the reels were deemed salvageable. With a generous grant from the National Film Preservation Foundation, those reels were restored for the archive.
With the restoration of those remaining 10 reels, and the Byrd Center having hired filmmaker and artist Pamela Theodotou as their media specialist, in seeing what the Center had in the remaining reels from the Discovery Lecture Film Series, it became apparent to Theodotou that there was enough content to piece back together one of Admiral Byrd's most famous expeditions to Antarctica, which took place between 1933-1935.
"I only became aware of the archive films when Laura Kissel, the Byrd Center's Polar Archivist, won the grant from the National Film Preservation Foundation, just after starting my work there," says Theodotou. "I knew the footage had to be extraordinary if any of it had in fact survived. I pitched several ideas depending on the content that could be salvaged. It could have been anything from a video installation piece, very concept-driven if there was no continuity to the images, or potentially a documentary feature film if we had enough of the film to continuously tell a story. We were very lucky that enough of the right reels could be saved to pursue a feature-length documentary film."
She continues:
Identifying what we were looking at was by far the most challenging aspect. Initially to the uninitiated eye it all can look like lots and lots of snow. Upon closer inspection you begin to identify the expedition members, the different planes, ships, and areas they are exploring.

It took many hours of archive research to be able to identify the more that 1000 clips and it necessitated becoming an expert in the expedition itself with all its nuances. Also knowing something about the film crews, the kinds of film they were using, told me quickly if we were in 1928 or 1933.

Byrd had numerous script concepts on paper as well and his traveling lecture transcripts that helped us group together the clips once they were identified so we had a close chronological representation of the events.
As Theodotou had been a photographer and filmmaker with films on the international film festival circuit, she was immediately fascinated by the dynamic nature of the content, as well as its history.
"From the beginning I think I had a great deal of reverence for this material. The footage from the first expedition was crafted into a film by Paramount pictures and won an Oscar for its cinematography. The sheer beauty of some of the shots these cinematographers managed in such conditions is breathtaking. As a photographer myself I am in awe that they could and did achieve such cinematic perfection at 70 below zero. Modern convenience was not available to these guys -- they were working with crank powered movie cameras and celluloid film that they could not even develop until they got back to the States several years later.
In making the film, every frame was precious so I made use of every piece. None of it is left on the cutting room floor, so to speak. It is of such a rare and special quality it should be easily available for the public to see it, thus the goal to craft it all into a feature film. Our luckiest break is that even though only 10 of the 28 reels survived, we had a lush amount of content that spanned the whole expedition and some of the footage from the first expedition survived to fill in the blanks. Some of the reels we had preserved were double copies so I thank providence that we seemed to get at least one survivor reflecting every aspect of the expedition.

Historically to have these moving images from 100 years ago will be important for generations to come, says Theodotou. "The fact we had the ability to make that footage into a film that tells the Byrd story is a huge bonus. It makes it consumable for the public. That in turn, I think, makes it a source of inspiration on many of levels, a purpose that Byrd himself knew was important.
The larger significance isn't lost on Kissel. "As the polar curator, my goal is always to make people aware of the amazing collections we have here. So the film [is important] for that same goal. "
According to David Filipi, the Director of Film and Video for the Wexner Center for the Arts, where Byrd 1933 will have its world premiere in its initial version before another is completed that will go on the international film festival circuit:
"A film project such as this speaks to the importance of film preservation and how working to restore and save such important historical documents is a critical mission. And it's always a thrill to see how powerful an effect vintage film can have audiences in the present day."
This kind of effect is something that Filipi knows well, having been with the Wexner Center's film/video department since 1994, and having been its director since 2010. His experience has included organizing retrospectives of and visits by such filmmakers as Richard Linklater, Milos Forman, Peter Bogdanovich, Pedro Costa, Philip Kaufman, Claire Denis, Olivier Assayas, Ellen Kuras, D.A. Pennebaker, Arnaud Desplechin, Gus Van Sant, Guy Maddin, Natalia Almada, Frederick Wiseman, the Quay Brothers, among others, including both established and emerging filmmakers.
Erik Pepple, who handles Media and Public Relations for the Wexner Center further emphasized the importance of film for the Wexner Center, which was named after the father of famed entrepreneur Les Wexner, Chairman and Founder of the Limited Brands, who is still a major donor.
"Film is one of the Wexner Center's primary areas of programming. We screen more than 170 films a year (everything from experimental works to international cinema to classics), often with filmmakers in attendance. We recognize film as a major art form and vehicle for expression and understanding the culture."
In terms of the partnership with the Byrd Center, also at Ohio State, says Filipi:
We've enjoyed partnering on a number of events with the Byrd Center over the years but when I heard the general details of the footage and the archival nature of the project -- first from Laura Kissel at the Byrd Center -- I became very intrigued. It's essential to share these important historical pieces with audiences and this is an inherently fascinating project that should provoke lots of conversation.
With the continued debates about climate science in the media, one can imagine that is one of the topics of conversation. A film like Byrd 1933 makes it plain that scientific research on polar and climate science has been going on for some time. More than that, film and media in general have become an important part of science, not just in terms of education and outreach, but also in terms of making a visual record of the research itself. Byrd himself was an innovator in that regard.
"Film offers audiences an often immediate and direct connection with its topics [especially] in the case of documentaries when audiences can see and hear the subjects directly, they can hopefully generate an understanding and context for issues in a manner uniquely offered by this medium," says Pepple.
"In the case of Byrd 1933, the painstakingly restored footage and use of audio and text from Byrd's archives, gives viewers a direct experience in seeing and understanding his extraordinary journey in a manner no other art form can."
Theodotou herself clearly gained an immense respect for her subject, from both her copious research as well as the hours she spent poring over and working with the film clips themselves.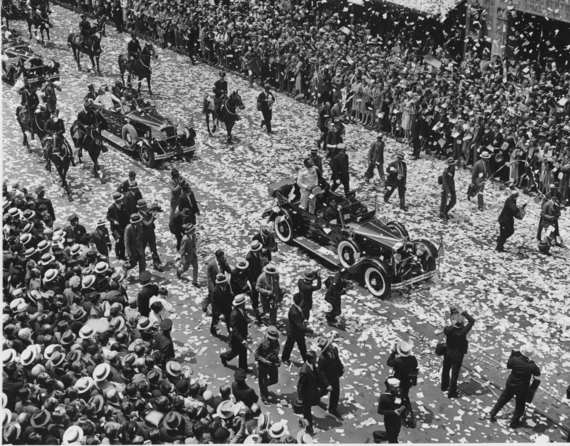 Ticker tape parade for Admiral Byrd in New York City. Courtesy of BPCRC.
I have read through mountains of archive material on [Byrd] and I cant say enough about both his integrity and his tenacity. He comes from an age of gentlemen. He carried his public persona with a great deal of respect and honor.

As a genuine adventurer he was an American heroic figure, a role which he took as a public trust to uphold as an obligation and not for fame's sake. The letters you read in the archive whether they are to presidents or to school children are always heart warming, serious and genuine. I found a particular letter from a little girl especially touching.

She wrote to the Admiral to ask if he would bring her back a penguin from the Antarctic, and like so many letters from children he took the time to write back to her personally to explain that they are delicate birds and not the best of pets but that he would be sure to bring some back for her to see at the zoo.
She continues, again with warranted admiration:
All of that wrapped up into a man who never did shy away from a big idea. He fought for and raised every dollar he needed to do these massive expeditions to the Antarctic where he not only revealed a hidden world but was even able to define it for us.

Before Byrd it was widely thought that Antarctica was two separate islands, but he was able to determine it in fact was our seventh continent. What people don't realize is how the pursuit of science was a main purpose behind his expeditions.

In many of his interviews he proudly acknowledged the scientists who traveled with him who served 22 different branches of science.
In the two years Theodotou has been working on staff at the Byrd Center, her department has generated over 100 videos for education as well as documentary films.
There is also further film content from Admiral Byrd's expeditions that is in need of preservation; the Byrd Center is currently storing it in a climate controlled environment, including nine reels of nitrate film stored in their freezers with one of the largest collections of historic ice core samples in the world. That content will remain protected until the Center receives the funding to develop and/or restore it.
"In this area it is definitely the power of documentary film that brings media and science together. It has risen to an art form that I think is equal in importance to narrative film. And I can only hope that with such subject matter to work with, it might also easily be as popular as well."
The world premiere of Byrd 1933 will be held at the Wexner Center for the Arts on October 20, 2015. For further information, please see: http://wexarts.org/film-video/byrd-1933-films-discovery-lecture-series. For further information about the Byrd Polar and Climate Research Center, please see: http://bpcrc.osu.edu/. For more about the film and director Pamela Theodotou, please see http://www.byrd1933.com.