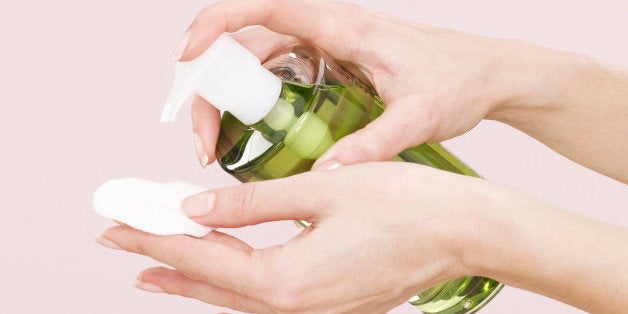 With the change of season and warmer weather, we start to get into spring cleaning mode. This shouldn't just apply to your home, but to your makeup routine as well. Your makeup bag can host a number of bacteria and germs, so you should keep it clean and make sure you're not using old products.
"You should clean out your makeup bag at least once a season when you're going to buy new colors anyway," suggests Bryan Barron, Content Research Director at Paula's Choice and co-author of Don't Go to the Cosmetics Counter Without Me. To de-germ your makeup bag, throw it in the washing machine with a little bleach. If it can't be laundered, clean it with an antibacterial cleanser or with regular bleach diluted with some water, suggests Barron.
So what's the easiest way to prep your makeup bag for spring? Here are 5 rules that'll help get you warm weather ready in no time -- all while protecting your skin from the dingy part of your beauty bag.
Rule 1: When in Doubt, Toss It Out.
It may surprise you, but there are no FDA regulations for the expiration date for skin care or makeup products. "The most important reason to swap out makeup is because it has a shelf life," says Barron. For instance, mascara, like your toothbrush, should be discarded every four to six months. To save time, toss out both on the same day. Use a fine-point sharpie to write the date you opened a product prone to a six to 12 month expiration, such as foundation, lipstick and concealer.
Since government regulations are inconsistent (and, in this case, relatively nonexistent), it's ultimately up to you to make the call as to when a product has expired. "The guessing game is [remembering] when you started using that product and what types of germs are on your face or mouth." Check out this nifty guide from The Cosmetics Cop that will help you determine what needs to go or how long it has left.
Rule 2: One Product Is Better Than Three.
Take a break from your usual makeup routine. With the change of season comes a natural gravitation to a more colorful color palette. Everywhere you look, people are wearing brightly colored clothing, shoes and accessories. The same can apply to your makeup. Maximize the space you have in your makeup bag to help revamp your routine. For instance, cream blush and multi-purpose products are great space (and time) savers. Two of my favorites are Bobbi Brown Pot Rouge for Lips and Cheeks and NARS The Multiple. They can be used on your cheeks, eyes and even lips and are great to use year-round. Just make sure you don't have any sensitivities to creamier products.
So what should you do with your other products in the meantime? Powder-based blushes have a shelf life of at least two to three years, so don't throw them away. The best place to store makeup when it's not being used is in a plastic drawer unit. Stick it in a linen closet or somewhere that keeps the container away from moisture and extreme temperature changes, advises Barron.
Rule 3: Rethink Your Lip Color.
Sometimes it only takes a new lip gloss to change up your makeup routine and be ready to spring forward. The warmer months are a great time to try a brighter shade in a peach or coral color, such as Stila's Lip Glaze in Mango. If you're feeling bold, go for a coral or orange, such as Make Up For Ever Lab Shine in Tangerine or Papaya. Lipgloss is a great way to try a new shade, as many formulas wear very sheer and fade into lighter shades. And don't forget lipstick's cousin, lip balm, which will make your pucker look extra supple. Try Burt's Bees Lip Shine and e.l.f. Studio Moisturizing Lipstick.
As for your other lip liners and lipsticks, keep your pencils sharpened and wipe off a layer or two of lipsticks you haven't worn to keep them fresh, suggests Barron. And if you happen to get sick or have a cold sore, you don't have to fret about throwing away an expensive lipstick. "Just take off the top part of the lipstick with a butter knife, put it in freezer and then let it come back to room temperature to continue to use it."
Rule 4: Get Rid of Your Purse Compact.
Women often overuse their compact, creating a white cast in photos and drier complexion. Instead, try oil blotting sheets like Clean & Clear Oil Absorbing Sheets. They aren't only hygienic, but they're really all you need, especially in the warmer months, when we tend to be a bit more shiny or oily than in the winter.