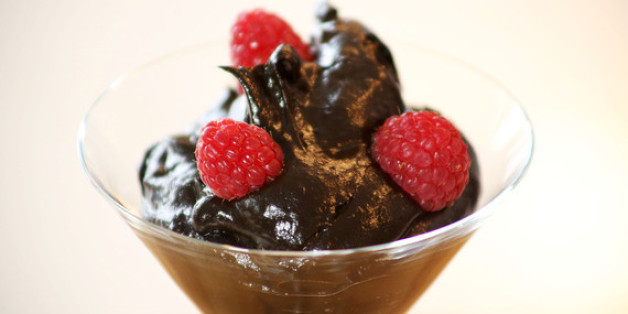 Who doesn't love chocolate mousse? It's decadent, delicious... and, usually, a splurge.... unless you try our version! We've got the most exciting dessert recipe you'll try all summer.
It's a chocolate mousse that removes all the guilt, none of the taste.
We replace the heavy cream with AVOCADO. Yes, avocado. There's no sugar, either... but you'll never miss it. Here's how to make our healthier, lighter... yet creamy, chocolatey avocado mousse.
HOW TO MAKE:
You need 4 hass avocados
Cut in half and strike the pit with a knife. The pit will stick to the knife and come out easily.
Use a spoon to get the "flesh" of the avocado out of the skin and place in a bowl. The avocado is soft and creamy and replaces the heavy cream in typical mousse.
In bowl, add:
1 tsp balsamic vinegar
1 tsp soy sauce
1 tbsp vanilla extract
1/4c coconut oil
1/2c agave (sweetness without the sugar)
1/2c cocoa powder (less calories than chocolate chips)
Blend everything together in food processor.
Then once blended, put in desired glass or dish and add raspberries for a fresh look.
Watch the step-by-step how-to video above to see just how gorgeous and amazing this dessert really is!
Permission granted to use image by KNOWMORE.TV.
More from KnowMore.tv
How to Keep Sauce From Slipping Off Your Hot Dog
Seared Tuna, Pineapple and Spinach Salad
Healthier French Food? Oui, S'il Vous Plait!
Chopped! How to Peel and Chop Garlic Like a Pro
KnowMore.tv's James Tahhan is a renowned chef, television personality, entrepreneur and advisor. Chef James is one of the most respected chefs for the United States and Latin America. He recently opened a restaurant in Miami and was voted one of the 50 Sexiest People by People en Espanol.