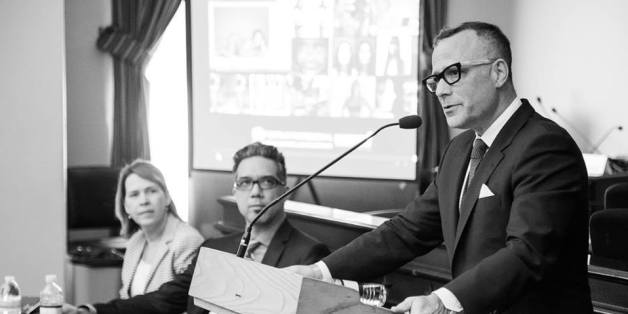 By Katie Parsons, KnowMore.tv

Over 20,000 sign petition to stop extreme photoshopping of ads
One of the first lessons parents teach their kids is honesty, especially when it comes to their individuality. That lesson is becoming more and more difficult to explain, though, particularly when the images bombarding kids are not what they seem.
Seth Matlins is a former Hollywood marketer who now says he has a bigger purpose in life: improving the future for his two children, ages 7 and 8. That starts, he says, by bringing down the false perceptions of perfection that the advertising industry so rampantly displays.
Petition for Change
Today, Matlins will present a Change.org petition on Capitol Hill that has more than 27,000 signatures and asks the Federal Trade Commission to develop regulations for excessive use of distortion tools, like Photoshop, in advertising campaigns. Specifically, the petition calls for the FTC to develop regulations that do not allow "ads that materially change the faces and bodies of the people in them." The petition is not designed to eliminate photo correction and editing tools completely -- just the use of them to perfect the people in the shots.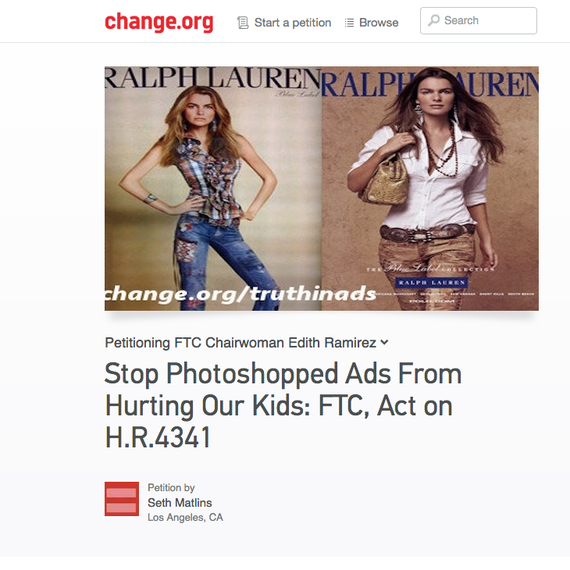 Courtesy: Change.org
"This is one of the greatest health epidemics we face, our kids face," said Matlins. "These images of perfection have emotional and psychological ramifications, and can even lead to physical problems, like eating disorders."
Matlins points out that anorexia nervosa has the highest mortality rate of any mental illness. Matlins says that the issue is not exclusive to young women, though -- young men are also increasingly facing the pressure to measure up to unrealistic and untrue standards.
"Traditionally, negative body image issues have skewed heavily towards women, but we are now seeing it take a toll on men, too," he said. The National Eating Disorder Association reports that one-third of adolescent men will participate in unhealthy weight management behaviors, and 10 million men will face a "clinically significant" eating disorder at some point in their lives.
'Weapons of Mass Perfection'
By using "weapons of mass perfection" in advertising, Matlins believes the mental health of children is at risk.
In March, Matlins was on hand when Congresswomen Ileana Ros-Lehtinen, R-FL, and Lois Capps, D-CA introduced the Truth in Advertising Act that calls for an end to fake perceptions of perfection in the media. The Congresswomen will be present today to receive his petition on Capitol Hill, flanked by large Photoshopped images demonstrating the dangerous trend that Matlins says needs to be reversed.
"It would be great if the advertising industry would self-regulate. They know the harmful effect these photos have," said Matlins. "But we can't wait for that. We will continue lobbying and looking for a Senate companion bill. Enough is enough."
You can check out the petition to end Photoshopped images in advertising at Change.org.
More from KnowMore.tv:
Are Diets Ever OK For Kids?
5 Tips for Parenting an Emotional Kid
3 Foods Your Kids Shouldn't Eat
TV Commercials May Spur Junk Food Habit in Kids, Study Finds
Follow us on Facebook!