It is a late morning in early May. Dominique Ansel has already been up for hours, had one of his signature DKA's for breakfast as he does every day.
Less than a week later he will be named Outstanding Pastry Chef for the year by the James Beard Foundation, which means the maker behind the cronut will keep seeing lines outside the door to his eponymous shop. While it isn't distributed en masse, the global hype hasn't gone away and he continues to establish himself as more than a one-hit pastry chef wonder.
As a child growing up without much in a remote area of France, Ansel always liked building things, whether it be with his imagination or with hands putting Lego blocks together.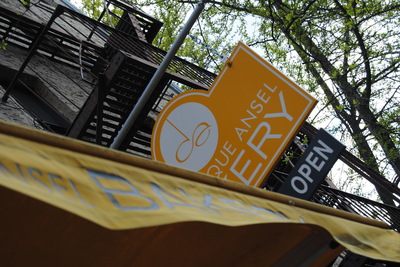 One of his next big projects is slated for the fall, a cookbook that promises to share more than just recipes from the "world's most celebrated bakery."
"I want to give people my real thinking," he explains.
So far in person, he seems present and observant.
Another baker brings out a small basket of French Madeleines. Ansel gently insists I eat them right away, since they're best straight out of the oven. As for the people who will want to bake like Ansel, he wants fans, aspiring chefs and dessert amateurs to draw outside the lines as well. Just as he twisted the croissant and doughnut into a sensational trademark or turned the cookies and milk pairing on its head into a sober but sweet shot. In other words, he's encouraging spinoffs.
Ansel:
Anyone can be creative. Sometimes you can take the classic and make it your own. It doesn't have to be fancy or unusual.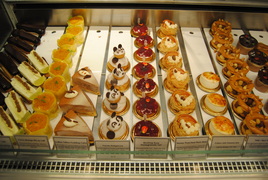 He appreciates the simplicity in things, like Japanese culture. He finds similarity between France and Japan and is known to enjoy Japanese food regularly.
"Sometimes simple things are better than things that are complicated," he adds.
Meantime, one Madeleine later -- my Frozen S'more is melting, he points out before he compliments the stick-on nails I brought home from Japan. He might very well get inspired by the flowery pattern. He may jot the idea down on paper, because he is a designer in nature, finding fascination outside the arena of food.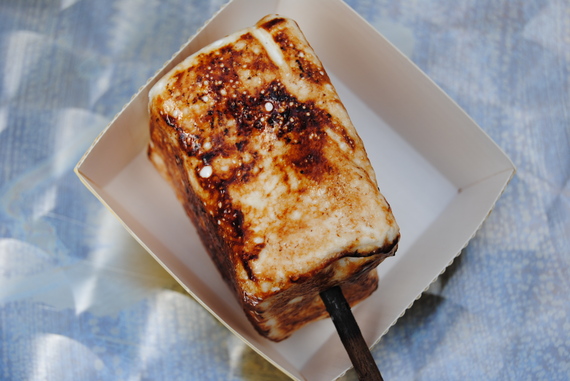 Like New York City itself, where there's always movement and people still standing for hours on Spring Street, two seasons after the cronut craze caused a frenzy. Ansel also feeds off fashion and architecture, absorbing designs and textures, watching runway shows or admiring structures.
In baking, he was "always attracted to the scientific and technical aspect of cooking." Ansel the artist likes taking "the idea of using everything from scratch and really building something."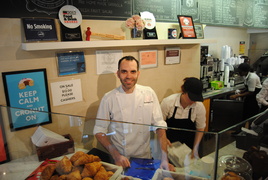 Maybe he'll set up a shop one day in Japan but he's busy thinking of the next big thing like the "Waffogato." But at the moment, French-speaking fans from the city recognize him and say bonjour. From a simple adolescence spawns whimsical creations, and his street-cred celebrity and insider credit are concepts his parents back home may not be able to fully grasp.